| | |
| --- | --- |
| | The Bond Girls were out in force as 007's 22nd adventure "Quantum of Solace" scooped two gongs at this year's Empire Awards... |
Bonding At Empire Awards 2009
29th March 2009
The latest James Bond adventure "Quantum of Solace" scooped two gongs at this year's Empire Awards, from a possible five nominations. Both Bond girls Gemma Arterton (below left) and Olga Kurylenko (below right) attended the London ceremony.
Host Dara O Briain started off the evening's proceedings with a light-hearted poke at 007. "I recently saw a very glossy Virgin Atlantic advert; it was called Quantum of Solace. I mean, I know how product placement works: I recently watched a Jessica Alba movie and at the end of it I wanted Jessica Alba. But seriously, Quantum of Solace made no sense from beginning to end - which is how a Bond movie should be. That hotel at the end: who designed that hotel? A hotel that explodes if you fart in its general direction. What architect came up with that? 'We've built a hotel of the three most explosive things known to man: liquid nitrogen, dynamite and Christian Bale's eyeline!'"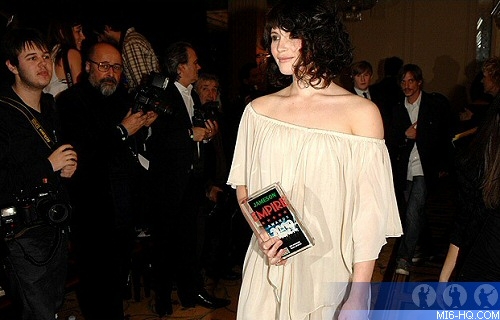 The first award of the night to be announced was Best Newcomer, where Bond girl Gemma Arterton was nominated alongside Robert Pattinson, Jim Sturgess, Toby Kebell and Hayley Atwell. As with Eva Green from "Casino Royale" at the 2007 ceremony, Arterton won the category and gave Bond Girls back-to-back wins. "I'm completely winging this", she said upon collecting her trophy. "I never prepare for anything. Watching that I realise how wonderful all the nominees are, really and truly, especially Toby [Kebbell] who's a good friend of mine. But thank you all very much, it does mean a lot. Have a great night everyone!"
The next category that "Quantum of Solace" was nominated in was Best Thriller. Daniel Craig's second outing as 007 was joined in the nominations by "No Country For Old Men", "Changeling", "Gone Baby Gone" and "Eagle Eye".
"You're going to love this, you're going to eat your words" said award presenter Sturgess to O Briain as he announces the winner, referring O Briain's earlier slagging off of Quantum's plot.
Olga Kurlyenko was in attendance to pick up the award on behalf of EON Productions. "Good evening. it's such a pleasure being here tonight and I'm very happy to receive this award", she said. "First of all I'd like to thank all the readers of Empire for supporting our film, and I accept this award on behalf of everyone who worked on Quantum of Solace. It was wonderful to work with people from the UK - by now it feels like home to me because I've spent so much time here. I especially want to thank Barbara Broccoli, Michael Wilson, Marc Forster and of course Daniel Craig."
Of the other "Quantum" nominated categories, Daniel Craig was pipped to Best Actor by Christian Bale for "The Dark Knight" (Craig won the award in 2007 for "Casino Royale"), Olga Kurylenko only got to accept one award as Helena Bonham Carter picked up Best Actress for "Sweeney Todd), and former-007 Pierce Brosnan's "Mamma Mia!" took Best Soundtrack.
Related Articles

"Quantum of Solace" Movie Coverage