French Culture Minister Christine Albanel hailed the 81-year-old former star of the James Bond films as a "legend of the big and small screen".
"France is happy and proud to honour a legendary actor with an immense heart," said Albanel.
With his wife, Christina, at his side, Moore said at the Paris award ceremony that the Arts and Letters award to him was worth "more than an Oscar".
Moore first became famous in the 1960s television series The Saint. He also teamed up with US actor Tony Curtis in the 1970 series The Persuaders, in which they played a couple of rich playboys with a sideline in investigating crimes. He played his first Bond film, "Live And Let Die", in 1973, taking over from Sean Connery. He played his last one, "A View To A Kill", in 1985.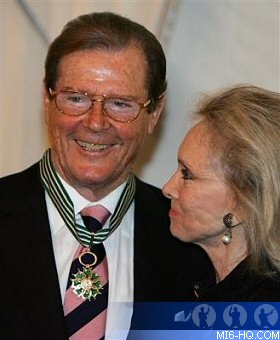 Above: Sir Roger Moore with wife Christina