| | |
| --- | --- |
| | The Academy of Motion Picture Arts and Sciences are hosting a special 007 music event on James Bond day in Beverly Hills... |
The Music of Bond Event
16th September 2012
Hosted by music historian and writer Jon Burlingame, with special guests: lyricist Don Black, guitarist Vic Flick, composer Bill Conti and songwriter Carole Bayer Sager. Fifty years to the day after the U.K. opening of the first Bond film, "Dr. No," on October 5, 1962, the Academy pays homage to the memorable title songs and indelible scores that have become as celebrated as the character's many exploits.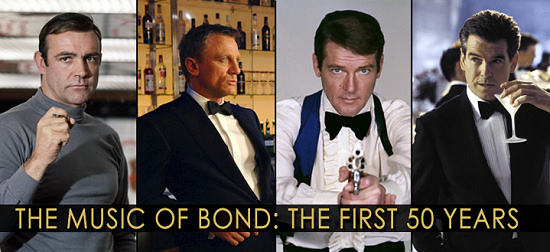 Over the 22 films released to date as part of the official James Bond series, there have been several constants: suave but deadly leading men, gorgeous and barely clad Bond girls, over-the-top villains and incredible music. Bond theme songs, sung by such leading performers of their era as Shirley Bassey ("Goldfinger"), Nancy Sinatra ("You Only Live Twice"), Paul McCartney and Wings ("Live and Let Die"), Carly Simon ("Nobody Does It Better") and Sheena Easton ("For Your Eyes Only"), consistently landed on the pop music charts. Duran Duran's "A View to a Kill" became the first Bond song to hit #1 on the Billboard Hot 100.
Combine those notable elements with the remarkable scores by composers including John Barry, Marvin Hamlisch, Bill Conti and David Arnold, and you have a body of work that continues to play a major role in popular film culture.
Hosted by music historian and writer Jon Burlingame, the program will feature many of the people who made the music, including lyricist Don Black (title songs for "Thunderball," "Diamonds Are Forever," "The Man with the Golden Gun" and "The World Is Not Enough") and guitarist Vic Flick, who laid down the famous guitar lick for the "James Bond Theme."
Event Information
Date: Friday, October 5, 7:30 p.m.
Location: Samuel Goldwyn Theater, 8949 Wilshire Boulevard, Beverly Hills, CA 90211
Time: Doors open at 6:30 p.m.
Tickets: $5 general admission/$3 for Academy members and students with a valid ID.
Click here to book online