| | |
| --- | --- |
| | Cast and crew members came together to celebrate Goldfinger at a recent BondStars event at Pinewood Studios... |
Goldfinger Reunion Event
16th April 2008
On Sunday 13th April 2008, over 120 guests plus over a dozen cast and crew members came together to celebrate what is considered to be a Bond classic - Goldfinger. In previous years Bondstars.com has organised events at the studio with actors from the films (an Afternoon With Richard Kiel; A Celebration of Bond and An Evening with George Lazenby; Bond Girls Are Forever, and Behind the Scenes of Bond), but this year's event was to pay tribute to Goldfinger.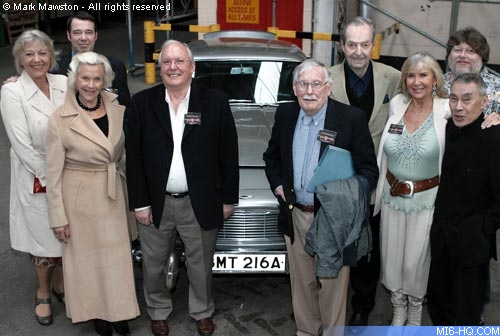 What started as a screening with a few special guests turned eventually into an historic reunion the likes of which will never be repeated! At 10:45 the doors were opened and our attendees enjoyed refreshments and mingled with our special guests - Norman Wanstall, Shirley Eaton, Tania Mallett, Margaret Nolan, Caron Gardner, Guy Hamilton and Burt Kwouk. The Cinemastore were also on hand to sell Bond goodies to eager Bond fans. A little later more special guests arrived in the guise of production designers Peter Murton, Sir Kenneth Adam with his Lady Adam, Peter Lamont, lyricist Leslie Bricusse and his wife Yvonne Romain, and Martin Benson.
On show was the one of a kind prototype Corgi DB5 which was kindly loaned to us by Corgi UK. It's value was said to be over £15,000!
Dave Worrall and our guests braved the weather to tour the studio locations used in Goldfinger, including the ornamental gardens for the location of the statue - which is the first victim of Oddjob's deadly bowler hat - then on to the paddock tank where the pre-title sequence was filmed, the covered way and the backlot which is where the exterior of the Fort Knox set was built and Goldfinger's Kentucky Ranch. The Aston Martin DB5 meanwhile awaited the tour in the covered way - scene of the famous car chase.
After the tour and the April showers, the warmth of Theatre 7 was very welcoming as our guests took their seats for what would be a very memorable afternoon, starting with the newly restored and remastered version of Goldfinger. However, there was one more surprise - to introduce the film was Pussy Galore herself, Honor Blackman, to a well deserved standing ovation.
For a film over 40 years old the quality of both sound and picture was simply stunning. We have to thank our friends at EON Productions and Park Circus who kindly loaned us this new version of the film.
After a short break, the Q & A session took place with Golden Girl Shirley Eaton and Tania Mallett reminiscing about their time on the film where Shirley was again asked to explain the procedure for covering her body in gold paint - a question she never tires of answering with great enthusiasm.
Tania chatted about how she was offered the lead in From Russia With Love, but declined as she 'was not an actress' and said she'd prefer 'a smaller role to get started with'. Her wish was granted on the next film!
Leslie Bricusse chatted about the famous title song, and his other John Barry collaborations - even revealing he had penned lyrics for a possible title song for On Her Majesty's Secret Service. Put the words to that!
Next up were Burt Kwouk and Margaret Nolan. Margaret explained how the producers wanted her to model for the opening titles, but she said on the proviso they gave her a small part! Burt chatted about the ever enduring success of Bond, before our guest of the hour, director Guy Hamilton was welcomed to the stage.
Guy spoke about his four Bond films, and revealed he had been asked to helm Dr No, but could not for family reasons. He also spoke about how he is still not quite satisfied with the movie, and feels he could improve on some scenes. Is that really possible?!
There was one more surprise too. Before leaving the stage, Guy was presented with the Cinema Retro Outstanding Achievement award by Honor Blackman.
It was then back to the house for more refreshments and autographs, with each attendee being presented with a souvenir Corgi Aston Martin DB5 to take home.
At around 6.15pm, the ever enthusiastic visitors made their way back to the Pine Room to collect their Corgi Aston Martin DB5. An absolutely packed day and one of the best ever BondStars events met with unanimous approval from everyone in attendance with everyone asking "now what about later this year!"