Before cameras rolled on the film, EA had access to the shooting script, set designs, production drawings, location information and costume designs. This enabled the development team to start work on the 3D models and game concepts in late 2005, a couple of months ahead of Daniel Craig shooting his first scenes as 007.
Concept artwork and some 3D models for "Casino Royale" were complete even before EA's latest game, "From Russia With Love", had hit the shelves. Unlike Activision's eventual title "Quantum of Solace" in 2008, that included missions based on "Casino Royale", EA had planned to set the game in third-person perspective - much like their blockbuster title "Everything or Nothing".
In recruitment advertisements posted during the early days of the project, EA boasted direct ties with the movie's production team, including Daniel Craig and the rest of the cast, director Martin Campbell, the script and marketing campaign.
EA had expected to release the game on the next generation videogame platforms on the same day as the movie hit theatres. At the time, Microsoft's Xbox 360 had only just been launched and Sony's PlayStation 3 was still waiting in the wings. The Nintendo Revolution platform eventually turned in to the Wii. It was expected that "Casino Royale" was going to be a launch title for the PS3 in Europe.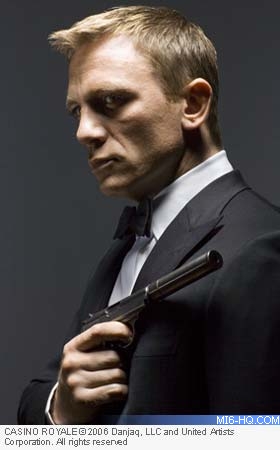 Above: Although it would not be until 2008 that Activision released their game, they visited the Casino Royale production at Pinewood to gather materials and capture 3D shots of the cast.