With the help of a Triad informant, Goldfinger sends you after Dr. No seeking revenge. Trouble is in store though, as the informant is a double agent and has lured you into Dr. No's trap. Instead of assassinating Dr. No, you now have to escape the villain's Hong Kong skyscraper. Safety can not be found up and out onto the rooftops either, as you have to confront Dr. No's assault gunship in a frantic battle.
Help is at hand when Pussy Galore arrives at the end of the mayhem to whisk you away to "safety", as the turf war between Dr. No and Goldfinger is about to escalate even further...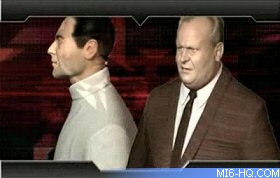 Above: Dr. No and Goldfinger - resurrected in CGI form to wage war on each other.