Activision today officially confirmed the videogame adaptation of the upcoming James Bond film "Quantum of Solace", and launched a teaser website to promote the title.
Quantum of Solace: The Game
Activision's teaser website gives fans access to some early concept artwork from the locations featured in the game, as well as the opportunity to sign-up to the community to vote on polls and ask the development team questions. This site will serve as the hub of activity for the game and will be updated on a regular basis.
"Built for Next-Gen, 00 Status Achieved. Bond is Back. From Casino Royale to Quantum of Solace... and Beyond!"
Tucked away in the website's banner is confirmation of long running rumours that the game will feature action from the 2006 film "Casino Royale" as well as the 22nd movie "Quantum of Solace". Locations from both films are cited on the teaser site, including: London & outskirts (UK), Venice (Italy), Lake Como (Italy), Siena (Italy), Montenegro, Austria, Miami (USA), Madagascar, and Bolivia.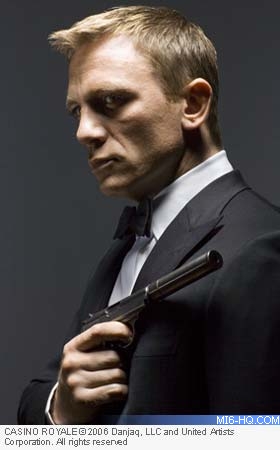 Above: Daniel Craig in Casino Royale.