Square Enix will publish "Quantum of Solace: The Game" in Japan on PS3, PS2, Xbox 360 and Wii on March 26th 2009...

Update 29/03/09: Cover art for all Japanese editions.
"Quantum of Solace: The Game" Hits Japan
2nd February 2009 / 30th March 2009
Update - "Quantum of Solace: The Game" hit shelves in game stores across Japan this week on PS3, Xbox 360, Wii and PS2. The artwork is almost identical to the North American and European releases, except the title has been translated ('compensation of solace'). The Nintendo DS version was not released for Japan.

Right: Japanese PlayStation 3 artwork

Japan Data Stream
Platforms: PlayStation 3, PlayStation 2, Xbox 360, Wii
Release Date: March 26th, 2009
Suggested Retail Price: PlayStation 2/Wii : 6,800 yen | PlayStation 3/Xbox 360 : 7,800 yen
Rating (CERO): C (Age 15 or above)

Order Online (All Platforms)

"Quantum of Solace: The Game" Review



Press Release - Square Enix announced that they have signed with Activision Blizzard Pty Limited, an Australian subsidiary of Activision Blizzard, Inc. to publish "James Bond 007: Quantum of Solace" video game in Japan, and that it will be released for PlayStation 3, PlayStation 2, Xbox 360 and Wii on March 26th, 2009.
In the increasingly consolidating video game industry, Square Enix has been implementing strategic initiatives to expand its product lineup and strengthen its presence as a global game publisher. The announcement came a few days after the movie opened in theatres across Japan.
Mission
Enter the world of international espionage with that most famous of agents: James Bond. Based on the Casino Royale and Quantum of Solace films, this hard-hitting game delivers all the intense action and suspense you expect from the Bond franchise. Join 007 for dangerous and deadly intrigue across far-flung locations as you experience high-octane action that leaves you both shaken and stirred.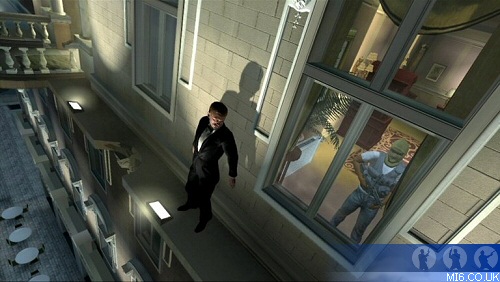 Combining the intensity of 1st-person shooters with 3rd-person cover combat, Quantum of Solace puts you in control of the fiendishly clever mind of James Bond. Use of all of Bond's deadly skills, including punishing manoeuvres, expert marksmanship, tactical skills and stealth, to overcome dangerous and deadly foes. An advanced artificial intelligence makes adversaries react in intelligent ways, so you have to stay sharp and alert. Take on thrilling missions in exotic lands and interact with characters from both Casino Royale and Quantum of Solace. Smile at danger as only Bond can, and neutralize enemies with the cool efficiency of a "00" operative.
Related Articles

MI6 Confirms Activision's 007 Status

"Quantum of Solace" Videogame

"Quantum of Solace" Orders