| | |
| --- | --- |
| | In the summer of 1981, two very different interpretations of James Bond went head to head... |
Resetting Bond For The '80s
15th May 2011
The summer of 1981 saw the battle of James Bond's - Roger Moore and John Gardner's interpretations of Ian Fleming's superspy as "For Your Eyes Only" and "License Renewed" were released head-to-head at cinemas and book shops worldwide. Who came out on top in their attempt to reset Bond for the 1980's?
James Bond Outlives His Creator - Daily Times (USA) - August 25th, 1981
Supposedly, he looked rather like the American composer Hoagy Carmichael, only with a crueler mouth. He belonged to the elite double-O section of Her Majesty's Secret Service - was designated agent 007 - and had a license to kill. For that purpose he carried, early in his career, a .25 Beretta automatic in a chamois leather holster. Later, when the Beretta misfired, he switched to the Walther PPL in a Burns Martin holster.
He drove a battleship-gray 4.5-liter fuel-injected 1933 Bentley coupe that every mechanic in Great Britain drooled over. He daily smoked 70 cigarettes of a Balkan and Turkish mixture made expressly for him by Morelands of Grovesnor Street and marked with the distinctive triple gold band. He insisted his martini be shaken, not stirred, and served with a twist of lemon peel. He was a ruthless high-stakes baccarat player and he was a gourmet. Women swoon over him. His name: James Bond. Amazingly, it has been nearly 30 years since Ian Fleming's master spy made his debut - in the novel "Casino Royale." But the public's appetite for Bond adventures just won't die down.
This summer is certainly no exception. One of this season's most successful film releases if "For Your Eyes Only," the 12th in a string of Bond films that dates back to 1962 and "Dr No." Meanwhile, a scan of the bestseller list for hard-cover books finds "License Renewed," the latest Bond adventure, solidly entrenched.

What makes "For Your Eyes Only" a rarity among Bond films is that is it the first one that isn't based on an Ian Fleming novel - the vault of Fleming Bond novels has been emptied. The "Eyes" title comes from a volume of short stories.

What makes "License Renewed" a rarity among BOnd novels is that is isn't written by Fleming at all. Ian Fleming died in 1964. The new book was written by spy novelist John Gardner, who was selected by the Fleming estate to replenish the stock of book titles so that more movies could be made from more Bond books. And so on.

[Note: According to several reports, by this point in time EON Productions had long decided to not use any non-Fleming Bond material]
Not that the recent Bond movies really reflect the tightly plotted action novels they are based on. Fleming had his gadgets and exotic locales, but he could never have anticipated the tongue-in-cheek stunt extravaganza his hero has become party to. "For Your Eyes Only," for example, doesn't even concern itself with a coherent plot. It amounts to little more than a pastiche of quips, cleavage and chase scenes. Mostly chase scenes - by helicopter, by skis, by snow bikes, by cars, by dune buggies, by two-man submarines. Every five minutes there is a chase, most of them played for laughs. The film resembles TV's "Sheriff Lobo" more than is does the gritty early Bond adaptations, like the exception "From Russia With Love," which starred Sean Connery.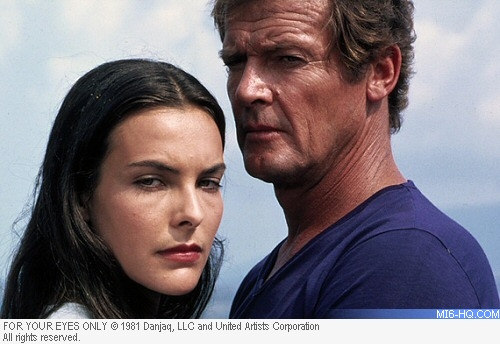 Roger Moore, the current James Bond steps in only occasionally for his stuntman. Moore has taken good care of himself but he's not a kid anymore. He's 53 and totally unconvincing in hand-to-hand combat. By the time the film ends he has been chased so many times that clearly he ought to be putting his feet up, not romancing the film's heroine, who looks young enough to be his grand-daughter.
"For You Eyes Only" ranks as only a mediocre Bond movie - in part because the film producers refuse to let the poor guy age. Gardner's novel is another matter. Gardner has updated Fleming's suave global gunslinger in delightful fashion. He has Fleming's writing style and attention to his hero's lifestyle down perfectly. A fun read.
Bond doesn't drunk much anymore, smokes a special low-tar blend made for hum by Morelands - still with the triple gold band - and has to do exercises every morning to stay in shape.

He drives a fuel-efficient Saab instead of his beloved Bentley and has taken a quiet country cottage.

The service isn't the same either. The double-O section has been abolished. Bond is mostly a paper pusher now, though he occasionally takes care of a bit of dirty business for his boss, M.

In terms of plotting, the new Bond story blends right in with Fleming. Our arch-villain is Anton Murek, a mad nuclear scientist who plots to seize six of the West's largest nuclear power plants and hold them hostage. It's Bond to the rescue.

He also woos Murek's delectable ward, Lavendar Peacock, who, like all women Bond is attracted to, is independent, strong-willed and endowed with "firm and impertinent breasts."
The Bond spirit has sputtered this summer on the big screen, though the grosses probably won't reflect it. But John Gardner is on the right track with "License Renewed," offering hope that Fleming's hero will be with us for another 30 years.
[Note: And of course he is, with Jeffery Deaver's new James Bond continuation novel Carte Blanche released 30 years after John Gardner brought 007 back in book form. Gardner's series of Bond adventures are being reprinted to celebrate the 30th anniversary of "License Renewed."]