| | |
| --- | --- |
| | MI6 looks back at James Bond's history with the Academy Awards... |
James Bond At The Oscars
27th February 2012
Despite clocking up 22 movies (to date) over 50 years of production, only two James Bond films have landed an Academy Award, and both were at the height of 'Bond Fever' in the mid-1960s. Seven other nominations were received up until 1982.
"Goldfinger" was the first to be nominated and win an Oscar, in the category of Best Sound Effects. Norman Wanstall attended the ceremony to collect the statue. A year later, "Thunderball" won a Special Visual Effects Oscar thanks to the work of John Stears.
| | | |
| --- | --- | --- |
| 1965 | Goldfinger | |
| Won | Best Effects, Sound Effects | Norman Wanstall |
| 1966 | Thunderball | |
| Won | Best Effects, Special Visual Effects | John Stears |
| 1972 | Diamonds Are Forever | |
| Nominated | Best Sound | Gordon K. McCallum, John W. Mitchell, Al Overton |
| 1974 | Live And Let Die | |
| Nominated | Best Music, Song | Paul and Linda McCartney |
| 1978 | The Spy Who Loved Me | |
| Nominated | Best Art Direction, Set Decoration | Ken Adam, Peter Lamont, Hugh Scaife |
| Nominated | Best Music, Original Score | Marvin Hamlisch |
| Nominated | Best Music, Song | Marvin Hamlisch, Carole Bayer Sager |
| 1980 | Moonraker | |
| Nominated | Best Effects, Visual Effects | Derek Meddings, Paul Wilson, John Evans |
| 1982 | For Your Eyes Only | |
| Nominated | Best Music, Song | Bill Conti, Mick Leeson |
Producer Albert R. Broccoli was awarded the prestigious Irving Thalberg Memorial Award for career achievement at the 54th Academy Awards in 1982. Then current James Bond actor Roger Moore presented the producer with the award at the Dorothy Chandler Pavilion. The trophy for award recipients is in the form of a bust of Thalberg, however it is still counted as an 'honorary Oscar'.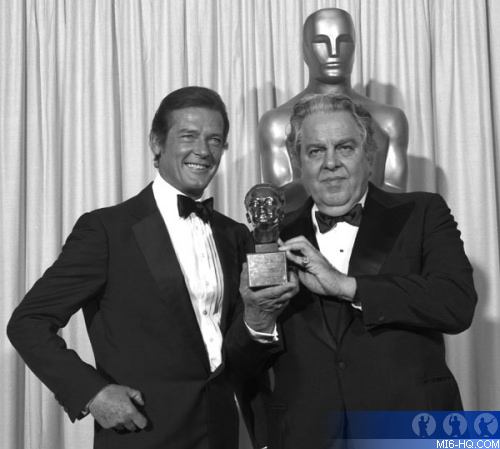 Acceptance Speech
Thank you, Roger, for this marvelous award. It's a tremendous honor to be recognized by the Academy and I'm grateful to its Board of Governors for selecting me for the Irving G. Thalberg Award. I never dreamed when I came to Hollywood in 1934 that I'd be standing here to receive an award from a man who was the idol of all of us. This is an important moment in my life. I feel a great sense of accomplishment, not only for myself, but for all my colleagues with whom I've worked over the years: the actors, the writers, the directors, those exceptionally dedicated and devoted technicians at Pinewood Studios in Great Britain, and for my associates at United Artists.
In particular I'd like to acknowledge two men who were my first producing partners. The first was Irving Allen, and together we enjoyed making the films that Roger Moore mentioned. The second was my partner, former partner, Harry Saltzman, who also envisaged the possible success of "James Bond." And together we received the go ahead from a very dear friend of mine, Arthur Krim. Without Arthur I would not be standing here tonight at this highest point of my career. And I thank him, and I thank the Academy for allowing a farm boy from Long Island to realize this dream.