| | |
| --- | --- |
| | Albert R. Broccoli and Roger Moore are grilled by the American press in August 1981 and asked 'what next'? |
Moore Uncertainty In 1981
21st January 2011
Shortly after "For Your Eyes Only" opened worldwide in the summer of 1981, talk was inevitably turned to what and who the next James Bond adventure would feature. The American press reported interviews with producer Albert R. Broccoli and 007 star Roger moore in late August 1981 to ask the big question - would he be back?
The James Bond movies can go on for at last another generation, but the question arises: Can or will Roger Moore? Moore says that depends upon how he feels when he gets up of a morning. Albert Broccoli, producer of the Bond films and the lucky fellow whose company owns screen rights to the Bond adventures, has already announced that "Octopussy", a 13th picture about 007, will be out in 1982. He adds that is Ian Fleming's books about the secret agent are exhausted, eight short stories remain to be mined for movie material. Plots by Fleming aren't even necessary to the production of the Bond films, since a completely original screenplay was devised to go with the Fleming title "The Spy Who Loved Me."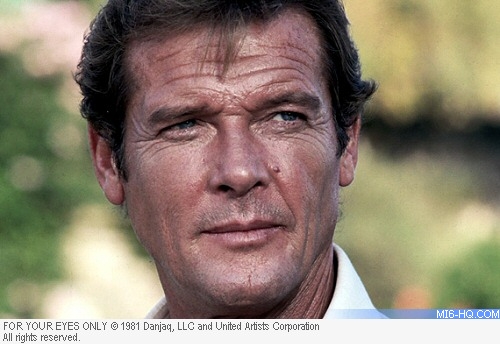 While the Bond character belongs to Broccoli, Roger Moore doesn't. He's played Bond in five of the 007 films, including brand new one, "For You Eyes Only," but he has to be rehired for every outing and at some point may become either too expensive or too tired to continue in the role. "I'm happy to go on working," says Moore. "I'm happy when anyone sends me a script." Yet Broccoli, realizing that his star might not be permanently available, confesses that everything he sees a new actor on the screen, he automatically wonders, "How would he be as James Bond?"
Older persons still think of Sean Connery as the consummate Bond, Broccoli says, "But there's a younger generation that's only known Roger Moore in the role and accepts him completely." (That a mid-generation thinks of George Lazenby as Bond is unlikely.) After establishing his self-confidence by cheerily admitting he's not sure he's ever escaped Connery's massive shadow, Moore says he had "a brief 20 minutes of fear" before the first Bond film with himself in the title role came out. "But then I figured, 'You're going to have the baby. You're one the way to the delivery room, and there's nothing you can do about it now.'"
Moore has done Shakespeare but doesn't hanker to return to such classic fare, "because it's much easier to say 'I'm Bond, James Bond.'" And it's more profitable. Escalating production costs, rather than the possibility that Moore might drop out of the series, give Broccoli the fidgets. He won't make Bond pictures unless they can be done properly, he pledges, and a proper Bond film demands exotic locations, elaborate hardware and supremely expert crews.
"Moonraker," the highest-grossing Bond movie to date, grossed more than $100 million, Broccoli says, but "the profit breaks at $90 million. We are unhappy about the cost of the pictures, but we can't seem to do anything about it." Russia is one of the surprising locales to which Broccoli has been invited to bring a movie company Through the Russian's didn't want him to shoot a James Bond film at the Kremlin. "Can you imagine a car chase in Red Square?" Broccoli asks. "They wanted me to the the picture Warren Beatty is doing." ("Reds," the story of John Reed.)
While pretty girls buzz about Bond in "For Your Eyes Only," the picture eschews the boudoir romps associated with the series. Moore isn't sure how this happened but thinks the omission was wise. "Consider what you see in other pictures," he advises. "In my opinion, if you can't top the sex, you should ignore it."
Professedly happy to stick with Bond while dodging Shakespeare, Moore occasionally feels a twinge of regret in connection with his career. "I've never been offered kitchen sink dramas," he says. "I don't like T-shirts. But sometimes, for the sake of my children, I would like to play better parts. When they ask me, 'Why aren't you ever nominated for an Oscar?' I tell them that Laurence Olivier couldn't be nominated for an Oscar playing James Bond."
Yet Moore has never regretted being an actor. "The first time someone asked me, 'Would you like to be an actor?' I rushed home and told my mother, 'I'm going to be Stewart Granger," he said. "I haven't made it yet, but some day I'm going to be. Someday I'm going to be Stewart Granger."