| | |
| --- | --- |
| | Back in 1982, Barbara Carrera hope her Bond girl would become a classic character, against rival Maud Adams... |
Rival Bond Girls Announced
18th February 2011
Back on September 8th, 1982, two actress were announced as the leading ladies in rival James Bond productions: "Octopussy" with Roger Moore and "Never Say Never Again" with Sean Connery.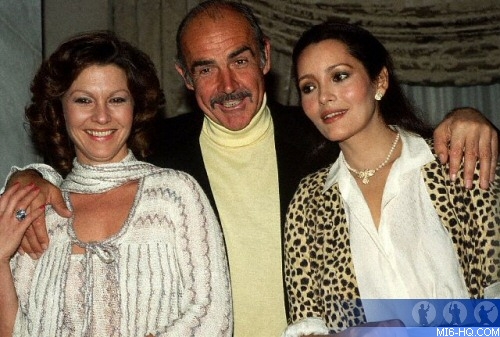 Above: Pamela Salem (Miss Moneypenny), Sean Connery (007), and Barbara Carrera (Fatima Blush) after "Never Say Never Again" was released.
Barbara Carrera and Maud Adams will soon be on their way to London to work in competing James Bond movies. Miss Carrera will play evil Fatima Blush in "Never Say Never Again," starring Sean Connery. Miss Adams will star in the title role of "Octopussy," starring Roger Moore.
Miss Adams, who was in "The Man With The Golden Gun," said she did not realize she was being cast as Octopussy until she went into makeup during a test in London. "I was very excited," she said. "After all, a woman has never before played the title role in a Bond film - or been in two of the films."
Miss Carrera, asked about the two competing Bond films, said, "Well, naturally, I hope that ours turns out to be the classic one. But I hope the other one does well, too. Surely, there's room for both of them."
Why should Carrera be different from Bond's other leading ladies? "Because my character is absolutely wicked and memorable," she says. Although she hates snakes, Carrera had to get used to walking around with a boa constrictor draped around her neck - and under a $50,000 fur cape - because Blush keeps the reptile handy to dispatch enemies.