| | |
| --- | --- |
| | Roger Moore holds out for a new deal, Lois Chiles turns down Playboy, and Richard Kiel says a third movie is in the pipeline for Jaws... |
Tabloid Archive: Moonraker
16th August 2011
Roger Moore is waiting to learn if his days of James Bond glory are over. "Producer Cubby Broccoli hasn't asked me to do another," reports Moore. "But then - he never does until he sees how much money he makes from the last one I've done."
"Moonraker" is currently undergoing release, and he can't see why it won't do as well as ["The Spy Who Loved Me"], which was the most successful Bond picture of all time - racking up approximately $100m in worldwide rentals.

"Modesty should prevent me from saying this," he says, "but 'Moonraker' is the best movie I've ever made." And the one which he negotiated his best deal.

"Yes, even better than the 5 percent of the gross I received for 'The Spy Who Loved Me'," he reports with just a tone of justifiable glee.
Moore isn't ready to admit he's willing to sign on as Bond again, "because, if I did, it would weaken my bargaining position." But he wants us to know there's no reason he can't continue to handle the role indefinitely. He's 52 years old, but as he sees it, "God, no. I'm not getting too old for the part. I'm Peter Pan - though I must admit I do play Bond like Wendy."
Lois Chiles had reservations about accepting the role as Bond's latest love interest (an astronaut-CIA agent), "because I didn't want one of those empty-headed parts. But then I read the script and decided it would be good exposure for me." But dignified exposure. She makes it clear she won't go for any other kind. The former model turned down the offer of a Playboy magazine cover because, "that's not the image I want. I realize that Farrah Fawcett has posed for a Playboy cover, but I don't want to be merchandise, I want to be an actress."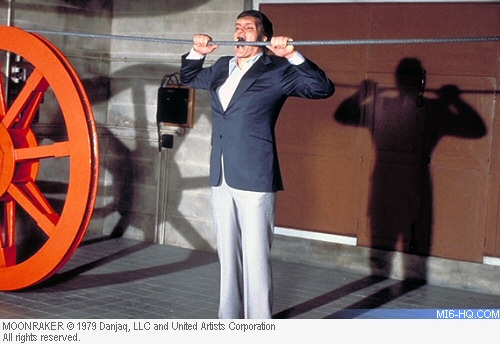 Richard Kiel reprises his role as Jaws, except this time, the 7-foot-2 actor doesn't come off as a menace, but as a man who proves to have a giant-sized heart after he falls in love with 5-foor-4 Blanche Ravalec. "We didn't plan to make Jaws loveable," says Kiel. "It just sort of evolved that way when we were shooting." Kiel, who was mobbed by fans during the "Moonraker" sneak preview, reports director Lewis Gilbert is already talking to him about doing a third Bond movie - in which his romance with Ms. Ravalec's character culminates in marriage.