| | |
| --- | --- |
| | Exactly 50 years ago today, Sean Connery was announced to the world as James Bond 007 for the first silver screen adventure "Dr. No"... |
Bond At 50: Sean Connery Is James Bond
3rd November 2011
Exactly 50 years ago today, Sean Connery was announced as the actor who would be playing Ian Fleming's secret agent James Bond 007 in "Dr. No", the first movie in the series by EON Productions.
The beginnings of James Bond's film career went virtually unnoticed by the trade press, except for a few brief notices announcing the forthcoming film as one of a slate of productions being readied by Harry Saltzman and Albert R. 'Cubby' Broccoli. But while the rest of the world carried on blissfully unaware of what was coming, the producers had hired writer Richard Maibaum to work on a treatment based on Thunderball. But that messy court case surrounding the novel was to rear its ugly head and frightened Saltzman and Broccoli away, though not before Maibaum had actually finished his first draft screenplay. Instead, they turned their attentions to Dr No which was now being prepared by Maibaum and Wolf Mankowitz.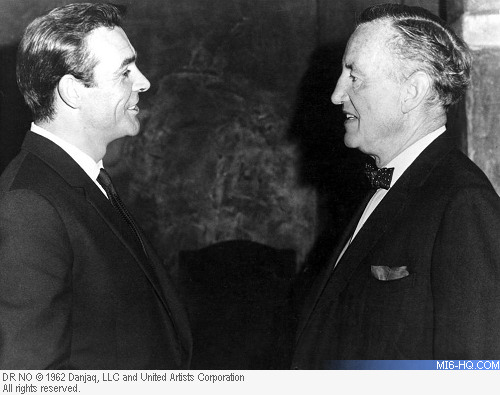 Above: Sean Connery meets James Bond's creator Ian Fleming in 1962.
But there was one vital element still missing from the production - Saltzman and Broccoli didn't have anyone yet to play Bond. On 5 October 1961, Kinematograph Weekly announced that production on Dr No would not now take place until the following year, allowing the producers to concentrate on their search for a star.
A national newspaper ran a competition looking for the screen Bond and had whittled down more than 1,000 contestants to a more manageable six, all of whom were screen tested by EON at Twickenham studios. Of the six, one man emerged as the clear leader - a young model named Peter Anthony. But he was ultimately deemed unsuitable, though as consolation, he was offered a small part in the film, though he eventually failed to appear.
Others who were reportedly being considered for the role at this time included Richard Johnson (who would later play another fictional British secret agent, Bulldog Drummond), Roger Moore, Rex Harrison, Trevor Howard, Max Von Sydow and Patrick McGoohan. The latter was reportedly offered the role but he turned it down, appalled by the character's brutality and wanton behaviour.
Broccoli himself, meanwhile, was keen on pursuing Cary Grant for the role. Fleming favoured either David Niven, Moore or his cousin, Christopher Lee, with his neighbour in Jamaica, Noel Coward, as Dr No, all of whom were deemed unsuitable for one reason or another.

The first time that Sean Connery's name went into the hat was at a dinner party attended by Saltzman and his wife at the Polish club in London. Also present were producer Benjamin Fisz, and editor Peter Hunt (then finishing off work on a comedy, "On The Fiddle", for Fisz and himself a key player in later Bond films). During dinner, Saltzman mentioned the problems that he and Broccoli had been having in finding the right man to play Bond when Fisz mentioned to Hunt that Connery, who was appearing in the still unfinished "On the Fiddle", might fit the bill.

Hunt screened a couple of reels of the film featuring Connery for Saltzman, while in the States, Broccoli had already seen Connery's work in the successful Disney comedy-musical "Darby O'Gill and the Little People" (1958). Connery, a former naval rating, milkman and labourer, had been toiling away in film and TV since 1957, never really achieving the sort of roles that would best suit his obvious talents.
In October 1961, Connery was invited to EON's offices in Mayfair, London, for the first of a series of interviews with Saltzman and Broccoli. The producers were impressed by what they saw - Broccoli liked the young Scot's body language and Saltzman later revealed [on the BBC's Whicker's World in 1967] that they simply "liked the way he moved..."
United Artists were initially reluctant to employ Connery, feeling that Saltzman and Broccoli could do rather better if they tried hard enough. But Saltzman and Broccoli stood their ground and Connery was offered a multi-picture deal in late October 1961.
The Daily Cinema announced the casting of Connery on 3rd November 1961 and Connery was immediately the attention of much press speculation and interest. His best print 'performance' was clearly his interview with Susan Barnes for The Sunday Express published on 31st December 1961 which culminated in Connery and Barnes debating violence towards women and Barnes "beating a rapid retreat" from the rising star's apartment.