| | |
| --- | --- |
| | More from the MI6 interview with the new Bond girl, Bérénice Marlohe, who plays Séverine in 'Skyfall'... |
Bérénice Marlohe Interview (2)
12th November 2012
Bérénice Marlohe plays the aloof, enigmatic young Séverine, a girl with a dark history. She bears the marks of her work in the Chinese brothels, but has since sought refuge in the arms of the maniacal Silva in the hopes that she could transform her life. In real life, however, Bérénice is a bubbly, enthusiastic young actress who is adapting well to her new-found fame as she co-stars in the 50th anniversary Bond outing, "Skyfall". Whilst in Amsterdam, as part of a Heinken sponsored, exclusive screening of the 23rd Bond adventure, MI6 reporter Ben Williams caught up with the actress to chat about her role in the film. Continuing from Part I...
You are living in the Bond circus at the moment. Will it be hard to return to normality after your Skyfall duties are complete?
I look forward to...being by the ocean and connecting with nature. It's been busy, but exciting, because the human experience on that set was amazing, first of all, aside from the fact that it is an amazing movie.
Has this experience changed you?
It has changed me a lot because, in a sense, I had to recreate a whole life and connect with...my origins. Things I wouldn't question before, because I would have been afraid of some of those things, regarding my origins in Asia. So, I get to explore dark aspects. When I cane out of this experience, I felt truly more open than when I entered. This is why it was so extraordinary, because I just had beautiful human revelations.
Daniel Craig gives an incredible performance in Skyfall. What was it like working with him?
Yes, Daniel is amazing. First of all, as an actress, it's just so wonderful to have this ability to interact with such a talented actor, because he's very subtle. And what I really like is that you get to see all his inner life in his eyes, which is his great quality. And most of all, he's just one of the most beautiful human beings, so kind and such a great sense of humour. It was honestly such a great pleasure to get to interact with him.
The production design on Skyfall is fantastic. What was it like working on those sets?
Honestly, I was surprised by the set that they managed to create in Pinewood. For instance, the casino set and the "Dead City" set - which is the combination of a lot of elements. But it's truly surprising. Also, in the casino set...I could feel after one hour of being there I felt that I was in an ancestral place, full of history. You know, you feel at home. It's truly moving, you know it's a set but... I also knew they would destroy it and I was so sad because you feel like it's a real place.
Séverine smokes in the film, which is unusual to see in films these days. Was it your decision to have her smoke?
No, it was not, it was written. But what I like, I find it very cinematic. I always like to think of Marlon Brando, I like to consider myself...
Do you smoke yourself?
No, I don't, and I did it for the role. I had to practice for three months! What was funny was that, when I arrived on set and I was smoking - proud of myself after three months of smoking - Sam told me: "Stop it! It shows that you don't smoke." And I said "What! I've been practicing for three months!" Usually, I don't smoke, but I liked the smoking because it puts me directly into another character's skin.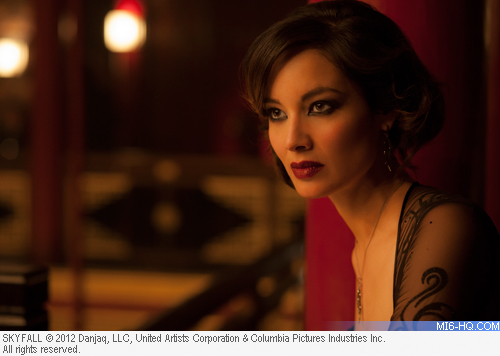 In the casino scene, Séverine's vulnerability is hidden by a mask of confidence, but in your scene with Javier Bardem, there is a moment when you appear to drop that mask and simply become powerful and resolute.
Really, I think this is what is interesting as human beings we have a lot of layers and emotions and most of the time in our social life or even in our everyday lives we want to cover what we really feel. There is a mask, a social mask, and below that you have a lot of other things going on, so I thought it was important to use that to make her a real human being, behind her geisha mask.
Your character is supposed to have a Beretta 70 strapped to her thigh - although we never see it. Did you wear a gun in your scenes to help you get into character?
I have three replicas at home. It's really like toys when you are a kid, y'know? Suddenly, "ah!" you believe you are this character. I wanted people to "feel" that it was there.

You have a very musical background and are an accomplished pianist. What was it that made you decide to pursue a career as an actress instead?
My very first love was drawing and painting faces. I like to try to capture the personality and soul of people. And then I did the piano from ten years old to eighteen years old, classical formations. So this was my very first love. It has to do with art, I'm connected with art. And then acting came a bit later, so I met with an agent in France, she found me, but unfortunately she didn't have any auditions, but she put me on that road to acting. And while doing it, little by little, I really started to enjoy it, because it's so connected with life and the human being you are. You get to know yourself, question yourself, what moves me, what do I want...you have to get a lot of human experience in order to use it on a set. So this is what is fascinating is that it's really connected to your real life and your humanity.


Above: Berenice Marlohe at the round-table interview. Photo courtesy Heineken.
Are you looking forward to more English language films?
Yes, yes! I always dreamt to play in another language other than my own language. I was wishing that I could have my break in France so that people outside France could see me and hire me in other movies, so I'm very happy that I have three movies to come that are English, American films. And my big fantasy as an actress was to be able to play characters like Gary Oldman in Leon or Heath Ledger's Joker in Batman, and this was my ultimate fantasy and I will be able to explore that direction with one of these movies. It opens everything. You have no limits when doing those characters. It's just so exciting.