| | |
| --- | --- |
| | MI6 caught up with German actor Clemens Schick, who played Le Chiffre's quiet but threatening henchman Kratt in "Casino Royale"... |
Clemens Schick Interview
26th April 2008
Could you tell us how you got starting in the acting business and did you ever consider another career path?
I started acting when I was at school: my passion started in an after-school drama class. After I graduated from high school I went to drama school and everything took its course. My drama course was halted, for a year, as I considered entering a Franciscans' monastery. I wanted to become a monk and lived there for 7 months. Unfortunately it didn't work out. However, I am very happy with my profession and my life as it is today.

How did you win your role as Kratt in "Casino Royale"?
My first international part was in "Duel – Enemy at the Gates" – for this I was cast by Annette Borgman, in Germany. Casting Director for the Bond-production Debbie McWilliams asked Annette for suggestions for certain parts in "Casino Royale". So, this is how I was invited to the casting.

At that time I was rehearsing for Shakespeare's "Richard the Third", in which I played the title character. The rehearsals had worn me out. So I was pretty relaxed at the casting. Debbie McWilliams is a very delightful person and I had a lot fun working together with her in the casting sessions.
What initially attracted you to the henchman role and what expectations or reservations did you have taking on the role?
First of all it was a dream to be part of a James Bond production; no matter which part. Being able to act with Daniel Craig and Mads Mikkelsen was tremendous. I liked the part of Kratt a lot. He supports Le Chiffre's part. Le Chiffre's the boss, Kratt does the dirty business. Kratt is always in the background, while always being a little scary and threatening.
What locations did you visit during the course of filming and how much of it was shot in the studios?
I started on the shoot in the Bahamas, spent a long time in Prague and finally was in London. I would say two thirds of my time I worked in a studio.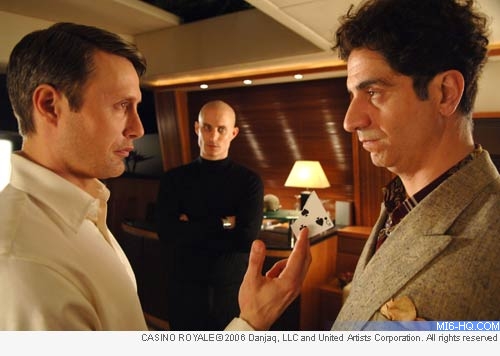 Above: Clemens Schick's character Kratt looks on during a cut scene from "Casino Royale" where Le Chiffre gives Dimitrios half of a torn card - a sign of silent recognition among conspirators and spies who have never before met. Unlike code words or other signals, a torn playing card is a unique identifier and cannot be easily mimicked by an enemy. Each torn half has only one match.
Did you work to develop your character during production of "Casino Royale" and how did your role change throughout shooting?
In January 2006 I met Barbara Broccoli, Martin Campbell and Lindy Hemming in Prague in order to talk about my part. I showed them a picture of me with a shaven head. All three were enthusiastic about it and right away knew: this is Kratt. This is how it all started. I arrived on the Bahamas set with my long hair and came home bald. At that time we were deep in winter in Berlin, so it was quite shocking without any hair. All this is only external, but was essential for the part.
On the Bond picture you would have worked most closely with Mads Mikkelsen – how did you enjoy your scenes together and what is he like off-camera?
Mads Mikkelsen is a great colleague. We nearly had all shooting-days together, as we are in many scenes together. For me the work on a set that big was new, indeed. But with Mads' relaxed and friendly personality I quickly got rid of my timidity.
What are some of the working differences between a Bond production, aside from budget, and smaller independent films you've performed in and which is most rewarding?
What is crucial for work in a movie doesn't depend on whether it's Bond or a student's production – something I did directly after Bond. We always have a camera, director and actors and we all want to tell a story together. This is the main thing. And after that comes the budget and all the resulting possibilities. The essence, however, remains the same.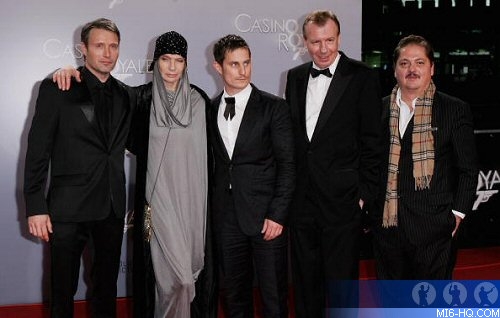 Above: Mads Mikkelsen, Veruschka von Lehndorff, Clemens Schick, Ludger Pistor and Juergen Tarrach at the German premiere of "Casino Royale"
Have you made any connections through your work on Bond and are you actively pursuing further Hollywood jobs?
On a set that big you get to know many people, obviously. To talk about new projects at the moment is far too early. The only thing I do know, however, is that I want to continue to work internationally – in Europe as well as in the United States.
Which premieres did you attend, and did you participate in any other publicity events?
I attended the premiere in London and Berlin. Both were very exciting. In London, the presence of the Queen, the Marching-In of the Queen's Guard into the cinema, the National Anthem, and of course the party afterwards. All this I will never forget. In Berlin I arrived on the red carpet at quarter past seven, at five to eight I reached at the end of the carpet, five past eight I was on stage, in theatre and acted and after my last scene I rushed back to the cinema. I won't forget this either!
How do you feel that your work on "Casino Royale" has propelled your career?
Through Casino Royale I have gained a popularity in Germany I didn't have before. This is a considerable advantage. My career was going very well before Bond, especially on stage. As far as the film business is concerned, after Bond happened I have gained quite a bit more experience and work.
What is Martin Campbell like as a filmmaker and what was your working relationship like?
Martin Campbell guides such a big team in an incredibly relaxed way. He tells you exactly what he wants and cooperates closely with the actor. I personally appreciate this. Besides he never lost his humour, although it was quite stressful sometimes. Together with Daniel Craig and Barbara Broccoli, he always managed to create a great atmosphere on the set.

Would you consider yourself a Bond fan and which of the Bond films, if any, do you particularly enjoy?
I grew up with Bond. Bond was part of my life. I have never been a fanatical fan. Not really. But I have watched every single Bond-film. After "Casino Royale" there is no other favourite Bond for me anymore. And this won't change.

Were you pleased with the final outcome of the film and how do you feel the film developed from your initial expectations?
I am very impressed with "Casino Royale" and just can't wait to see the new one with Daniel Craig. I never had any specific expectations of how the film would look. The only thing I know is that I have always been a fan of Daniel, even before we all knew he would be the new James Bond.
You've worked on several high-profile stage productions during your career – how does working onstage differ to your work in front of the camera?
I have the feeling that my 10 years experience on stage have been the best training for me to work on the set. The main difference is the size of the space I have to play for. In a theatre I act in front of 600 people or more, they can be located 25 seat-rows away from me. The film camera is like the audience in the first row. Thus I can use my craft in a totally different way. Both situations are as attractive: the big game on stage as well as the small gesture in front of the camera.
You studied at the Berlin School of Acting, do you have any fond memories of you studies there are what was the most valuable thing you learnt from your education?
Going to a private drama school in Germany doesn't have the same reputation as studying in a public school. In Berlin there are two very famous public acting schools, which both rejected my application. This makes it more difficult to get started after graduation, as private schools, unfortunately, are not respected in the same way. In addition to this, I worked as a waiter up to three nights a week in order to earn the money for the school fees. I was quite relieved when I had finished school and I could start working in theatre. Nevertheless, I had excellent teachers, whom I owe a lot.
Can you tell us about your one-man stage show "Windows" - what it's about and how you conceived the production?
The show is about an hour and a half long. I am on stage, all by myself. No music. No video-projection. Nothing. Just me. This night is a mixture of stand-up-comedy, performance and theatre. At the beginning there was a text written by the German author Matthias Grefrath. I have handled this text in a very independent way. Up to now there is no fixed version of the show. Each performance, therefore, turns out to be different. I have performed this show in the States, in English, and this was a big challenge for me, which I enjoyed a lot.
What other projects are you currently working on and where can people see you next?
At the moment I am acting at the State Theatre in Hannover, as well as in Berlin at Schaubühne and my Solo-night at Sophien-Sälen. In addition there will be a new crime season called "Innocent". I am the main character Marco Lorenz. It started mid-April, each Wednesday, at 8.15h on Pro7. All my new events are listed on my website: www.clemensschick.com
Related Articles

"Casino Royale" Movie Coverage