| | |
| --- | --- |
| | Exclusive: MI6 recently caught up with James Bond composer David Arnold to talk about his work on Casino Royale. |
In Conversation With David Arnold (1)
5th April 2007
Exclusive: MI6 recently caught up with James Bond composer David Arnold to talk about his work on Casino Royale. In the first part of this serialized interview, he talks about taking 007 back to the beginning.
How did you feel about the challenge to restart the series with "Casino Royale", both as an opportunity to refresh the style and also to cut from what people expect?
Well I think that it's interesting that people were talking about "Batman Begins" – the whole reboot concept of it, and of course reading the script, it wasn't really a reboot. You don't get the childhood history you don't get that much background. He's kind of appearing in scene one, page one, reasonably fully formed as an agent. It's his finer faculties and his experience that he hasn't got yet – but he has no problem killing. He has no problem doing the job in a mechanical way although the impact of the first kill is obviously felt, so I knew we weren't going back to the first time that he ever saw a gun or the first time that he ever drives a car and looking surprised at himself for doing a three point turn.
"It wasn't going to be a completely from the ground up construction, but we knew it was going to be early days"

I thought it was interesting speaking to Robert Wade and Neil Purvis about what their process for writing was. Knowing that it wasn't going to be Pierce you could write to the strengths of James Bond, so you could write to the strength of the character rather than picturing Pierce doing the lines.

So we didn't know who was going to be cast at that point – it was a kind of a great mystery. But it also made it potentially very exciting because everybody who came in was going to have to read these words and do the actions; create something from these lines rather than take it off where the last person left it.


Above: US cover art for the soundtrack CD
Order CD (Amazon USA)
Order CD (Amazon UK)
That's something perhaps other actors have had to deal with. Even though artistically and creatively we know that Daniel has come post Sean Connery, Roger Moore and the rest, but of course in the warped timeline that this universe exists in, there have been no other Bonds. So that it's a very bold decision that Daniel made to kind of play it without looking over his shoulder. But what was obvious was that the James Bond theme couldn't really be used because James Bond hadn't earned it at that point, he hadn't become that character. It was in the script from Day One and it was decided that we weren't going to use it.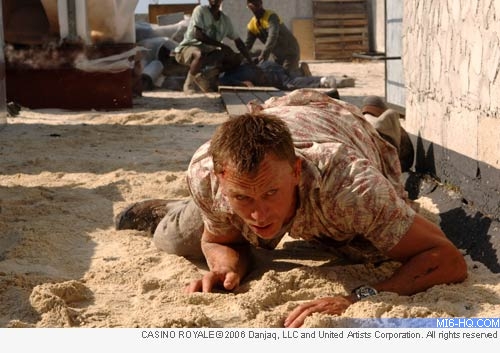 "...the James Bond theme couldn't really be used because
James Bond hadn't earned it..."
I had scored a few scenes and I did do it in scene order so I started with the Parkour chase – I tried a couple of things. I'd had a discussion with Sony fairly late in the day about whether we should put the Bond theme in, and said that I didn't think it was a good idea because of what happened. Every time you play it kind of dissolves any sense of drama, dissolves any sense of real danger because when you hear that theme you kind of sit back in your chair and you kind of wriggle about and you smile to yourself and you kind of think, "great how's he going to get out of this? What's he going to do now?"
There are moments to enjoy the Bond theme and I think what was great with "Casino Royale" was that you really didn't know whether he was going to get out of it. We have to believe that perhaps he wouldn't. Perhaps a couple of times he obviously came close not to, but a couple of moments where he did not necessary emerge from. In the African mission it was considered to be a failure as far as that mission was concerned.
So if you start playing the Bond theme you're placing him in the wrong position, he will succeed and yet, during the film, he earns his stripes as a character. We play the kind of DNA of it and that was kind of built into the title song as well, the DNA of the Bond theme is to be found in the DNA of "You Know My Name".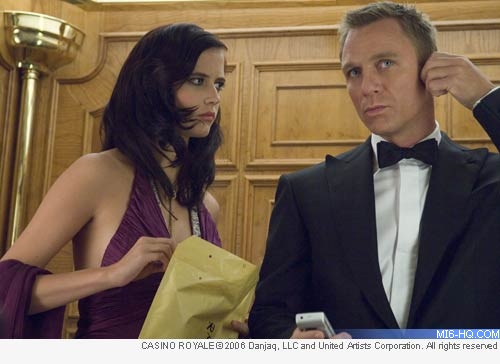 It felt like "I'm coming and you better get out of my way"...
It's a complex deconstruction. It sounds like a fairly simple song but if you analyze that alongside the original Bond theme they are like first cousins. When he's wins the DB5 in the card game against Dimitrios, when he earns one of the Bond icons we give him some of the Bond music – just a hint of it, so we know we're getting closer. And when he puts the tuxedo on in the bathroom with Vesper he earns a bit more. When he's in the fight at the end and he's finally beating everyone, he earns a bit more. Of course it's not till the very end that the banner unfurls and the curtains draw and there he is. That was kind of the whole idea behind it.
It frees you up in quite a way. It never felt right playing it out with Daniel. Especially the "be-bop" section, even the twangy guitar theme from the main riff couldn't get there till the end. I think that when Daniel is on the screen and if you play that "be-bop" section that it would of blown the whole thing out the water because I think it would have made it feel just too trite. You know, it's not a trite piece of music and he's not a trite character but we played it when Pierce was paragliding and surfing in "Die Another Day" and cutting his car in half with big chopping blades. It had been used in some quite extravagant scenes in a lot in recent films and I felt that it was important that we put the distance between "Casino Royale" and the extravagance of "Die Another Day" in particular.
It's a funny business the Bond theme. It is one of the greatest pieces of music in film and it is quite wonderful when you hear it. But you know Daniel had to earn it, his James Bond had to earn it. And I think that when you do get it, it's worth the wait.
Well I was working on the song while they were still shooting in Prague. I'd been over to the set a couple of times and I had a couple of ideas and I had been talking to Martin Campbell and talking to Daniel. He's very interested in music and I was talking to him about the feel of it and watching to see how he was. It was while they were filming all of the casino stuff – so he was buttoned up in those sequences. He wasn't running around fighting anyone, so it was tense. We sat down while they were doing setups and talked about just the feel of it and it felt like it needed to be a song that kind of challenged people to come and have a go which was the challenge that had been laid down by those ridiculous tabloid headlines after the press conference.

It was like someone has thrown down the gauntlet and we needed to pick it up, fill it with something heavy and throw it back. It felt like "I'm coming and you better get out of my way". It felt like it needed to be that, it needed to be an unrelenting and push forward. We started actually writing around mid June.

---
Biography
David Arnold composed, arranged and produced the score for Casino Royale, his fourth James Bond film, following Tomorrow Never Dies, The World is Not Enough and Die Another Day. As composer for Casino Royale, Arnold collaborated with Chris Cornell to write the title song "You Know My Name."
Hailed as one of the most successful young British composers, Arnold began his film career making short films with fellow enthusiast Danny Cannon, teaching himself to write, orchestrate and compose the scores for their films. In 1993, he scored Cannon's feature film debut The Young Americans, combining lush orchestration with Bjork's vocals for the title song "Play Dead," which earned critical and commercial success. This led to the offer to score Stargate, Roland Emmerich's sci-fi film, which enjoyed box-office success and earned Arnold his first BMI Award.
Winner of seven BMI Awards for his music for Tomorrow Never Dies, The World is Not Enough, Die Another Day, Stargate, Independence Day, Godzilla and 2 Fast 2 Furious, he also won a Grammy for Independence Day and recently won the Royal Television Society Award for the title music of the UK comedy series "Little Britain." In addition, he won the Ivor Novello Award for the music for The World Is Not Enough. He has been recognized by the film industry as a talented and diverse composer, arranger and producer, whose scores include Shaft, Changing Lanes, 2 Fast 2 Furious, The Stepford Wives and, most recently, Michael Apted's Amazing Grace, Venus directed by Roger Michell, and Hot Fuzz directed by Edgar Wright.
Related Articles

Casino Royale Coverage

Casino Royale Official Soundtrack - Preview

You Know My Name - Single Preview

Chris Cornell On Casino Royale

Bond Music