| | |
| --- | --- |
| | Exclusive: MI6 recently caught up with James Bond composer David Arnold to talk about his work on Casino Royale. |
In Conversation With David Arnold (2)
15th April 2007
Exclusive: MI6 recently caught up with James Bond composer David Arnold to talk about his work on Casino Royale. In the second part of this serialized interview, he talks about the use of the famous James Bond theme.

In Conversation With David Arnold - Part 1
How did you feel when you first saw the script? Was there a note in the script that said the James Bond theme tune should be played at the very end?
I was kind of reading it and hearing it as we went through. I thought the way that the gun barrel was written originally was slightly different to the one we had in the script. But the idea that all of a sudden you where seeing a real gun and seeing him react to it... I thought that worked as a very neat tie-in – a clever and glorious Bond moment. You got it in a different way and again that is something that he'd earned now. He'd earned the right to assassinate whoever was stalking him at the start of every film.

As I was reading through the script what struck me about it, which was very refreshing, was that the fact that people had conversations in the film that lasted more than 10 seconds without something blowing up. Obviously it had great dialog – sharp, witty, erudite, smart – and great story structure. Dialog still felt funny where it needed to and wasn't forced and stupid, it didn't feel silly, it's a more mature film in a lot of ways. It's still enjoyable, not as much outright fun as the last film but it's more satisfying in a lot of ways. But you can enjoy James Bond films in many different ways; you have many different people playing the part in many ways.



Reading through the script you realise that it is a far more intriguing and consequential relationship that he has with Vesper and realised that his relationship with Solange helps him get where he wanted, and informed us a great deal about his attitude to women. I think he would have had the same attitude with a man.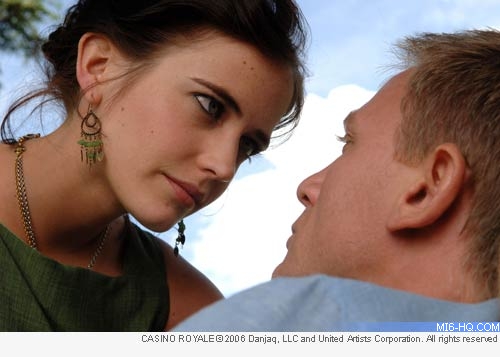 "I was relieved that we weren't jamming the film with action"
"Die Another Day" was almost 65 minutes of solid action music whereas I think Casino Royale was 35 minutes. When I said to people that I knew there's only half as much action in it as there was in "Die Another Day" people thought that was odd. A lot of people desperately, desperately, desperately want to have some kind of substance between the action because that's what kind of makes the action more exciting and more involving and engaging. Because you've learnt and know the people a bit more and you find out what their motivations are. There was such a lot of it in "Casino Royale".
When we went to see "Dr No" at EON when they had a 40th Anniversary screening a few years back it was the first time I'd seen that projected for a long time. I was amazed at how much talk there was. They discussed things.

"When you have an actor of Daniel's calibre you enjoy watching it because he just makes the film come alive"

And I think they had a great cast: Judy was fantastic and I thought Mads Mikkelsen was great. Eva was amazing and just seemed to be perfect!

Even when we spotted the film, I was sitting watching it go by and didn't want them to switch it off – even though it was the tenth time we had sat through it. We talked about some ideas and where some things need to happen and what they needed to do. I never wanted them to stop; I just wanted to keep watching it. There probably wasn't a day that went by when something didn't turn up in a newspaper or on a website – which ups the stakes. Whether it was true or not, the kind of consciousness was global and all encompassing.
Everyone knew that it was a risk because we weren't sitting on the comfortable film which we could have been sitting on. That element of risk was felt from day one, but it felt like we all jumped together and although I can only speak for myself. We all knew that 'this' was the film that we wanted to make and in a way it was sort of a film that we were waiting to make for quite a while.
I was so pleased when it performed the way it performed and was received the way it was received. It felt quite clear to me that it was what we were doing from day one. I think it's quite difficult to see that people had no idea of what we were doing and were publishing opinions and speculating on it: Daniel not being able to drive a manual car – how ridiculous – what nonsense. It is a worldwide thing, it always has been and in a way it's always been the same I just think we've made a better film.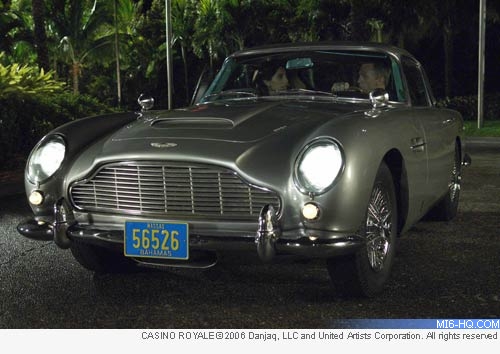 "Daniel not being able to drive a manual car – how ridiculous"
You mentioned before that there are key moments when Bond receives a little bit of the theme?
It seemed fairly obvious to me where they were and it's interesting because a lot of this film is about the iconography – the creation of the iconography. Talking with Daniel Kleinman about the opening: he was kind of going for the origin of the silhouette logo, how did we get there and what does that mean. It was the iconography of the whole thing. It is like a celebration of the icon even though everyone knows it and is familiar with it. Like in the first "Star Trek" film, where they go to the bay where the Enterprise is revealed for the first time you get that little tingle even though you've seen it a hundred times, there's just something about seeing it again.
Similar to seeing James Bond get his Aston Martin for the first time, rather than it be a matter of fact that he has it. To see him make his first kill and see him suffer the consequences of it internally, the consequences of his first kill in the bathroom. Absorbing the image that the dinner jacket gives him – being completely and utterly reluctant to have anything to do with it.

All of a sudden it's kind of clinging to him like a second skin. To inhabit that world and all of a sudden be the person he needs to be; to wear that dinner jacket to be at the table to beat those people. You know I think that's very exciting!
Even if you're not a Bond fan you've got to be aware of the character and I think that a lot of people who weren't necessarily hard-core Bond fans wanted to see this film.
Stay tuned to MI6 for more of the David Arnold interview...
---
Biography
David Arnold composed, arranged and produced the score for Casino Royale, his fourth James Bond film, following Tomorrow Never Dies, The World is Not Enough and Die Another Day. As composer for Casino Royale, Arnold collaborated with Chris Cornell to write the title song "You Know My Name."
Hailed as one of the most successful young British composers, Arnold began his film career making short films with fellow enthusiast Danny Cannon, teaching himself to write, orchestrate and compose the scores for their films. In 1993, he scored Cannon's feature film debut The Young Americans, combining lush orchestration with Bjork's vocals for the title song "Play Dead," which earned critical and commercial success. This led to the offer to score Stargate, Roland Emmerich's sci-fi film, which enjoyed box-office success and earned Arnold his first BMI Award.
Winner of seven BMI Awards for his music for Tomorrow Never Dies, The World is Not Enough, Die Another Day, Stargate, Independence Day, Godzilla and 2 Fast 2 Furious, he also won a Grammy for Independence Day and recently won the Royal Television Society Award for the title music of the UK comedy series "Little Britain." In addition, he won the Ivor Novello Award for the music for The World Is Not Enough. He has been recognized by the film industry as a talented and diverse composer, arranger and producer, whose scores include Shaft, Changing Lanes, 2 Fast 2 Furious, The Stepford Wives and, most recently, Michael Apted's Amazing Grace, Venus directed by Roger Michell, and Hot Fuzz directed by Edgar Wright.
Related Articles

Casino Royale Coverage

Casino Royale Official Soundtrack - Preview

You Know My Name - Single Preview

Chris Cornell On Casino Royale

Bond Music