| | |
| --- | --- |
| | Exclusive: MI6 recently caught up with James Bond composer David Arnold to talk about the theme song You Know My Name and working with Chris Cornell... |
In Conversation With David Arnold (3)
30th April 2007
Exclusive: MI6 recently caught up with James Bond composer David Arnold to talk about his work on Casino Royale. In the third part of this serialized interview, he talks about the theme song You Know My Name and working with Chris Cornell.
How did you go about selecting Chris Cornell?
I was in Prague with Barbara and Michael and we were discussing who it should be. I felt that it should be a male. It felt like it needed to be someone who almost knew the sound of how Daniel's James Bond looked. My conversations with Daniel kind of led me to the idea of masculine music.
In the '70's there were quite a lot of 'masculine' performers, Bruce Springsteen, Led Zeppelin, Tom Jones and Robert Plant. The kind of guys that were guy, guys.
The gentle, reconstructed singer with an acoustic guitar, there is an awful lot of that out there, very intelligent, sensitive, poetic singer-song writing. But there's not really a modern equivalent of Tom Jones, Rod Stewart, Robert Plant or Bruce Springsteen. I suppose in very crude terms it comes down to balls.
Audioslave were a much bigger deal in the States than in England, although I knew them, it wasn't really on my radar and I knew it wanted to be someone kind of tough.

Then I was in Spain and had a conversation with Lea Vollack the head of Sony Music and she came up with the idea, she had worked with him previously on something and when she said it I thought that a) that's the most interesting idea that I'd heard and b) I'm really surprised that Sony would give that a try because Chris wasn't an enormous multi-million selling solo artist. He's been in two fantastic bands that did a huge amount of business, but was far as the world was concerned, he wasn't a name like Madonna was a name. He wasn't an obvious choice and what was fantastic about Sony all the way through this, as far as I was concerned, was their willingness to stay on the edge of it and not pull back and go with a more obvious choice


Order Single CD (Amazon USA)
Order Single CD (Amazon UK)

I was encouraged by that suggestion, so Chris came out to Prague and we watched about 20 minutes of the movie and I think he kind of got it. He seemed to be very excited and I said to him: "look I've got some ideas" but I wanted him to have some of his ideas independent of mine – just to see what happened, rather than kind of squeeze everything down one particular hole. I thought, lets go away and get some ideas down, so we went away for a couple of weeks. He was still doing his solo album and promotional work for Audioslave and I think I was finishing Amazing Grace.
We'd got some basic ideas together and then I went up to his apartment in Paris and he played me his idea and I played him my ideas. We'd kind of written parts of the same song simultaneously and it all came together amazingly well. Then I took those ideas away with me and I put together a kind of blueprint to what I thought the song should be arranged and sent that to him.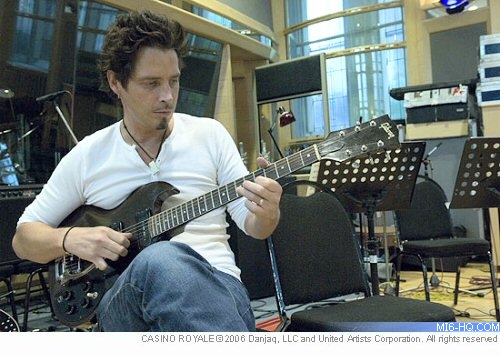 Above: Chris Cornell performs for the title song You Know My Name
He worked on the lyrics came over to my place in London and we sat down for a couple of days worked through the lyrics, worked more on the arrangement and did a demo. Barbara and Michael came over and we played it to them. Happily they liked it.
I thought it was important to come up with the idea of the DNA of the James Bond music in there somewhere and have familiarity with it. I think the way they kind of sit on top of each other is quite interesting and quite effective: for instance, in the dinner jacket scene, when he puts the tux on for the first time and we get that murky bass that opens up the James Bond theme.
Did you initially plan the song to be tied into the score?
Obviously for me that is ideal, so I knew before we'd played it for anyone other than Barbara and Michael and Sony who were very very supportive of us and it. Everyone kind of dug it. We were pleased with the way that it went down with the filmmakers and studio.
I knew that was it, I was committed to it. I knew that was what Chris and I wanted it to be and I knew that I could work the song and ideas constructively into the score. The score needed to sit on the Bondish element of it and squarely on the shoulders of the song. So we were committed to the idea from the start and there wasn't really any question of not doing it. We just had to make sure that we had something with a bit of material in that would enable you to do it.
There are several mixes of "You Know My Name". Which is your favourite and why?
The one I did for the film, mainly because the film mix is the one which is most important for the playing of the film itself. Chris supervised two versions in LA but I only ever did the film version. Basically they are the same recording apart from a couple of vocal lines that were redone.

At the end of "Casino Royale" we get to hear the full rendition of the James Bond theme. Who was lucky enough to strum the guitar – was it Vic Flick?
It was me. It was my reward after working for 10 weeks, 17 hour days writing the score.

The reason that the rendition of that piece in Casino Royale is so powerful and lively is because, like the movie, I waited till we had finished recording the entire score so the last thing we were going to play was the James Bond theme. The whole orchestra was completely geared up having waited a whole week to play it so it was the last thing we did. We had an afternoon session on a Friday and we had spent a long hard week recording a lot of music and some off it was really tough and they played it brilliantly.



Everybody was waiting for the Bond theme. All of a sudden the studio filled up with people who were visiting. We felt that we had come to the end of it, the film had arrived, the score had arrived, here we were, here is Daniel – this new brilliant James Bond and it was the first time we were going to hear the theme with him in front of us .
The orchestra played with such vigour and enthusiasm, everybody stood up and clapped. It was quite extraordinary. It was such a lively performance – which makes it great on the record. It went back to the John Barry orchestration; it was much simpler and raw.

It was like Daniel: meaner, leaner, more muscular, and tougher and had a lot of attitude. It was all down to the musicians. I always feel slightly fraudulent sitting in there with all those people playing my guitar. They are such brilliant musicians and make it look very easy.
---
Biography
David Arnold composed, arranged and produced the score for Casino Royale, his fourth James Bond film, following Tomorrow Never Dies, The World is Not Enough and Die Another Day. As composer for Casino Royale, Arnold collaborated with Chris Cornell to write the title song "You Know My Name."
Hailed as one of the most successful young British composers, Arnold began his film career making short films with fellow enthusiast Danny Cannon, teaching himself to write, orchestrate and compose the scores for their films. In 1993, he scored Cannon's feature film debut The Young Americans, combining lush orchestration with Bjork's vocals for the title song "Play Dead," which earned critical and commercial success. This led to the offer to score Stargate, Roland Emmerich's sci-fi film, which enjoyed box-office success and earned Arnold his first BMI Award.
Winner of seven BMI Awards for his music for Tomorrow Never Dies, The World is Not Enough, Die Another Day, Stargate, Independence Day, Godzilla and 2 Fast 2 Furious, he also won a Grammy for Independence Day and recently won the Royal Television Society Award for the title music of the UK comedy series "Little Britain." In addition, he won the Ivor Novello Award for the music for The World Is Not Enough. He has been recognized by the film industry as a talented and diverse composer, arranger and producer, whose scores include Shaft, Changing Lanes, 2 Fast 2 Furious, The Stepford Wives and, most recently, Michael Apted's Amazing Grace, Venus directed by Roger Michell, and Hot Fuzz directed by Edgar Wright.
Related Articles

Casino Royale Coverage

Casino Royale Official Soundtrack - Preview

You Know My Name - Single Preview

Chris Cornell On Casino Royale

Bond Music