| | |
| --- | --- |
| | Exclusive: MI6 recently caught up with James Bond composer David Arnold to talk about his work on Casino Royale. |
In Conversation With David Arnold (4)
9th May 2007
Exclusive: MI6 recently caught up with James Bond composer David Arnold to talk about his work on Casino Royale. In the fourth part of this serialized interview, he talks about the feel of the score and the importance of Casino Royale.
How would you describe your feelings of the "Casino Royale" score compared to previous Bond films?
Usually when I'm doing one of these some friends or someone from the studio will come around and have a look at some things. What struck me about it was when we are mixing a sequence, it is clear what the highlights to the film and score are. Well I think that like the film itself, that was not obvious this time.
For instance in "The World Is Not Enough" I thought the boat chase at the start was one of the musical and dramatic highlights of that film. If you wanted to see what it was about you could watch that sequence. Obviously it doesn't tell you the story but that would be the moment in the film for one of the greatest hits in "The World is Not Enough". The car-park chase in "Tomorrow Never Dies" with the remote control BMW. "Die Another Day", the ice chase, and a lot of action stuff.
What was intersecting about "Casino Royale" was the story was so intriguing, you almost couldn't pick a moment and say this is the moment. I mean the torture sequence was a kind of dramatic highlight. But apart from getting us in and getting us out the music is not in that sequence and it never was so I guess if we'd have scored that it might have been that. I think if we'd have scored it would have been half the scene that it was because it would have softened the whole effect.
I think that there wasn't a kind of tent pole moment. There are bits of the Miami international sequence and Parkour chase that are very exciting, but we're not relying on music for it to be great, it's great anyway and I think that that's a big difference – that you know this film is… perhaps you'd struggle to find a moment in a great spy thriller where you said you know this is it – you have to watch the whole film.
It is about the whole film, not a moment. Every bit is almost as crucial as the next bit and some of my favourite moments are actually subtler moments – the bathroom where Vesper's covered in blood in the shower or Solange on the beach are very satisfying musical moments for me.
My experience of the score and the film is that I pretty much like all of it, although some bits more than others. We were talking about this for the BAFTA's when they showed bits for the awards.

I think of the music of him running up a crane to the riff from "You Know My Name" and I'm thinking that's not the Vesper in the shower bit or the Miami… you felt like trying to pick a moment of Daniel's performance that represented his performance in that film will sell it short because you have to be there for the whole thing. So that's kind of my feeling of. So, there's probably not a moment I could play and say this is the highlight of the score.

Do you think you'll use any of the motifs you've created for "Casino Royale" and which is your favourite motif or character theme?
I liked the piano, the kind of desperate, sad piano of Vesper's element before they fell in love with each other – when it was kind of exposed and frail. I like that moment. I like the opening riff, the opening riff of "You Know My Name" it works in the film Those are probably my favourite bits; I like the Solange scene. Would I use it again in the future? It depends what happens in the future. If there are elements of Vespers story that come back, you know there may be a reason to use it.
Many think the film is a key turning point in the franchise, would you agree?
I think so, critically it's been well received, historically James Bond has been an enormous umbrella that we all shelter under and somehow it's become impervious to criticism and not related to its performance, although everyone would rather we made films that were well received critically. It's the first time that we've had such amazing reviews and as I've said before it's a fantastic film and a fantastic Bond film, and it's been lined up next to other great films like "The Queen" and "The Departed". A lot of that is down to Martin doing a fantastic job.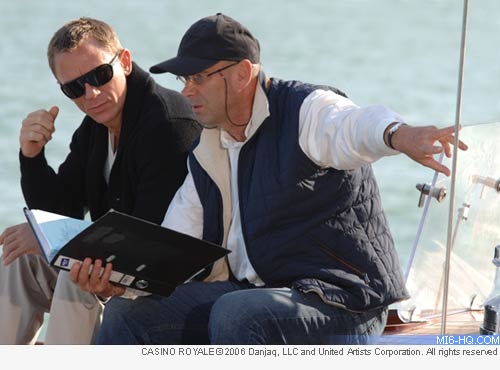 Daniel Craig had it on his shoulders fair and square and it could have either gone one way or the other. The moment I saw him in the screen test I knew where we were heading and I never had any doubt. When I was contacted by the BBC to comment on the headlines after the press conference about Daniel: "James Bland" and all that kind of stuff, I said to them: if we were releasing "Casino Royale - the press conference" we may have a problem, but we weren't, we were releasing "Casino Royale - the movie".
A couple of weeks before, we had finished all the screen tests with Daniel and he was electrifying and I think people will feel very foolish when they read back over what they said. I'm very happy for Daniel and I'm happy for Eon and Sony. It's re-energised the franchise. Barbara and Michael have made a lot of bold, tough decisions, which have turned out to be the right ones.

I'm very pleased with how Sony have done everything: like turning this album around in two weeks. From delivery of the parts, to manufacturing and getting it out in stores – that's amazing for a major film studio and from a major record company that just does not normally happen. They made it happen. I have to take my hat off to them. And the fact that they gave you so much music on it, and even more on iTunes, it bodes well for the future. We are in good hands.


Order CD (Amazon USA)
Order CD (Amazon UK)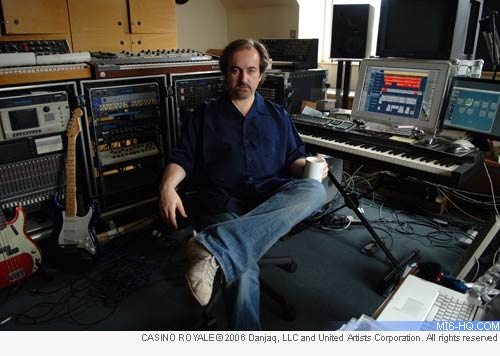 ---
Biography
David Arnold composed, arranged and produced the score for Casino Royale, his fourth James Bond film, following Tomorrow Never Dies, The World is Not Enough and Die Another Day. As composer for Casino Royale, Arnold collaborated with Chris Cornell to write the title song "You Know My Name."
Hailed as one of the most successful young British composers, Arnold began his film career making short films with fellow enthusiast Danny Cannon, teaching himself to write, orchestrate and compose the scores for their films. In 1993, he scored Cannon's feature film debut The Young Americans, combining lush orchestration with Bjork's vocals for the title song "Play Dead," which earned critical and commercial success. This led to the offer to score Stargate, Roland Emmerich's sci-fi film, which enjoyed box-office success and earned Arnold his first BMI Award.
Winner of seven BMI Awards for his music for Tomorrow Never Dies, The World is Not Enough, Die Another Day, Stargate, Independence Day, Godzilla and 2 Fast 2 Furious, he also won a Grammy for Independence Day and recently won the Royal Television Society Award for the title music of the UK comedy series "Little Britain." In addition, he won the Ivor Novello Award for the music for The World Is Not Enough. He has been recognized by the film industry as a talented and diverse composer, arranger and producer, whose scores include Shaft, Changing Lanes, 2 Fast 2 Furious, The Stepford Wives and, most recently, Michael Apted's Amazing Grace, Venus directed by Roger Michell, and Hot Fuzz directed by Edgar Wright.
Related Articles

Casino Royale Coverage

Casino Royale Official Soundtrack - Preview

You Know My Name - Single Preview

Chris Cornell On Casino Royale

Bond Music