| | |
| --- | --- |
| | MI6 talked to stunt coordinator Gary Powell on the set of Casino Royale to discuss his work on the 21st James Bond film... |
Casino Royale Stunt Coordinator - Gary Powell Interview
16th November 2006
With just over a week of filming left before Casino Royale wrapped principal photography, MI6 visited the filming on location at Dunsfold Aerodrome, UK, and caught up with stunt coordinator Gary Powell to talk about the movie.
You are the Stunt co-ordinator for Casino Royale, and you started off as a stuntman on earlier Bond's Can you tell us about some of your past jobs?
Well I've been very lucky, I've done some great films like Braveheart, Titanic, Saving Private Ryan and previous Bond films. I drove the tank in Goldeneye and I did the barrel roll in The World Is Not Enough. This is my fourth Bond, but the first as a Stunt Co-ordinator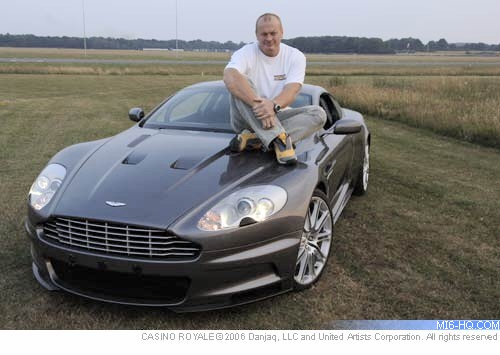 Can you tell us a little about this second shoot this evening and how the jumbo jet will feature?
This is towards the end of this particular scene which is supposed to be Miami airport, Carlos who is the terrorist is driving this tanker full of petrol towards the airplane that they (the antagonists of the film) want to blow up. If they do that it will result in people losing millions of dollars of shares, and Bond is intent on stopping Carlos. We have filmed an enormous chase from one end of Miami Airport to the other, with numerous things getting blown up and destroyed. He drove through a bendy bus and cars. This is the Miami police officers last chance to stop him, so they drive a load of police cars in front of him, and Carlos ploughs through them and Bond manages to save the day and skids up to the airplane with inches to spare. Bond is then dragged out by the Miami police and Carlos comes to a very unpleasant end.




What will we see tonight?
You will see the approach, which is the tanker racing down from the other end heading towards the plane, crowd extras running away screaming and police cars heading towards the tanker.

What is the water on the runway for?
Two reasons, the first it gives a better look to the film, nice reflections and lighting effects. The second, for us 'the stunt crew' where we will have vehicles skidding, the water actually hides the skid marks. You see in a lot of films when it's day time and dry, the cars come in do there skids in rehearsal and then go back out for the shoot, and when you see the shot there are three or four sets of skid marks. So it gives the game away, showing what they have been doing. Also it makes it easier for us to skid the cars on the water, and hides the marks.

Can you tell us a little about the airplane at the end of the runway?
Basically, we've created our own futuristic airplane, which will be unveiled to the world. It's a near replica of the Airbus 380, which we could not use for obvious reasons. So we developed our own which is what you are seeing.

Can you tell us about how it's going to be digitally enhanced for the film?
What we have here is a jumbo jet and we are going to add bits on the top and side, which will make it unique.
Have you had any injuries filming Casino Royale?
No, we've been really lucky, we've done some fantastic stuff. When we were in the Bahamas, we had Daniel running all over a construction site. We had stuntmen jumping off a 140" crane to 120" to 100" roof all in one shot and we had scrapes and bruises.
How do you motivate the cast and stunt crew?
In rehearsal we rehearse every single stunt. For Daniel we show him how it exactly should be. He rehearses it and sees how it should be, so when come to the day, for me he is quite easy to work with as he is very self critical. When he watches it back he knows if it is right or wrong. He will see it and if the punch was in the wrong place or his look was not right he will say ' I want to do that again'. So he goes straight back in and does it until he gets it right.
Have you disagreed with him over what stunts he should and should not do?
No, he is very easy to work with when it comes to that sort of thing, he's 100% got no ego about, I want to do all my own stunts. We just finished a fight, I put him in the sinking house sequence which is at the end of the film. He has pretty much done 99 percent of it. There were certain falls I could not let him do inside the house. But all the fight stuff he has done, on the construction site we had him running up girders and across girders on safety cables , but again, some of the jumps we're too dangerous but he's not like "please let me do that", or "I want to do that". It's like "Daniel you can do this and a stuntman can do that", and he's fine with that.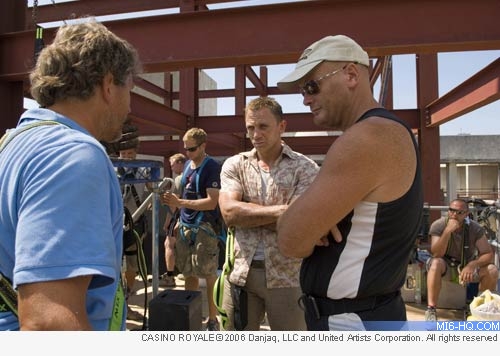 Have you become friends with him over the filming?
Yes sort of, you have to build up trust, because he trusts me with his life. In repayment to that I've got to respect him and not take advantage of that trust. If I put him in a situation now where he gets hurt it will totally break that trust, so we would not get out of him what we have so far. I set a level for him to reach, when he experiences and reaches that level I will raise it but I've got to know that he can do it and will be able to walk out of it. If I break his trust I will never get it back.
How closely did you work with Free-runner Sebastien Foucan?
Very close, we went to the Bahamas with Sebastien and a few other free runners. I know exactly what Sebastien could do because I had watched lots of video and spoke to him a lot. We designed the opening sequences around what he could do, again we have kept it real, and we did not want to do unreal stuff or anything with CGI. Everything you see at the construction site is real that people have done. Yes, they are on safety cables because we have to put people on them for safety. But everything you see Sebastien doing, climbing up the girders running across it and people falling off and jumping off the cranes is real people doing real stunts.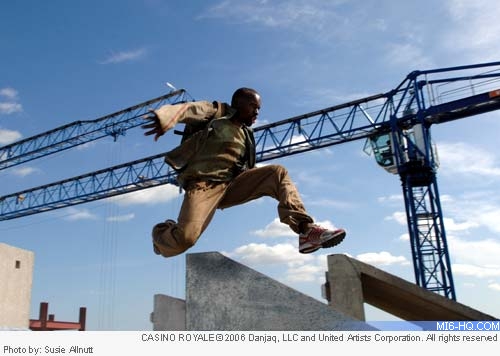 It's an incredible responsibility you have to people's lives and the movie, how does that feel?
It is a responsibility, I try not to think about it, if you sat there and analysed it you would never do it. It all goes back to experience. I know what is possible and ways of doing everything no matter what it is, as long as you get enough rehearsal and preparation time you can do anything that the director wants you to do and do it safely which is the most important thing. As long as you get the correct time which we've had on this film things work out well.
Were you involved in the car chase and can you tell us a little about it?
The Aston Martin one? Yes it was really good fun, it is a very small car chase, it builds up with you thinking that there will be a big chase through the streets. Vesper gets kidnapped, Bond jumps into the Aston Martin and shoots off after the bad guys. So now you think there is going to be this huge chase, but unbeknown to Bond they disappear down a road and over a humpbacked bridge at quite a speed.

He goes flying down this road after them and she is laying in the middle of the road, so they have thrown her out of the car to try and stop him. He does everything in his power to avoid her and the result of that is he turns the Aston Martin over, which we did a few weeks ago. They gave us three Aston Martins which are loads of money. To go and smash, which we did, great fun!

What is your most memorable experience so far?
Really it has to the Aston Martin cars, they have given us this car that is not even out yet, it's kept under lock and key and wrapped in covers and we were allowed to smash them to pieces.

Is your favourite bit on the job smashing things up?
It is, we are big kids we are professionals at what we do but it does give us the opportunity to smash something to pieces and we are like 'great and off we go' You should see things we've destroyed, we have driven through airport bendy-buses, cars and we are about to skid right up to this Jumbo Jet.

"As a kid you get told off for smashing things up, but we get a pat on the back, which is great."

What will set Casino Royale apart from past Bond films?
Just the realism, when you see the fights they are a lot rougher and dirtier they what you are used to seeing in a Bond. Before, no matter what sequence he's in Bond always has his hair in place and his suits are always pristine, but in this one he gets beaten up as good as he beats them up. He gets cut he gets bruised and does get the rough end of the stick most of the time.





Above: The Aston Martin stunt broke a world record - totaling 7 car flips.
How long did it take to pre the crew?
We had 12 weeks pre on this and again each time we finish a sequence we move on to the next one so from outside the film it's twelve weeks and the time right up until the last day.
What have the benefits of working your way up from a stuntman?
Well 10 years of being a stuntman, I was lucky enough to work on a wide range of films. Futuristic, medieval, period and modern day, so you do get a lot experience, which you do need. You definitely need all that experience on a film like this. Also I have a fantastic team of stunt people around me, so I can draw on there experience as well. If you come across somebody that say they know everything, they really don't because you know they don't know everything. So you have to have a good team around you, because at the end of the day people's lives are at risk, so you've got to make sure it looks good and is done safely.
---
Gary Powell - Stunt Coordinator
Casino Royale is Gary Powell's fourth James Bond film having worked as a stuntman on GoldenEye, Tomorrow Never Dies and The World is Not Enough. Amongst some of his most notable work on previous 007 films is the St. Petersburg tank chase (GoldenEye) and the Q-boat barrel roll on the river Thames in London (The World is Not Enough).
Powell was born into a family of stuntmen and performed his first stunt at the age of 11 in one of the Carry On films. Working his way through the ranks to stunt coordinator, his other credits include Saving Private Ryan, The Mummy, The Mummy Returns, Harry Potter and the Sorcerer's Stone, Harry Potter and the Chamber Of Secrets, Terminator 3, Harry Potter and the Prisoner of Azkaban, Alexander, The Legend of Zorro and, most recently Blood and Chocolate. *
Produced by Michael G. Wilson and Barbara Broccoli (Eon Productions) and directed by Martin Campbell, CASINO ROYALE is scheduled for release on November 16, 2006 in the UK. Principal photography started on January 30th 2006, with locations in the UK, Czech Republic (Prague), Italy, and the Bahamas. It will be British actor Daniel Craig's first outing as James Bond. He is the sixth actor to play the 007 role in the franchise.
The film also stars Judi Dench, Eva Green, Mads Mikkelsen, Jeffrey Wright, Giancarlo Giannini, Caterina Murino, Simon Abkarian, Tobias Menzies, Ivana Milicevic, Clemens Schik, Ludger Pistor, Claudio Santamaria and Isaach de Bankole.
Related Articles

Casino Royale Coverage

Casino Royale Set Visit
Thanks to Sophie Davison
*Mini Biography courtesy of Sony Pictures