| | |
| --- | --- |
| | MI6 caught up with actor John Wyman, to chat about his role as hard-man Eric Kriegler in "For Your Eyes Only" |
John Wyman Interview
19th June 2010
British born John Wyman made his acting debut in the 1970s UK TV circuit, with bitparts in "The Onedin Line" (1971), "The Venturers" (1975) and "Doomwatch" (1970). The actor soon made the transition to the big screen, notably appearing Peter Sellers' "Revenge of the Pink Panther" (1978) as Telly Toledo. In the early 1980s Wyman was approached by EON Productions to audition for the role as Kristatos' right hand man and Bibi Dahl's "boyfriend" Eric Kriegler in "For Your Eyes Only" (1981). 30 years on Wyman spoke to MI6 about how he secured the role and his experiences on location in Cortina with the James Bond family.
How you were cast in the role of Eric Kriegler in "For Your Eyes Only"?
I got a phone call out of the blue saying can I come and meet Cubby Broccoli. And I thought, well it can't be about Roger Moore and Bond because we know it's already cast. I thought it was a waste of time and I was doing something else at the time and I said, "Well, I haven't got time."
Anyway, my agent said, "You can't say that," and a few days later they called me back again and asked me to go and see him, which I did. I put on a smart suit and I went there and John Glen, and Cubby the producer was there behind the desk and Barbara Broccoli came - she was actually very sweet. I was wearing a very snazzy suit.

I went in. We sat down and began talking about the film. They said to me, "Could you take your shirt off?" I was wearing shirt and tie and so I took it all off. As I was putting it back on again, I was answering questions and missed a button and Cubby said, "Oh, you've missed a button, John..." I said, "So, there's a lot of skiing in this sequence," whilst messing with my collar and strangling myself with my tie. And the part was supposed to be a super-cool KGB man. And there was absolute silence in and Cubby said, "Thanks for coming to see us John," and I thought I'd messed it up. I went down there to be cool and I became a clown. At the end of it I thought, well, that's it. But anyway, three weeks later I got the call through. It was great.


Above: John Wyman on location in Cortina.
What was it like working with the EON Productions family on location?
I ended up with a tracksuit! I went to Cortina, and I like to run and I forgot my tracksuit. Barbara Broccoli was there and I said, "Oh, it's a shame I forgot my tracksuit." Anyway, a parcel arrived and it was a tracksuit. It was fantastic. So I had my running shirt on and I realised I had Cubby Broccoli's tracksuit.
I hadn't got another one and I wanted to run so I jacked the belt right up and I went for a run outside. There was a road coming from the shooting area, which this crowd was coming along. I felt the trousers starting to slip down a bit. I was running along and then this horn hooted, and it was Cubby in the back and I went to wave and the pants slipped down. I ran past, holding Broccoli's tracksuit, waving at the car. I felt a double idiot. Supposed to be super-cool and both times looked like a total idiot. That's how it happens in the business. When you try to act like a hero, sometimes you try to hard. Mind you, it was his tracksuit.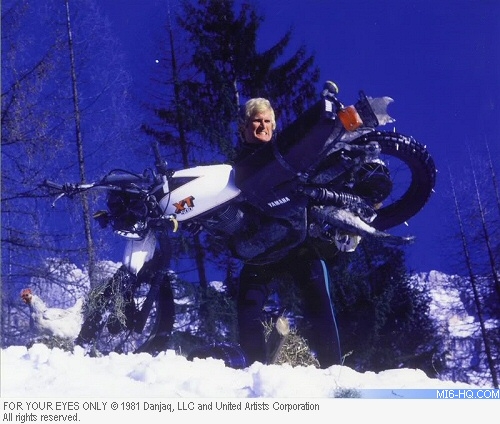 Can you tell us a little about the filming the ski sequence itself?
I think basically, it just was just so professionally done. I was up with Willy Bogner who was doing the second unit stuff and you know, he was filming some stuff with me, and put the skis on and said, come towards me, and started to ski backwards. He had skis on the could go forward or backwards. This guy was so good, so professional, such a skilled guy that even as he was moving he was avoiding rocks. I had trouble keeping up with him anyway. I thought that was incredible, it sort of stuck with me this whole time.
Did you have any time with the film's star, Sir Roger Moore?
We didn't really have too much time together. We were lashed together racing down a ski slope, with "madman" on the front, who was a good skier but basically, it was like a kamikaze ride. You feared for your life. You might think this was the end of it. It was remarkable skill. Doing what Roger does, he was lashed in as well but we could have both gone off the cliff had the guy [towing the actors] turned the wrong way.