| | |
| --- | --- |
| | MI6 talked to Julie Rogers recently about her original and unused version of the You Only Live Twice title song recorded back in 1967... |
You Only Live Twice - Julie Rogers Interview
27th June 2007
MI6 talked to singer Julie Rogers recently, who producers originally sought to perform the title track for You Only Live Twice. Best known for her hit "The Wedding", she was approached to perform the song written by John Barry (music) and Leslie Bricusse (lyrics), and managed to secure an agreement with her own record label.
Has music always been a lifelong passion?
Absolutely! Every since I was a little kid I had to older brothers who used to have these wonderful record collections, and they used to have a jam session every Saturday afternoon. I was not allowed into them, but I used to listen outside the door. So yes, music has always been part of my life.
How did you first enter into the professional music industry?
I always wanted to be a singer and performer, my very first experience was singing with the Teddy Foster orchestra, which was a very well known orchestra back then. I auditioned for him and I got the job. I sang with the band for two seasons.

Teddy said to me, "you mustn't stay with the band, you should really go solo". He took me to Johnny Franz at Philips Records. That was the start of my recording career in 1964.



How does studio work compare with live performing and which do you prefer??
I do enjoy both I must say, but I think the live performance has more gratification in it because it's instantaneous. But is great! It's a strain because of the concentration to get everything right, and once it's done it's done. I love the creativity of studio work and I couldn't be without either. I love both sides of it.
How were you approached to perform the original theme to "You Only Live Twice"?
I think this was '67 when I was at the height of my recording career with hit records all over the world. I was approached by the Bond people to do the theme.

Buy You Only Live Twice Stills (UK)
Buy You Only Live Twice Stills (USA)

As you know when you are contracted to one recording company, they don't like letting you out to sing for anybody else. But as I said, I was at the height of my recording and it was never ever a demo record – it was never presented to me as a demo record. It was presented to me as "will you do the Bond theme", I jumped at the chance, but I had to get special permission from Johnny Franz and Philips Records to let me do it.

So there was a 40 to 50 piece orchestra and John Barry recorded the song. The next thing I heard was they wanted Nancy Sinatra to sing the song as they needed more financial backing and there wh=ere politics involved. In the end they wanted a "bigger name" – this is what I was told at the time.

Since then I've heard different things, such as it was offered to Frank Sinatra, but he suggested that his daughter do it and of course nobody was going to argue with him.
Was the theme already composed when you were brought on board?
The song was complete at that time, there wasn't really any artistic license. You sang what was written, it was a great song, there wasn't any need to alter anything. However when Nancy Sinatra sung it, they had to alter the melody, because of her range. She could not hit the high notes, so they took the range down.
But I think the second recording of the song was more commercial.
Can you describe the atmosphere of working on a James Bond production with John Barry?
Well it was absolutely exciting, and obviously a fabulous orchestra. It was a massive orchestra and John was very, very sweet. I was recording all the time due to my contract with Philips – I had to do an album every year and four singles in a year. So the Bond theme was just another session, it was work at the time.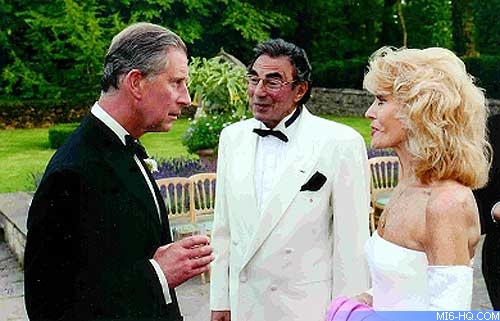 Above: Prince Charles, Michael Black and Julie Rogers.
Even though your work was not ultimately used on "You Only Live Twice", would you say that the experience assisted in your career and how?
Well it didn't do anything for my career, not at all. After that, I had a phone call in the '90s from the guy that ran the James Bond Fan Club. He said, "I've just heard an album of all the Bond themes and it's got "Ýou Only Live Twice" – singer unknown", but he said, "I knew it was you, I know it's your voice." That was the first I heard of it being put on an album. No one got my permission, so I went to EMI in America and ended up suing them. John Barry vouched for the fact it wasn't a demo record and I was supposed to do the theme – but that's another story.
When your rendition of "You Only Live Twice" was not chosen for the film release, how did you feel?
Oh no not at all, at the time my whole career was going fantastically well and it was a blip. I wasn't mortified by it, it happens and that's our business. One minute you're up, the next you're down, and you take those things in your stride.
In retrospect my career would have taken a very different path, had that been used as the Bond theme. But at the time it didn't bother me to much.

Can you remember where you recorded your song?
I'm pretty sure it was at Universal Studios, London – I think it was near Notting Hill.

What other projects from your musical career are you most proud of?
I've achieved a lot of records, and fortunately my records weren't confined to the UK, like a lot of British artists are. I've worked all over the world: Australia 24 times, America and the Far East and my name is known all over the world and I'm very proud of that.

And I have worked in what I consider to be the best rooms, venues in the world, I played "Talk of the Town" 11 times and Sporting Club Monte Carlo – I'm proud of that.


Buy You Only Live Twice Stills (UK)
Buy You Only Live Twice Stills (USA)
To date what has been your favourite song?
That's so difficult, obviously "The Wedding" was the massive hit, selling something like 50 million records and still selling. But I recorded a single call "In My Room" which nearly made it into the top ten. It was with the same composer, and that was the song I personally liked.
Can you remember the moment you first realised your song wasn't used in the film?
I was told it was not going to be used, and they had changed their minds, and it was done nonchalantly. "They've changed their minds there not going to do this, they're not going to do that…" To be quite honest I just accepted it and said OK, that's fine, I was disappointed but not heartbroken.

Buy You Only Live Twice Stills (UK)
Buy You Only Live Twice Stills (USA)

Your version of the theme was first released to the public on the James Bond 30th Anniversary collection album. This seems to be when fans started to investigate... was there any legal wrangling over it being released credited to an 'unknown artist'?
Well I had a solicitor here who contacted a solicitor in America. EMI did come through on it, once everything had been explained and John Barry substantiated it, all was resolved.

Do you follow the Bond series? If so, what did you think of the last film "Casino Royale" and the song "You Know My Name" by Chris Cornell?
The themes... I've been very interested in the themes! I've not seen a lot of the films, but I have to say I saw [Casino Royale] and I thought it was terrific, I thought it was a much more realistic film.
I was not impressed by the new song, but I've not been impressed with the last few. The one form Garbage was diabolical [The World Is Not Enough].
Can you tell us about your latest album?
It's doing quite well, its selling on the internet and shops. It's got some really nice tracks on it – more contemporary songs as well as some classics like "Walk Away", "Born Free" and I think I'm the first woman to have sung either of those songs. I'm making a new album and it's going to be a Blues theme, so a whole album of Blues. That should be out around November this year.
For concert dates and more information about Julie's upcoming album visit her website: http://www.julierogers.co.uk/
Related Articles

You Only Sing Twice