| | |
| --- | --- |
| | As "You Only Live Twice" celebrates its 45th anniversary this month, MI6 talks to Ken Wallis, pilot and inventor of "Little Nellie"... |
Up, Up And Away
15th June 2012
Can you recall your demonstration of the auto-gyro that took place at Pinewood studios?
Tony Scase, an interviewer for BBC radio, heard I was going [to shoot a film in Brazil] and called me to talk about making the film. At the end of the interview he said, "Would you like to fight with a helicopter in your Autogyro?" I replied: "Give me a chance!" I remember the exact words.
Apparently that went out the next morning on the national radio and Ken Adam, the art director for Eon Productions, was shaving when he heard me talking. The next thing I knew the late Group Captain Hamish Mahaddie the famous RAF Pathfinder chap, who was the aviation consultant for EON Productions, was on the phone asking me to bring one of my Autogyros down to Pinewood Studios - he said, "It's to do with a Bond movie."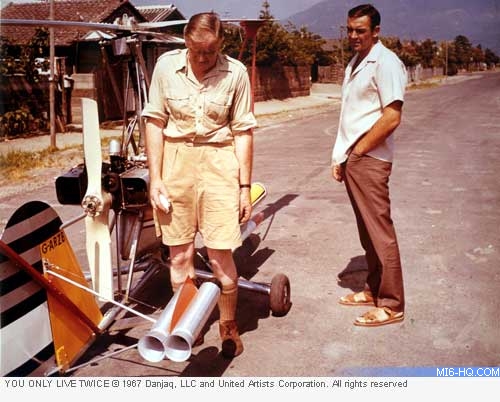 Above: Desmond Llewelyn as Q shows Sean Connery, as James Bond, the workings of "Little Nellie".
He said afterwards it was the most dramatic thing, "You started the engine up and it made a terrible noise that echoed around all of the buildings. You let the breaks off and disappeared in a cloud of dust straight at the railway sleepers. When you came out of the dust up into the blue sky, you were in the Bond movie."
What were some of the best, and most challenging moments from shooting on location for "You Only Live Twice"?
On one occasion when they sprayed the aircraft before it was shipped out to Japan they sprayed the fuel take with aluminium paint, which covered the transparent part of the gauge. So I could not see the fuel gauge, and its contents. I said it was all right because I set my stopwatch and time how long I've got.
Luckily, I managed to put it down on the only little bit of road on the island of Sakurajima. There was a car behind when I landed and stopped, he had to put his brakes on rather quickly. They flew the helicopter back to Kagoshima and filled a jerry-can, put it on the end of a rope and lowered it down to me. I topped up and had the Japanese give me a bit of clearance and I took off and flew back. That was a bit touchy...
Would you tell us about shooting in Spain, which doubled for Japan?
Well the bigger missiles, or heat seeking missiles, had powerful motors, which would normally have been used to carry a line across from a sinking ship. Once they were fired they didn't go straight ahead, because they didn't have sufficient weight at the front. The weight was at the back. Once fired, they would turn around on themselves. Firing them was quite a hairy business! I went into Tormalinos, Spain where we were living at the time, I brought some roofing lead, and rolled it up and put it in the nose of the rocket, to add a bit more suability.

Right: Sean Connery shoots in-action shots in "Little Nellie" in front of a blue-screen.
Did anything unexpected happen?
When I fired these rockets they weren't allowed to come back round and hit you. Back home they were demonstrated to John Stears before I went out there. He said, "These are the big missiles," and he fired one and it whizzed into the distance and came back and knocked out the post right next to us.
I think things worked our mostly as well as possible. A lot of people say it must have been fun making the film - it certainly wasn't fun. It was all far too serious.