| | |
| --- | --- |
| | MI6 caught up with stunt driver Wade Eastwood to discuss his beginnings as a stuntman and his work on "The World Is Not Enough"... |
Wade Eastwood Interview (1)
15th January 2010
You started life as an athletics runner. Was this a childhood ambition, or did you stumble on your skills?
Not an ambition; I just liked running as fast as I could. My parents and the team coaches used to try everything to make me train, but I was too pre-occupied with my surfing and motorsports and used to just pitch-up on the day and run! I was fortunate to have some natural talent in the sprinting field and although I could have probably gone faster if I trained, there wasn't anyone quicker than me in my division. I wasn't interested in dedicating myself to just one sport discipline. The Olympics were also not an option during my sprinting career due to South Africa's political situation.
As a young boy did you have any affiliation with the cinema? If so, what were some of the early films you remember enjoying and what in particular was your first memory of James Bond on the screen?
I always loved going to the movies and it was my total escape. My friends would laugh at me because I would move around in my seat mimicking what the actor was doing and mouthing the words. I didn't know I was doing it until I would hear the boys laughing!

"For Your Eyes Only" was my first memory and I had a mad crush on Sheena Easton who sang the theme. Roger Moore was the epitome of Bond to me. He was amazing! Pierce and Daniel definitely both carried on equally as good and took Bond to new levels.


Above: Sheena Easton performs the title song for "For Your Eyes Only" as well as appearing in the title sequence.
How did you get involved in the stunt business and what kept you persevering with the industry to get to where you are today?
I got into stunts through air/sea rescue. I was a volunteer lifeguard and used to be part of the South African lifesaving's air/sea rescue division in Durban. A film came to town and wanted some guys to jump out of a helicopter into a rather dodgy, cold river. Some friends and I did it. Then they asked if I could slide a car and drive a boat … I said 'yes,' eagerly and pushed and pushed until I was allowed to showcase my skills. I was also working for the equivalent of £10 a day back in 1991!



Above: Pierce Brosnan performs some of his own stunt driving.

Was there a moment in your career that you associate with having 'made it' in the business? Can you describe that feeling and is it associated with any particular film?
Definitely, sitting in the Bond jet boat on the river Thames on "The World Is Not Enough". The stunt coordinator (Simon Crane) would constantly tell me to stop smiling! I was having the time of my life and felt like all the burns, broken bones, hospital visits and not so nice people that I had had to work with on my way up were worth it!

How did you win your role in the James Bond film "The World Is Not Enough"?
I had just finished "The Mummy" for Simon Crane and he asked me to come and test the jet boat with some other stunt guys. Gary Powell and myself were chosen to do further testing and double Bond.

Can you tell us about driving James Bond's Q-Boat for the opening sequence in "The World Is Not Enough" - was it a new or challenging experience for you and in what regard?
It was great! The challenge was when the wind picked up and you were running against the very fast tide on the river Thames. The boat was designed for completely flat water sprint racing, so keeping it down was a job in itself. I had a lot of close calls.
What was the trickiest 'setup' to involved in "The World Is Not Enough" boat chase?
There were many tricky set ups as there are so many other people and environments that make it dangerous. The submarine under the bridge was tricky in trying to keep the boat in a straight line underwater so that I could clear the bridge and not come up underneath and get stuck or sink the boat.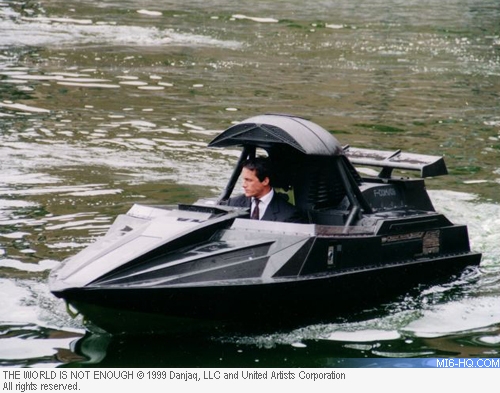 Above: Wade Eastwood doubling for 007 in the Q-Boat. Picture courtesy Wade Eastwood.
Did you double for Pierce Brosnan in any other sequences on that film? What were some of your other responsibilities?
Yes. Mainly testing rigs for Pierce or testing with Mark Mottram, who was the other double. Mark did the jump out of the bank [in Bilbao, Spain] and most of the interior stunts that were too dangerous for an actor to do. He is great stuntman and we have worked together many times since.
We understand that the boat-chase sequence took 6 weeks to film on the Thames. Were you required for all of that time and how much training did you have to do before hand?
I cant remember how many weeks we did at a secret lake, but yes, I was there the whole time and when Pierce came to do his bits of action, he actually blew us all away. He was fantastic at handling the boat.
You would have worked with Simon Crane and Vic Armstrong during your time on the Bond set - did you know either beforehand and how did you enjoy working with the famous 007 second unit?
Vic is a legend! He was so easy to work for, great fun and always carried a smile. I have worked with him more recently on "Green Hornet" in Los Angeles and he's exactly the same. He is also become a friend over the years and we always keep in touch.
I had worked with Simon on "The Mummy" and then onto Bond. We have been working together now for the past 11 years and have formed a great team. We live close to each other in la and he is like a brother to me.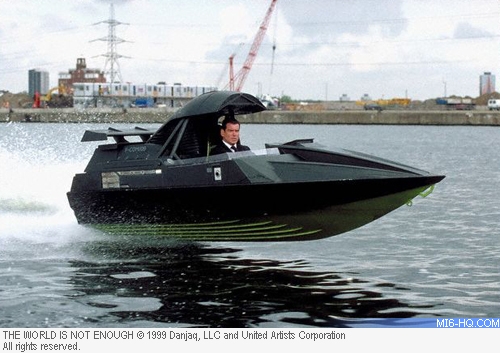 Above: Bond belts across the Thames in the pre-titles sequence.
Related Articles
"
The World Is Not Enough" Coverage