| | |
| --- | --- |
| | MI6 reviews 'Carte Blanche', the fast-paced James Bond thriller from Jeffery Deaver, out this week in the USA... |
Carte Blanche Review
14th June 2011
MI6 Guest Writer - Ben Williams
There are many inherent difficulties in writing a successful James Bond novel. After all, James Bond is already so well known, so well loved, so ingrained in the psyche, that he is a difficult character to truly make your own. And whilst the far-fetched plots and megalomaniac antagonists of the Bond world seem equally familiar to us, simply throwing them into your story, along with the traditional motifs and paraphernalia, could have your novel ending up reading like a litany of exotic locations, beautiful women, hi-tech gadgets, fast cars and casual violence. It is balancing this blend of the traditional elements and original material that can be the deciding factor in making a successful Bond adventure.
However, when it came to writing "Carte Blanche", the difficulty of getting the balance right didn't seem to deter Jeffery Deaver in the slightest. Jeffery Deaver, perhaps best known as a crime writer and for his successful Lincoln Rhyme series of novels, might not have been the first candidate to spring to mind when it came to taking up the mantle of the next James Bond author. However, what is less known is that Deaver is actually a passionate fan of Fleming, and, after being awarded the Ian Fleming Steel Dagger Award by the Crime Writers' Association for his novel "The Garden of Beasts" in 2004, he spoke of his life-long admiration of the writer in his acceptance speech. His love of Fleming's writing, his genuine passion for the character of James Bond, coupled with his ability to craft fast-paced, exciting and thoroughly researched thrillers, has made Jeffery Deaver an ideal choice to continue the legacy.
| | | |
| --- | --- | --- |
| In "Carte Blanche", Deaver has bravely opted to entirely reboot the character of Bond. Whilst many might have feared that this would somehow undermine fundamental elements of the character, Deaver's Bond remains remarkably close to Fleming's creation. By essentially transplanting Fleming's backstory for Bond and placing it into a modern setting, Deaver's Bond is still very much the character that Fleming envisioned, shaped by almost entirely the same events and circumstances. However, there are key differences between Deaver's and Fleming's Bond. For instance, the Bond of "Carte Blanche" is not a product of the Second World War and the Cold War, but of Afghanistan and the War on Terror, and neither has he experienced the events of the novels that have gone before. So, for instance, Deaver's Bond does not mourn the death of Tracy Di Vicenzo. However, despite these differences, Deaver's Bond in "Carte Blanche" is a product of his time, just as Fleming's Bond was. So, where Fleming's Bond smoked, Deaver's Bond is an ex-smoker, for tactical reasons as much as health concerns. This does jar occasionally when very familiar aspects of Fleming's character change in "Carte Blanche", such as Bond recalling his early adolescence in the 90s, or inheriting a certain car from his father that would not be built until Fleming's Bond was skiing down the slopes of Piz Gloria, but, on the whole, this does not interfere with the narrative of the novel. | | Above: Author Jeffery Deaver with his novel, Carte Blanche, and the 007 branded Bentley at the London launch event. |
Whilst there have been many changes to the world of Bond in order to modernise the character and situations, much of the universe that was established by Fleming remains intact. Whilst the SIS remains, it is the Overseas Development Group for whom Bond works now, a super-secret agency based on the Special Operations Executive from World War Two, charged with the defence of the Realm, by any means necessary. Key characters are all present and correct, too. M has been returned to an ex-admiral named Sir Miles, with a coolly flirtatious Miss Moneypenny acting as his PA. Mary Goodnight and Bill Tanner complete the returning characters at the ODG, whilst Q has become Sanu Hirani, the technological wizard with a love of cricket, who supplies Bond with operational tools for his missions. New face and MI6 liaison officer Ophelia "Philly" Maidenstone provides additional intelligence and romantic distraction for Bond, whilst allies such as Rene Mathis and Felix Leiter make cameo appearances in much the same guise as their Fleming counterparts. Occasionally, these do feel a little shoehorned in, but their presence, no matter how brief, is certainly welcome.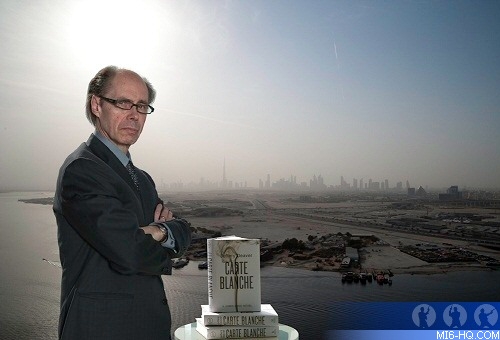 As fans of the novels will know, Fleming had a penchant for villains with physical deformities, and Deaver has carried this tradition through. In "Carte Blanche", the enigmatic Severan Hydt has a preoccupation with death and decay that verges on the sexual, whilst his partner in crime, the master planner Niall Dunne, is almost mechanical, obsessed with precision and perfection. Whilst these two are more than enough to keep Bond occupied, there are other, less obvious threats to Bond's life, too.
In all Bond books there must be a threat, and one that usually has global implications. However, whilst this threat certainly exists in "Carte Blanche", Deaver keeps us guessing as to its true nature, right until the last possible moment. The clues are all there, peppered throughout the narrative, but, like Bond, we are left to tie these disparate pieces of evidence together for ourselves, keeping the tension racked high and the reader involved. Initially, after an exciting operation in Novi Sad, all we know is that "Incident 20" will take place in five days time and will result in the death of thousands.
In piecing the puzzle together, Bond must work on UK soil, his usual carte blanche restricted, as he is forced to work in tandem with the loathsome Percy Osborne-Smith of MI5's Division Three. However, he is soon on his way to Dubai and from there to Cape Town, where he gets into the heart of Hydt's operation, posing as a South African mercenary.

Above: Chesca Miles, stunt rider, singer, model... 007's real life Bond girl at the UK launch event.


There are, of course, the usual female distractions for Bond. The previously mentioned Philly Maidstone is beautiful and intelligent, and perhaps one of the few women that might truly accept Bond for who he is. His partner in Cape Town is the chilly Bheka Jordaan, who, whilst beautiful, has little time for Bond. Felicity Willing is a little more forthright, however. The food aid worker lives up to her name, and she and Bond become intimate as she enlightens him to the persuasive power of hunger in Arica.

Of course, no Bond novel would be complete without some gadgetry for 007 to play with. With mobile phone technology putting incredible applications into the hands of us ordinary, everyday folk, it is interesting to note that it is a mobile phone that is Bond's chief operational asset in "Carte Blanche", and the rather nattily named iQPhone is packed with handy surveillance equipment. Need a retinal scanner or a directional microphone? There's an app for that. The Walther is once again his weapon of choice, however, this time Bond dispenses with the PPK and carries instead the compact .40 PPS. Whilst the Walther and the iQPhone certainly are very useful pieces of kit, they can't save Bond from every situation, and, as always, it is Bond's resourcefulness and quick thinking that save him from many a tight spot.
There is a welcome return of the Bentley to the world of 007, and Bond's vehicle of choice is the truly beautiful Continental GT. He also drives a Subaru whilst in Cape Town, and back at his Chelsea flat there is a rather lovely vintage car in the garage.
"Carte Blanche" certainly is an enjoyable book, and from the outset cracks along at a break-neck pace. There are plenty of twists throughout, and in executing them Deaver writes like a magician performing a trick. Everything is sleight of hand, and one minute you are lead into believing one thing, while the next you find it was a clever misdirection. Unlike most magicians, however, Deaver delights in explaining how the trick was performed, letting the reader in on the secret, albeit after the performance.
There are one or two minor criticisms. For instance, there are moments in "Carte Blanche" where the twists feel over-played, a reference to a vehicle or airline reads like a sales pitch, or perhaps a joke is repeated one too many times, but overall Deaver has delivered a cracking Bond adventure that should certainly satisfy the fans.
MI6 Rating