The collections include Ian Fleming's "From Russia with Love", introduced by MI5 historian Christopher Andrew from the 1950. Joining 007 to represent the '50s will be "Scenes from Provincial Life" by William Cooper (introduced by Nick Hornby), "Lucky Jim" by one-time Bond continuation author Kingsley Amis (introduced by David Nicholls), "Billy Liar" by Keith Waterhouse (introduced by Blake Morrison) and "Memento Mori" by Muriel Spark (introduced by David Lodge).
There will also be "read-offs" featuring the Penguin Decades titles in libraries in four cities: Manchester, Leeds, Derby and Nottingham. It has not yet been confirmed if "From Russia With Love" will feature in these events.
These paperbacks come complete with original designs by four of today's most-renowned designers: Peter Blake, Zandra Rhodes, Alan Aldridge and John Squires.
Blake has designed the "From Russia With Love" cover, which has already been met with disappointment from fans. Oddly, Blake has used an image of a Walther P99 on the cover, a weapon first used by Bond in the 1997 film "Tomorrow Never Dies". In the novel, Bond uses a Beretta.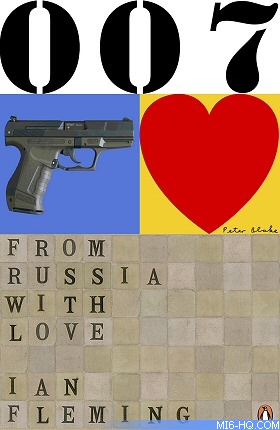 Pre-Order Amazon UK (Paperback)