MI6 has an exclusive first look at the new "From Russia With Love" paperback illustrated by tattoo artist Chris Garver...

Update: Final artwork confirmed, a look at the complete book jacket design, and artist Chris Garver talks about the project...
Inked "From Russia With Love" Preview
12th December 2009 / 9th May 2010
Renowned tattoo artist Chris Garver has illustrated a new paperback edition of "From Russia With Love". Garver confirmed his involvement to MI6 back on 11th December 2009. The new illustrated edition of "From Russia With Love", Ian Fleming's fifth James Bond novel, will be published by Penguin in the USA on June 29th 2010.

Pre-Order - Amazon USA
For seventy-five years, Penguin has united the best in literature with the best in graphic design, creating some of the world's most recognizable books. To help celebrate their anniversary, Penguin has chosen six of their favourite books and are presenting them with new covers specially designed by some of the world's best artists working in the world of tattoos and illustration. These striking new covers, perfectly reflecting the timeless stories within, document Penguin's efforts to bring new readers to great books.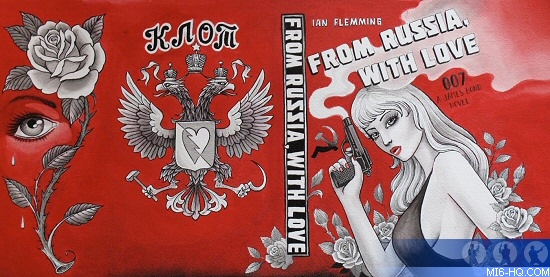 "I was asked to do a James Bond cover by Penguin Books and I was really into doing this project. When the art director from Penguin told me that Scott Campbell and Chris Conn were also doing covers for Penguin, I was even more stoked since I'm a big fan of their art work!" - Chris Garver
Other titles in the Penguin Ink series are: "Money" by Martin Amis, "Waiting For The Barbarians" by J. M. Coetzee, "Bridget Jones's Diary" by Helen Fielding, "The Bone People" by Keri Hulme, and "The Broom Of The System" by David Foster Wallace.
About The Illustrator
Famous for his appearance on TLC reality show "Miami Ink", aired in the USA, Garver is a world traveler who has tattooed clients in Asia, both Americas, and throughout Europe. Garver is widely considered to be among the best tattoo artists in the world with a celebrity-studded list of private clients (and a wait list).

Official Blurb
James Bond is a marked man. SMERSH – the Russian organization dedicated to wiping out foreign spies – has targeted him for elimination. Fiendish Colonel Rosa Klebb and her top assassin lay a sting for Bond in Istanbul – and they have the perfect bait in the irresistible Tatiana Romanova, whose orders are to seduce 007 and leave the rest to her superiors. But when the trap is sprung, Bond and Tatiana become pawns in a deadly game of cross and double-cross…

Left: Artist Chris Garver
Datastream
Publisher: Penguin
Format: Paperback
Pages: 272
RRP: $15.00
Released: 29th June 2010

Pre-Order - Amazon USA