| | |
| --- | --- |
| | MI6 visits the home of Ian Fleming with best selling James Bond author Lee Pfeiffer... |
Goldeneye - Literary (1)
24th June 2006
A View To A Thrill: A Visit To The Birthplace Of James Bond
By Lee Pfeiffer
It's been said that there are only three certainties in life: death, taxes and the next James Bond movie. Since the premiere of Dr. No in 1962, Bond has not only been a mainstay of our cinematic experiences but also an icon of popular culture. However, in recent years there has been a revival of interest in the man who made the Bond phenomenon possible in the first place, 007's literary father Ian Fleming. For anyone who came of age in the 1950s or 1960s, Fleming was an iconic figure himself-dashing and witty with a well-founded reputation as an adventurer and ladies man. The initial Bond novels were slow starters but by the early 1960s had become worldwide bestsellers, aided immeasurably by President John F. Kennedy's inclusion of From Russia With Love among his favorite books of all time.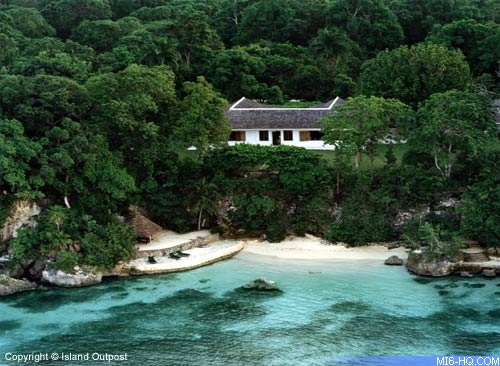 The character of Bond reflected a good deal of the jet-set lifestyle of his creator. Though Fleming was not bounding around the world taking on megalomaniacs, his background in British Naval Intelligence during WWII did stoke his interest in the realm of espionage. (Fleming had devised missions for a commando unit that operated behind German lines). Like Bond, he had a snobbish taste for the proper foods and wines- along with a mastery of double entendres. In an article for a 1960 book titled The World's Fine Food, Fleming said with self-deprecating wit "I am not a card-carrying gourmet. Although I own a first edition of Brillat-Davarin's Physiologie du Gout, I opened it only once to read the curious passage relating to aphrodisiacs." Small wonder Fleming counted JFK among his fans.
What most Bond fans do not realize, however, is that the origins of James Bond stem from Fleming's love affair with a locale far removed from the glitz and glamour of London's Park Lane crowd- the north shore of Jamaica, to be precise. Indeed, although tens of millions of 007 fans insured the worldwide box-office success of the 1995 film GoldenEye few know that the title of the movie derives not from the hi-tech weapons system depicted in the film but from the name of Fleming's home in Oracabessa. Here, Fleming found a place of solitude and freedom, far from the madding crowds of the urban metropolises that alternately fascinated and repulsed him.
| | | |
| --- | --- | --- |
| A visit to Goldeneye is an unforgettable experience for the lucky few who have been fortunate enough to stay there. Bond fans who visit Jamaica are routinely disappointed to find that Fleming's home lies in a gated and guarded community, not menacing like Dr. No's Crab Key island, but probably no less secure. As someone who has turned a juvenile preoccupation with Agent 007 into an only slightly more mature profession, I was invited- along with my wife Janet- to spend three nights at the property in order to review it from the perspective of someone who has an arguably unhealthy fixation with the Bond legacy, having written extensively on the subject. Generally speaking, one should take such reviews with a grain of salt, especially if the writer has been granted a gratis stay by the owner, in this case Island Records founder and music industry mogul Chris Blackwell. In this case, however, that concern is moot: Goldeneye long ago earned its reputation as one of the most exclusive and desirable vacation spots in the world. It's safe to assume that Mr. Blackwell's property needs another favorable review about as much as Mr. Bond's little black book needs another entry. Rather, the managers of the property sought to have someone with a background in Bond lore write a perspective of the visit that incorporated aspects of its legendary history. Years before my visit, I had heard ecstatic stories from those who stayed at the house about how enchanting the setting was and how transforming the serenity proved to be to the body and soul. I was about to have the opportunity to separate the myth from the fact. | | |
There is something humbling about Goldeneye- not only to a writer weaned on Fleming's prose and the subsequent film adaptations. Even if the Bond legacy has no appeal to you, it would be difficult not to be overwhelmed by the sheer simplicity of the place. That may sound paradoxical but in reality the primary charm of the property (which encompasses 15 acres) is its obvious lack of glitz and glitter. Many of those attributes can be traced directly back to Fleming, who wanted a place that was the antithesis of London. Although he could well have afforded an opulent vacation home, Fleming preferred a rustic style in the island tradition. He had fallen in love with Jamaica since his first visit in 1942. As a Naval Commander, Fleming spent three days on the island as part of a secret conference to plan anti-U boat strategies for the Caribbean. The short stay was enough to make him pledge, "I have made up my mind. I'm going to live the rest of my life in Jamaica". It was a promise only partly fulfilled. Fleming could not have foreseen his eventual emergence as a best-selling author. The ensuing business complications that arose from that success mandated that he remain in England most of the year. However, he did faithfully find time for extended stays at his Jamaican property. It was here that Fleming, a professional journalist, began to dabble with writing fiction- partly to offset nervous jitters at the prospect of marrying his mistress Ann Rothermere, who was pregnant with his child.
Island Outpost - Goldeneye

Goldeneye is nestled among tropical forests and lush gardens on a seaside bluff overlooking the Caribbean where you can put a little distance between yourself and the rest of the world. Our lifestyle is pure Jamaican in rhythm and tempo, "easy". We offer you a window to local culture and a different way of living.

Goldeneye is also historic. This is where Ian Fleming crafted all his James Bond novels. What Fleming loved most about Goldeneye was the out of doors, nature, the sounds and colors, the peace and drama of living by the sea. He delighted in "the blazing sunshine, natural beauty and the most healthy life I could live."