| | |
| --- | --- |
| | MI6 digs up one of 007's in-the-field postcards to Miss Moneypenny whilst on the Diamonds Are Forever mission... |
Postcards From Bond - Saratoga
8th August 2009
| | | |
| --- | --- | --- |
| James Bond is back in the USA and hot on the tail of the illusive Tiffany Case, a gorgeous, devil-may-care blonde in league with several American mobsters. In Fleming's fourth James Bond adventure, 007 teams up with his ex-CIA partner Felix Leiter to get to the bottom of a mysterious diamond smuggling ring. MI6 dusts off the archive and uncovers unseen material from Bond's mission in Saratoga. | | Diamonds Are Forever Locations |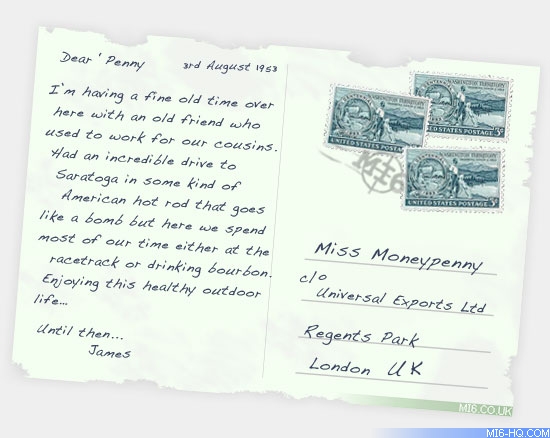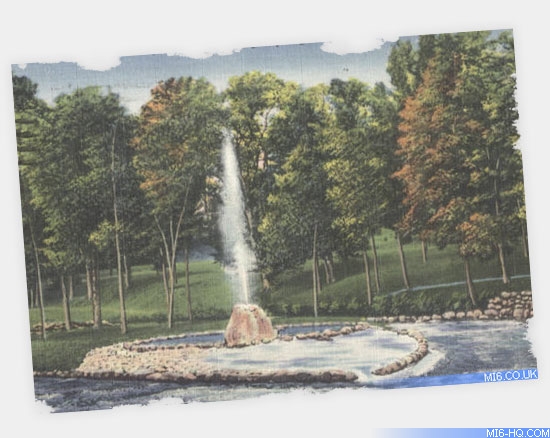 Diamonds Are Forever Locations
Touching down at Idlewild airport, having successfully infiltrated a diamond smuggling racket, Bond sets about depositing £100,000 worth of uncut stones which he has smuggled into the country. In New York, Bond runs into his old friend Felix again and the pair immediately go for Martinis at Sardi's restaurant. Located in the heart of New York's theatre district at 234 West 44th Street (between Broadway and Eighth avenue and close to Times Square), Sardi's was founded in 1921 and is more known for its theatrical clientele that its food: "Leiter avoided the fashionable room at the famous actors' and writers' eating house and led Bond upstairs".
Not since the faitful events of "Live And Let Die" have Felix and James teamed up together. Since he "disagreed with something that ate him", Felix supports a heavy limp and a steel hook that has replaced his right hand. Sipping the medium dry Martini that Leiter has ordered for him, Bond doesn't recognise the Vermouth - it is Cresta Blanca, a "new domestic brand from California". When the cocktail hour extends into lunch, Leiter recommends Brizzola, a cut of beef that Raymond Benson in his book "The James Bond Bedside Companion" claims is an invention of Fleming's, although upon a search of the internet it can be attributed as marinated rib-eye steak. Learning that Leiter has left the CIA due to his injuries and now works for Pinkerton's Detective Agency, they find that their investigations run parallel and decide to team up once again.
Leiter agrees to transport 007 from the big apple to Saratoga, home of races and relaxing sulfur bathes. Before departing, Bond finds time to dine at the 21 Club with his contact on the smuggling job, the brash but enchanting Tiffany Case. Located at 21 West 52nd Street, "21" was a favourite haunt of Humphrey Bogart and Richard Nixon amongst others.
First ordering drinks of course, "the waiter brought the [Vodka] Martinis, shaken and not stirred, as Bond had stipulated, and some slivers of lemon peel in a wine glass" and then, demonstrating that he is anything but conventional, a bottle of Rosé Champagne - Veuve Clicquot Rosé - which "seemed to have a faint taste of strawberries." Case and Bond eat caviar, followed by cutlets with asparagus with mousseline sauce and a coffee order on the house, after which they return to their separate rooms in their hotel, the Astor, overlooking Central Park.
For dinner the following night he visits Voisin's (375 Park Avenue, now home to the Seagram Building) for "two Vodka Martinis, Oeufs Benedict and strawberries".

At 9am the following (Sunday) morning Bond meets Leiter in his "Studillac", a Studebaker with a Cadillac engine and make their way to Saratoga. Fleming had come across a car of the same design owned by his friend William Woodward Jr. Known as Billy, he had inherited a fortune from his father, but in 1955, following a party in Long Island where they had quarreled, his ex-showgirl wife shot him dead. Claiming that she thought he was a prowler, his wife was acquitted, although few agreed with the verdict.

Fleming dedicated "Diamonds Are Forever" "To J.F.C.B and E.L.C. and to the memory of W.W. Jr., at Saratoga. 1954 and '55".
En routé to Saratoga Springs, Bond and Leiter stop at The Chicken in the Basket, which must be somewhere on the road to Troy. They lunch on scrambled eggs, sausages and hot buttered rye toast washed down with Millers Highlife beer and then iced coffee. In Saratoga, Bond stays at The Sagamore, "on the edge of the town and only half a mile from the race-track." Fleming seems to have appropriated the name, but not the location, of a real establishment; the real Sagamore is on Lake George and just not close enough to Saratoga. Later, Felix Leiter takes Bond to "the 'Pavilion', the only smart restaurant in Saratoga", ordering broiled lobster - but only after "two very dry Martinis made with Cresta Blanca Vermouth". Strangely enough we read a page later that "Leiter took a pull at his whisky and sat back in his chair".
Later, on the trail of the Diamond ring, Bond arrives in Las Vegas and checks into The Tiara. His impression of the Vegas high-rollers is quite unfavorable, as "the first thing he noticed was that Las Vegas seemed to have invented a new school of functional architecture, 'The Gilded Mousetrap School' he thought it might be called, whose main purpose was to channel the customer-mouse into the central gambling trap whether he wanted the cheese or not".
Bond first likens the mainly women gamblers playing the slot machines to battery hens. When one hits the jackpot though, "they reminded Bond of Dr Pavlov's dogs, the saliva drooling down from their jaws at the treacherous bell that brought no dinner, and he shuddered at the thought of the empty eyes of these women and their skins and their wet half-open mouths and their bruised hands". He is not much more impressed by the Blackjack tables either: "The game was quick and efficient and dull. It was as dull and mechanical as slot machines".
Bored of watching the gambling, Bond goes to the restaurant and finds the service rather slow. When a waitress arrives at his table he "was able to order a dozen cherrystone clams and a steak, and, since he expected a further long pause, a second Vodka dry Martini". When it arrived, the dinner was excellent and finishing with coffee, Bond goes back into the casino to sit at a blackjack table, as instructed. He is being paid off for his smuggling services for The Spangled Mob with a fixed hand dealt by his gang contact, Tiffany Case. Walking away five thousand dollars richer, he celebrates with a Bourbon and branch-water in the bar and then in an attempt to up the stakes with the Spangled Mob he gambles the money on roulette, betting on the colours and walking out with 20 thousand dollars in his pocket. The Spangled Mob do take exception to these additional winnings and pursue him across Las Vegas in a taxi driven by one of Felix Leiter's friends. Bond ends up in the gang's hands and they take him to the fictional town of Spectreville, two hours drive from Las Vegas. Owned by Spangled Mob boss, Jack Spang, Spectreville is an old style western town where he likes to live out his fantasy as a cowboy.
The town is complete with a railway with "probably the most beautiful train in the world. The engine was one of the old locomotives of the 'Highland Light' class of around 1870 which Bond had heard called the handsomest steam locomotives ever built".
Eventually rescued by Felix, Bond and Tiffany Case are driven to Los Angeles and "towards evening, they were sitting in the dark, cool bar of the Beverley Hills Hotel" for the usual Martinis, before flying back to New York and sailing to England aboard the Elizabeth.
MI6 Literary Locations Guide

London, UK

New York City, USA

Saratoga Springs, NY, USA

Las Vegas, NV, USA
Related Articles

Locations Coverage

Literary Index

Diamonds Are Forever


Postcards From Bond
Delve into the MI6 archives and uncover never before seen postcards from Bond's missions around the world to various MI6 personal. Recipiants include M, Moneypenny, Loelia Ponsonby and May - 007's housekeeper.

Paris
Rome
Saratoga
Kingston
Dover
Miami
New York
Istanbul