| | |
| --- | --- |
| | MI6 digs up one of 007's in-the-field postcards to Loelia Ponsonby whilst on the From Russia With Love mission... |
Postcards From Bond - Istanbul
9th March 2009
Ian Fleming's fifth James Bond novel, "From Russia With Love" sees James Bond on the tail of a defecting Russian agent and the Soviet SPEKTOR decoder. Bond liaises with Tatiana in Turkey, a plant in order to entice, kill and discredit MI6's top agent, before the pair embark on a world wind romance on-board the Orient Express. MI6 dusts off the archive and uncovers unseen material from Bond's mission in Istanbul.

From Russia With Love Locations

Moscow, USSR
The Orient Express (various)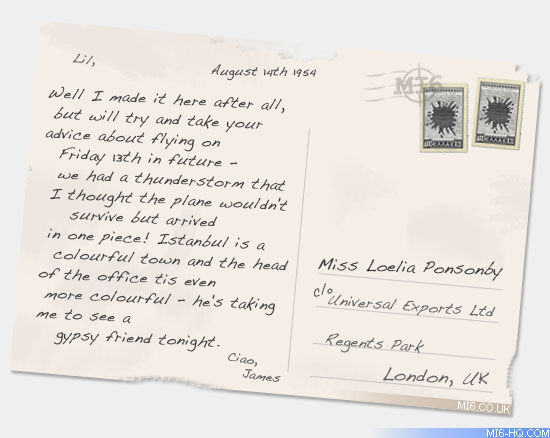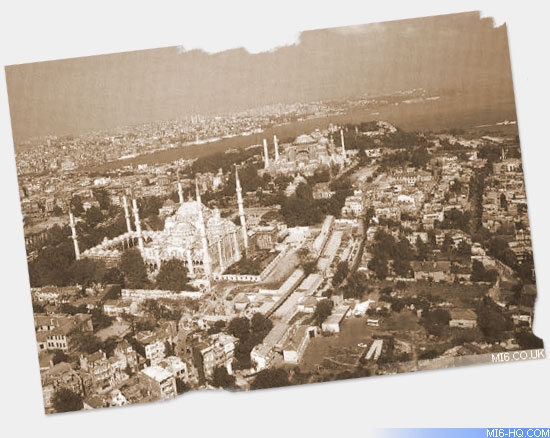 From Russia With Love Locations
Bond joins forces with the MI6 Section Chief of Station T, Turkey: Darko Kerim. One of the richest descriptions of any location Fleming wrote of, Istanbul was built on land that was colonised by the Greeks over 3000 years BC. Settled on a very narrow peninsula, in Fleming's time Istanbul marked a division between east and west and for a lot of the cold war, a 'demilitarised zone' of sorts. Spying ran rife but Turkey remained a no-man's territory. A key trade pathway from the pre-biblical times, this land quickly became a central piece of the Roman Empire but was constantly under attack or scrutiny. Prior to being known as Istanbul, the land was known as Constantinople and then Stanboul, before being officially titled Istanbul in 1930.
Bond's first night in Istanbul is spent is a "dingy room at the Kristal Palas on the heights of Pera", which in the novel he regrets immediately. What he does appreciate about his first impressions of the city is his breakfast. A feast of thick yogurt and fresh figs, washed down with rich black coffee - made in the way that only the Turkish know how.

007 is driven royally through the city - which is a bustling haven and rich with culture. His luxury does not reflect those around him though. The city is one of fiscal extremes. Bond meets with the Head of Section, Kerim, whom he likes immediately. Bond and Darko lunch at the aromatic Spice Bizzare and the pair discuss their love of life, fine food and women. Darko comments that he does not "care the hell what other people eat so long as they enjoy it," and that he "can't stand sad eaters and sad drinkers."
After the romantic rendezvous in the bridal suit of his Turkish hotel, Bond and Tatiana board the Orient express and are whisked on their way to Venice. They steam through the eastern block, passing through Greece and Yugoslavia into Italy, Switzerland and France. Much of the drama takes place on the train, where Kerim and Bond outwit SMERSH agents in order to smuggle Tatiana and the SPEKTOR into allied territories.
When all seems well Bond returns to London and the Ritz in Paris. Here he orders a double vodka at the Cambon bar. At the lavish hotel, Bond retired to his room to be confronted by the feisty SMERSH agent, Klebb. Disgusted her master plan had fallen apart around her, Klebb tries one last show of force - attacking Bond and leaving him for dead on the plush carpet of his suit.
MI6 Literary Locations Guide

London, UK

Istanbul, Turkey

Paris, France
Related Articles

Locations Coverage

Literary Index

From Russia With Love


Postcards From Bond
Delve into the MI6 archives and uncover never before seen postcards from Bond's missions around the world to various MI6 personal. Recipiants include M, Moneypenny, Loelia Ponsonby and May - 007's housekeeper.

Paris
Rome
Saratoga
Kingston
Dover
Miami
New York
Istanbul