A movie tie-in edition of Ian Fleming's 1953 James Bond novel "Casino Royale" will be issued this year to coincide with the movie of the same name being released in theatres.
As the movie is heavily based on Fleming's first literary adventure, a new novelisation of the film will not be produced, especially as there is no continuation author currently assigned to the literary Bond series. All four of Pierce Brosnan's cinematic outings included a novelisation, initially by John Gardner for "GoldenEye", and subsequently by Raymond Benson.
Instead, Fleming's original novel will be reprinted with a new cover to tie-in with movie poster art starring Daniel Craig as 007.
The 240 page paperback book will be published in the USA by Penguin for release on 31st October 2006, two weeks before the film opens in theatres around the world. The book will retail for $7.99 in the USA. In the UK, the paperback will be released on 26th October 2006 and will retail for £6.99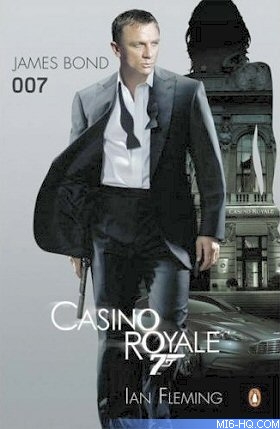 Above: Penguin UK cover art