By the time Eunice Gayson played James Bond's girlfriend Sylvia Trench in "Dr No" and "From Russia With Love" she had already become one of the first reality TV stars. Her leading men included Sean Connery and Roger Moore, and at the height of her fame she co-starred in a record-breaking run of "The Sound of Music." But when her second marriage fell apart and the roles dried up she was arrested for shoplifting. This is the inside story on some of the best-loved films ever made, and how the original Bond girl came back from the depths of despair.
About The Author
Eunice Gayson is best remembered for co-starring with Sean Connery in the first two James Bond films, but her career also included appearances in such cult classics as The Saint and The Avengers, as well as starring roles in lavish stage productions of The Sound of Music and Sondheim's Into the Woods. She married her first husband live on American television. With her second husband she had a daughter who appeared in the James Bond film GoldenEye. Now semi-retired from acting, Eunice divides her time between houses in London and Spain.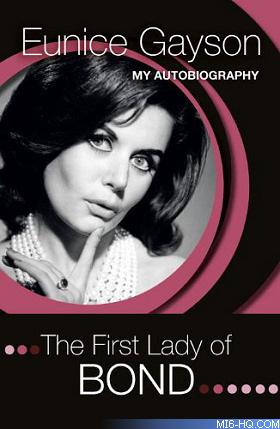 Above: UK hardback cover art.