Stylishly illustrated, "For Your Eyes Only" will incorporate a treasure-trove of gadgets, costumes, props, and storyboards from the films - Daniel Craig's blood-stained shirt from Casino Royale, the Aston Martin DB5, complete with weaponry - as well as memorabilia from Fleming's personal archive: his smoking jacket, the manuscript for Casino Royale, his golden typewriter, his guns, and much more.
Alongside this array of extraordinary visuals, Ben Macintyre tells the story of how Fleming created the most popular legend of all time. On the centenary of Fleming's birth, he looks at the real people on whom the writer based his fictional creations - friends, colleagues, lovers, and of course, the notorious villains.
Exploring the tradition of spy fiction past and present - with specific attention to the Cold War - Macintyre explains the astonishing legacy of the Bond books and the enduring appeal of a fictional secret agent who not only lived twice, but proved to be immortal.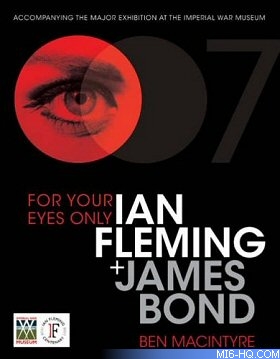 Pre-Order Amazon UK (Hardback)

Pre-Order Amazon USA (Hardback)