James Bond the Secret World of 007
A revised edition of the best-selling guide to the world famous superspy.
Become an expert on the extraordinary career of 007 and get the inside scoop on his missions, from defeating the power-mad schemes of Dr No to the mysteries of Casino Royale and go behind the scenes of his latest movie, Quantum of Solace through unseen photography.
Starting with a foreword penned by M herself, uncover the world of Bond, the world's most famous secret agent. Spectacular photographs reveal the secrets of many of Bond's amazing gadgets, racy vehicles and racier eye-candy. Explore the lairs of the supervillains he has defeated and follow bullet-by-blow accounts of some of his most death-defying chases and battles.
Investigate 007's distinctive style, his complicated love life and relationships with other members of M16 from M to Q and Miss Moneypenny. It's a thrill-a-page 007 adventure.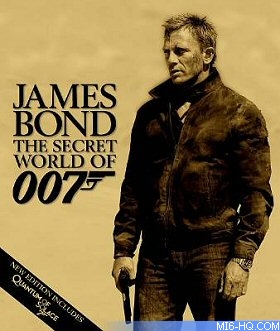 Pre-Order

Amazon UK

Amazon USA