Preview
From storyboard to screen – the creation of a ground-breaking legacy.
The James Bond phenomenon is unique. Never before has a single brand crossed so many generations, defining the pace for big-budget film-making in the late 20th century and beyond. For the first time the people who created the Bond films – producers, directors, writers, designers - share their experiences and memories of what it has meant to collaborate on and produce the ultimate film legacy.
Drawing on the spectrum of all twenty-one Bond films, ART OF BOND features a combination of interviews with the people who have made cinematic history including Barbara Broccoli, Ken Adam, Michael G. Wilson and Martin Campbell. Reflecting on the Bond genre's wider impact, and how it has influenced their own ground-breaking work, are other film-makers including Peter Jackson and Ridley Scott. Lavishly illustrated with an array of images from the exclusive Eon Archive including on-set photographs, concept artwork and original scripts, this will be a visually stunning tribute to the ground-breaking artistic, technical and creative talents of the Bond world.
• Produced with the full co-operation and endorsement of Eon Productions, producers of James Bond
• Published to tie into the release of the 21st Bond film Casino Royale (scheduled for worldwide release 17 November 2006)
• The book will include material and visuals from the spectrum of Bond films, including Casino Royale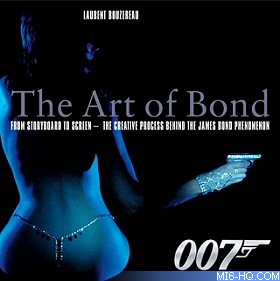 Above: Front cover artwork (not final).
Data Stream
Publication: 06 Oct 2006
Format: Hardback
Pages: 240
Size: 257x257mm
ISBN: 0752215515
RRP: £30.00 GBP
Illustrations: 200 colour photos