| | |
| --- | --- |
| | Top Gear have announced a James Bond 50th anniversary special documentary focusing on the cars of 007... |
Top Gear 007 Special
13th October 2012
In the history of cinema; no action hero has been more closely associated with cars than James Bond. Alongside the gadgets, the girls and the baddies, Bond's cars are one of the vital ingredients that have made his films a spectacular success.
This November, as the cinema character celebrates half a century of its existence, Top Gear presenter Richard Hammond celebrates 50 years of Bond's amazing history with the machine on wheels.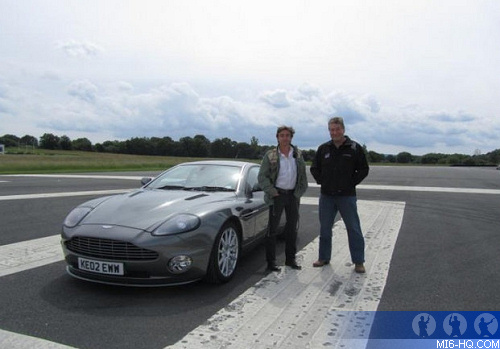 Above: Richard Hammond with stunt coordinator Vic Armstrong and the Aston Martin Vanquish from "Die Another Day".
The special episode reveals the entertaining behind-the-scenes stories of the most iconic cars, including the Goldfinger Aston Martin DB5 and the Lotus Esprit submarine car. Roger Moore takes us through the era of Bond's greatest car stunts. Richard gets in on the action with 'Bond Car On a Budget' building his own invisible car and Lotus submarine – on worryingly low funds. There's also an exclusive report from the sets of latest Bond film, Skyfall.
Executive producer Andy Wilman notes: "Presented solely by Richard, it is, I'm proud to admit, something of an old-school documentary in which Top Gear shuts up, takes a back seat and listens".
"Top Gear Special: 50 Years of James Bond Cars" premieres on BBC TV in the UK in the late October, and in the USA on BBC America on 12th November 2012 at 8:30pm.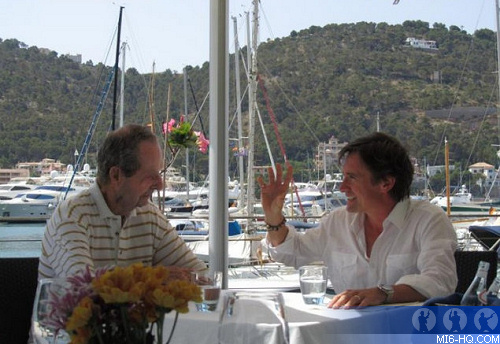 Above: Richard Hammond interviews Bond director Guy Hamilton.