An official feature documentary has been announced for release on October 5th, charting the 50 year legacy of James Bond on the screen...

Update: UK & USA release details confirmed plus a poster reveal...
Everything Or Nothing Documentary Announced
28th August 2012 / 21st September 2012
Press Release
Metro-Goldwyn-Mayer Pictures, Columbia Pictures, Passion Pictures and Red Box Films are proud to announce their new feature documentary EVERYTHING OR NOTHING: THE UNTOLD STORY OF 007 directed by Stevan Riley (FIRE IN BABYLON), produced by John Battsek (ONE DAY IN SEPTEMBER, THE TILLMAN STORY) and Simon Chinn (MAN ON WIRE, PROJECT NIM) to coincide with the 50th anniversary of James Bond films on October 5.
In the UK, the film will be released through Sony Pictures Releasing UK on an exclusive basis with Odeon Cinemas in selected locations. In the USA, the documentary will screen on the EPIX channel.
EVERYTHING OR NOTHING focuses on three men with a shared dream - Bond producers Albert R. Broccoli, Harry Saltzman and author Ian Fleming. It's the thrilling and inspiring narrative behind the longest running film franchise in cinema history which began in 1962. With unprecedented access both to the key players involved and to Eon Productions' extensive archive, this is the first time the inside story of the franchise has ever been told on screen in this way. Director Stevan Riley follows a story that begins with a ground-breaking spy thriller and continues six Bonds and five decades later. While Bond was saving the world from chaos and catastrophe on screen, this compelling documentary draws back the curtain to reveal the battles, threats and real stakes unfolding behind the camera.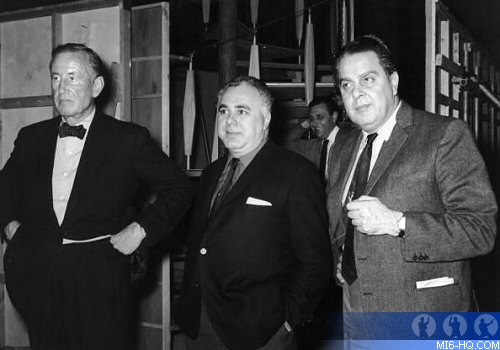 Above: Ian Fleming, Harry Saltzman and Cubby Broccoli.
About Passion Pictures
Passion Pictures - headed by John Battsek - is one of the most prolific independent production companies in the UK and has secured a reputation for working with a line-up of international talent in the feature documentary arena. Starting with Oscar winning ONE DAY IN SEPTEMBER in 1999, Passion Pictures has since been responsible for over twenty documentary films, many of which have achieved international theatrical distribution. These include IN THE SHADOW OF THE MOON (Audience Award Winner, 2007 Sundance Film Festival World Documentary Competition); SERGIO (Based on the book by Pulitzer Prize winning author Samantha Power, Academy Award shortlisted 2010); Tim Hetherington & Sebastian Junger's Oscar® nominated RESTREPO; FIRE IN BABYLON (Grierson Trust Winner, Best Historical Documentary); THE TILLMAN STORY (Academy Award Shortlisted, 2011); BETTER THIS WORLD (Triple Emmy nominated 2012).
James Marsh's PROJECT NIM (Academy Award® Shortlisted, 2012) was the first project produced under Passion's strategic alliance with Simon Chinn's Red Box Films, and the companies launched two new films together at Sundance Film Festival 2012: THE IMPOSTER, Bart Layton's first feature documentary based on the extraordinary story of serial imposter Frederic Bourdin, and Malik Bendjelloul's directorial debut SEARCHING FOR SUGAR MAN which opened Sundance Film Festival 2012 and went on to win the Special Jury Award and the Audience Award. Both films were released in US and UK cinemas this summer.
Passion Pictures is currently working on several new feature film projects, including two new films with Greg Barker; Nadav Schirman's THE GREEN PRINCE based on the NY Times Bestselling memoir THE SON OF HAMAS; and a narrative feature adaptation of Meg Rosoff's award-winning dystopian novel HOW I LIVE NOW is currently in post production, with Kevin MacDonald directing for FilmFour.
About Red Box Films
Red Box Films was founded in 2005 by Simon Chinn to produce MAN ON WIRE, which won over 30 international awards including an Academy Award, a BAFTA and the Sundance Grand Jury Prize and became one of the highest grossing theatrical documentaries of recent years. Red Box has gone on to become one the world's most successful independent producers of theatrical feature documentaries, winning numerous awards and securing worldwide distribution for its subsequent films, which include PROJECT NIM, SEARCHING FOR SUGAR MAN and THE IMPOSTER. In 2008 Red Box Films formed a strategic alliance with Passion Pictures to co-produce feature documentaries. Forthcoming productions include THE GREEN PRINCE, based on Mosab Hassan Yousef's New York Times bestseller 'Son of Hamas.'
About Metro-Goldwyn-Mayer Studios Inc.
Metro-Goldwyn-Mayer Studios Inc. is actively engaged in the worldwide production and distribution of motion pictures, television programming, home video, and interactive media. The company owns the world's largest library of modern films, comprising around 4,000 titles. Operating units include Metro-Goldwyn-Mayer Pictures Inc., United Artists Films Inc., MGM Television Entertainment Inc., MGM Distribution Co., MGM International Television Distribution Inc., and Metro-Goldwyn-Mayer Home Entertainment LLC. For more information, visit www.mgm.com .
About Sony Pictures Entertainment
Sony Pictures Entertainment (SPE) is a subsidiary of Sony Corporation of America, a subsidiary of Tokyo-based Sony Corporation. SPE's global operations encompass motion picture production and distribution; television production and distribution; home entertainment acquisition and distribution; a global channel network; digital content creation and distribution; operation of studio facilities; development of new entertainment products, services and technologies; and distribution of entertainment in 159 countries. For additional information, go to http://www.sonypictures.com/
About Eon Productions
EON Productions Limited and Danjaq LLC are wholly owned and controlled by the Broccoli/Wilson family. Danjaq is the US based company that co-owns, with MGM, the copyright in the existing James Bond films and controls the right to produce future James Bond films as well as all worldwide merchandising. EON Productions, an affiliate of Danjaq, is the UK based production company which makes the James Bond films. The 007 franchise is the longest running in film history with twenty-two films produced since 1962. Michael G Wilson and Barbara Broccoli succeeded Albert R 'Cubby' Broccoli and have produced some of the most successful Bond films ever including CASINO ROYALE and QUANTUM OF SOLACE. They are currently producing the 23rd film, SKYFALL.