| | |
| --- | --- |
| | A new biopic project to bring James Bond creator Ian Fleming's life story to the silver screen has been revealed as Leonardo DiCaprio signs on to produce for Warner Bros... |
Ian Fleming Biopic In Development
13th May 2008
Leonardo DiCaprio has become a producer on a project to bring the life of James Bond creator Ian Fleming to the silver screen. DiCaprio's film company Appian Way recently came on the project, according to the LA Times.
Co-producer Andrew Lazar ("Confessions of a Dangerous Mind," "Get Smart") was first to champion the concept. "It's going to be very different from the Bond films. There are a lot of different ways to crack biopics, but we're not trying to emulate a Bond movie... The idea that this guy's life informed the James Bond character is pretty fascinating", he told the paper.

The project was born around October 2005, the same time that Daniel Craig was announced to the world as the sixth actor to take on the role of 007 for the EON Productions film series, when screenwriter Damian Stevenson sold his script to studio Warner Bros.

Reports state that Stevenson then spent months playing to-and-fro with the WB legal department, sorting out the accuracy of Fleming's life story. Dozens of drafts were produced with Lazar, and Stevenson raided the archives of the Bodleian Library at Oxford University for 'out of print Fleming biographies'.



Stevenson said, "It's the real James Bond. In England, Ian Fleming's exploits are much better well known. Talking to people out here [Los Angeles], no one had any idea that M was based on a real person, Miss Moneypenny was based on a real person."
The latest screenplay reportedly starts on the eve of Ian Fleming's wedding to Lady Anne Rothmere in Jamaica in 1952, just months before his debut James Bond novel "Casino Royale" was published. The screenplay then uses flash backs to tell the story of his time as a Reuters journalist in Moscow and as a Commander of Naval Intelligence during WWII.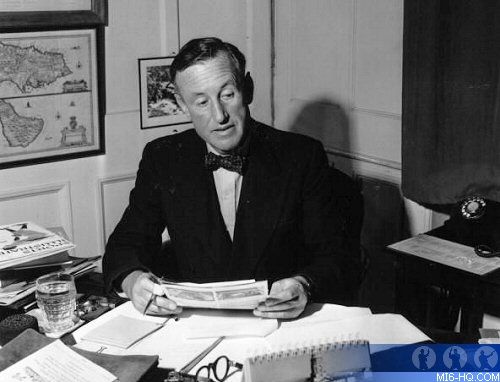 Above: Ian Fleming in his office in 1958
According to the LA Times, DiCaprio took interest in the Fleming project during the writers' strike which ended in February 2008. He is reportedly looking to 'take the script in a different direction with a new writer'.
Although many media outlets are touting DiCaprio to play Ian Fleming in the film as well as produce, this is highly unlikely: Fleming was 45 at the time of Casino Royale's publication; DiCaprio is 33.
Fleming's life has been the subject of two previous productions: Goldeneye (1989) starring Charles Dance as Fleming, and a 2005 UK television special "Bondmaker" starring Ben Daniels.
MI6 contacted Warner Bros but did not receive comment by the time of publication.
Related Articles

Ian Fleming Centenary