| | |
| --- | --- |
| | Scottish actor James McAvoy has been linked to the role of James Bond's creator in an Ian Fleming biopic under development... |
James McAvoy Linked To Ian Fleming Biopic
29th December 2009
Palmstar Entertainment and Animus Films are developing a biopic based on the life of Ian Fleming, according to movie sit Pajiba. Currently working under the title, Ian Fleming, the movie will be about the man behind James Bond, specifically focused on the years that gave him inspiration for the Bond character..
The movie itself will be based on the book, Ian Fleming: The Man Behind James Bond, by Andrew Lycett, who has also written books on Arthur Conan Doyle, Dylan Thomas, and Rudyard Kipling

The big news here, however, is that the movie - which has been independently financed to the tune of around $40 million - has James McAvoy (pictured opposite) attached in the lead.

Pajiba concludes that McAvoy seems well suited to the role: he can do playboy (Bright Young Things), he can do period and war movie (Atonement), and he can do action (Wanted). Plus, he's an excellent actor with a dry sense of humour befitting not just Fleming, but Bond.

McAvoy currently has "I'm with Cancer" on his schedule for filming in 2010 and "Wanted 2" in the works, although the script has yet to be completed. He has just wrapped filming on "The Conspirator".

The project is currently searching for a director, who will be working off a script from Matt Brown.
According to reports last year, Leonardo DiCaprio became a producer on an Ian Fleming biopic project back in early 2008. Co-producer Andrew Lazar was first to champion the concept. "It's going to be very different from the Bond films. There are a lot of different ways to crack biopics, but we're not trying to emulate a Bond movie... The idea that this guy's life informed the James Bond character is pretty fascinating", he told the paper.
The project was born around October 2005, the same time that Daniel Craig was announced to the world as the sixth actor to take on the role of 007 for the EON Productions film series, when screenwriter Damian Stevenson sold his script to studio Warner Bros.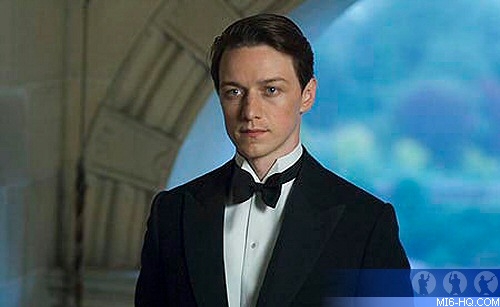 Above: A young James McAvoy sporting a Bond-style tuxedo
Reports state that Stevenson then spent months playing to-and-fro with the WB legal department, sorting out the accuracy of Fleming's life story. Dozens of drafts were produced with Lazar, and Stevenson raided the archives of the Bodleian Library at Oxford University for 'out of print Fleming biographies'. Stevenson said, "It's the real James Bond. In England, Ian Fleming's exploits are much better well known. Talking to people out here [Los Angeles], no one had any idea that M was based on a real person, Miss Moneypenny was based on a real person."
Fleming's life has been the subject of two previous productions: Goldeneye (1989) starring Charles Dance as Fleming, and a 2005 UK television special "Bondmaker" starring Ben Daniels.
MI6 understands that the project is in no way connected to the Fleming estate.
Meanwhile, work on the new James Bond movie (Bond 23) is expected to start in December 2010 for release around November 2011.
Related Articles

Ian Fleming Biopic In Development

Ian Fleming Centenary