| | |
| --- | --- |
| | MI6 rounds up the complete collection of Michael G. Wilson's bit-parts from Goldfinger to Quantum of Solace... |
The Michael G. Wilson Cameos
21st March 2010
For over 30 years of the James Bond's silver-screen legacy, Michael G. Wilson has been conceiving and writing, producing and financing 007's onscreen adventures. Wilson has been behind some of the most influential moments of Bond legacy from the controversial "Licence To Kill" to the rebirth of Bond in 1995 and most recently, the casting of Daniel Craig to define a new approach and keep Bond real and modern. Throughout his time with the Bond pictures, Michael Wilson has kept a tradition of making small bit-parts or cameos in each Bond picture to date. MI6 pinpoints Wilson's onscreen exploits within 13 of the past 21 Bond pictures.
Goldfinger
While details are vague, Wilson's role in this 1964 outing is much discussed in fan circles and "Goldfinger" is generally considered the first of Wilson's cameo roles in the Bond outings. At the time of shooting Michael would have been just 21 years old and fresh out of college. Fans and Bond historians often credit him as "background" during the Fort Knox raid - eagle-eyed fans have spotted the young Wilson dressed as a solider who guards Goldfinger's industrial laser.

Right: Goldfinger raids Fort Knox, a sequence in which a young Michael Wilson made his first cameo...



The Spy Who Loved Me
Between the '60s and '70s Wilson took a long hiatus from the Bond scene but returned a bright-spark law apprentice. Offered a job with his stepfather's business, EON Productions, Michael G. Wilson began regular visits to the Bond set. Wilson can be spotted in the scene in which Anya and Fekkesh rendezvous - Michael is one row back, an extra watching the Egyptian light show.



Moonraker
On the next Bond picture, Wilson had earned himself a prestigious position among the Bond family. He regularly assisted his stepfather with both the creative and technical aspects of his filmmaking. This time the whole family makes an appearance in Bond. On location in Venice Michael, Cubby and Dana can be seen enjoying the Italian sunshine when Bond disembarks the Q-Branch gondola. More notably Wilson sits in for a NASA radar station operator when tracking the Moonraker.
For Your Eyes Only
Although there is a significant change in ranks on 1981's "For Your Eyes Only" when familiar faces in the Bond production rise to their popular standing, John Glen, Peter Lamont and of course Michael G. Wilson who assists in scripting Bond's latest adventures alongside Richard Maibaum. Not to break with tradition, Wilson went abroad to the Mediterranean with the Bond production and caught his cameo in the bustling Corfu streets as a priest.
Octopussy
Again, Michael G. Wilson writes, produces and travels with 007. By now, he is a recognised face within the Bond family and in the public eye. His cameo's are becoming noticed and watched for and once again Wilson is careful not to disappoint. In the "Octopussy" mission, Michael Wilson has a case of duel personalities when he sits on the Russian defense board as well as traveling to India as part of an American tour party. Wilson can be seen giving a helping hand to 007 as he narrowly escapes the villains hunting party.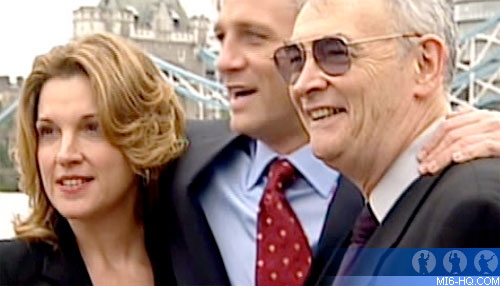 Above: Producing partners Broccoli and Wilson introduce in Daniel Craig as James Bond, the third 007 actor Wilson has been involved casting...
A View To A Kill
Lights, camera, action; but no Michael Wilson to be seen in "A View To A Kill". However, observant fans have reported a familiar voice in the City-Hall sequence. When 007 and Bond girl, Stacy return to San Francisco City-Hall at night, a unforgettable voice can be heard... Although a more subtle cameo by comparison with past outings, Wilson does not fail to break with his amusing tradition.
The Living Daylights
By 1987's "The Living Daylights", Wilson is deeply involved in EON's production's latest challenge - finding a new 007 to complement the swiftly growing legacy. Between casting, writing and location scouting, Michael G. Wilson dons the famous tuxedo himself in order to make his next cameo. When Bond attends the opera and rendezvous with Saunders of Station V, Wilson and lady friend can be seen enjoying the production in the prime balcony seats next to Agent Saunders.

Licence To Kill
Michael G. Wilson lends his voice to the Bond legacy for the second time in "Licence To Kill", although he is never seen on screen, his voice has been recognised by fans during the DEA's raid on Sanchez's hideout: "If they hurry, they might just grab the bastard."

GoldenEye
In a nod to the '80s and despite handing over the screenwriter's pen, Michael G. Wilson appears once again in Pierce Brosnan's 1995 outing as a member of the Russian board of defense while they interview the rogue General Ourumov. Wilson can be clearly seen on the left of the large table and features in a number of close-ups.

Right: Michael Wilson and Cubby Broccoli pose for a production snap as Bond #5, Pierce Brosnan signs on to play 007...
Tomorrow Never Dies
Wilson's 10th cameo of the James Bond franchise sees the producer not only take over full control of EON productions (on his Stepfather's passing) but take on his first and only onscreen speaking role to date. Wilson appears on the video-conference as one of Carver's offshore associates. The villain instructs Wilson's character to blackmail the President - he replies to the media mongrel with a grin and his one and only line, "Consider them slimed!" "Tomorrow Never Dies" marked the first James Bond picture without the guidance of Albert R. "Cubby" Broccoli. The new producing partners, Wilson and Barbara Broccoli, prove 007 is indeed unstoppable.
The World Is Not Enough
Once again in the tuxedo, Wilson cameos in Brosnan's 3rd outing as Valentin Zukovsky's casino floor manager when Elektra drops an enormous payoff in the ex-mobster's high-stakes room. Wilson was keenly spotted by fans in shot that sees Elektra sign away her $1 million cheque.

Die Another Day
For the first time since his cameo career began in 1964's "Goldfinger", Wilson is formally credited for his bit-part in "Die Another Day". The Bond producer plays General Chandler of the American Air Force in M's situation room. Although he offers no lines, Chandler's breast is weighed heavy with medals, awards and apparel.

Casino Royale
2006's James Bond outing sees Michael G. Wilson as the Chief of Police in Montenegro. Wilson portrays the shady officer who is dobbed in by Mathis MI6's man in Montenegro, before he can conclude his deals with Le Chiffre. Bond and Vesper watch Wilson's character being loaded into the back of police car whilst sipping coffee in the warm sun.
Quantum of Solace
The producer of the 22nd James Bond film this time finds himself in a quiet corner of Port au Prince in the Hotel Dessalines during the course of "Quantum of Solace". Michael G. Wilson can be seen reading a newspaper as 007 arrives in the Lobby of Mr. Slate's shabby hotel to collect a suspicious metal case.
Related Articles

Michael G. Wilson Biography

Movie Index