| | |
| --- | --- |
| | MI6 takes a look at the voice artists behind some of the iconic characters from James Bond films of the 1960s… |
Iconic Voices of Bond (1)
10th March 2007
While many voice artists do not enjoy that 'screen-time shimmer', it takes a great deal of skill to perform a convincing dub. MI6 takes a look at the careers of the voice artists that fooled many cinemagoers in the 1960s.
Nikki van der Zyl
Her name might not be well known, but her voice is. Nikki van der Zyl is the woman behind several '60s beauties - including dubbing work for 007's very first Bond girl Honey Ryder, commonly recognised as the stunning Swiss actress Ursula Andress. But when it came to singing on Crab Key, Honey's voice was provided by Diana Coupland, an actress best known for role in the 70s British sitcom "Bless This House". At the time she was married to composer Monty Norman.
The public did not spot this overdubbing until years after "Dr. No" was played in theatres, thanks in part to Van der Zyl not being cited in the closing credits. Although she may not have received much credit in the Bond films, she enjoyed a long running association with the series. Van der Zyl also voiced all the female characters in "Dr No" (except Moneypenny and the Chinese women), including Eunice Gayson's character Sylvia Trench who also appeared in the subsequent film. Van der Zyl then went on to revoice the receptionist at Bond's Istanbul hotel in "From Russia With Love", Shirley Eaton's character Jill Masterson in "Goldfinger", Claudine Auger's character Domino Derval in "Thunderball" and Mia Hama's character Kissy in "You Only Live Twice".

Van der Zyl's talents are not constrained to only voice dubbing. On the set of the third Bond film "Goldfinger", utilising her bilingual skills, she acted as voice coach for the villainous Gert Frobe, who played the title villain.



Barbara Jefford
Born in Devon, England in 1930, Jefford is the voice behind the seductive Tatiana Romanova in "From Russia With Love". Her film carreer has spanned over 40 years, most recently appearing onscreen in the British murder mystery "Midsummer Murders".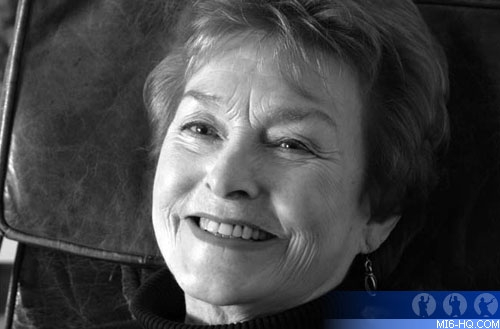 Above: Barbara Jefford
Her career as a voice artist was short lived however, after receiving higher paying parts in front of the camera. "From Russia With Love" is only the second dubbing job Jefford worked on – the first being a Japanese rendition of Shakespeare's "A Midsummer Night's Dream". Interestingly, in 1968 Barbara Jefford appeared opposite Diana Rigg (who would later play the ill-fated Mrs Bond in "On Her Majesty's Secret Service") and Academy Award Winner Helen Mirren in yet another screen production of "A Midsummer Night's Dream". Jefford portrayed Hippolyta in this Peter Hall production.
Jefford maintained a mixed career, most regularly appearing in several BBC murder mystery series including "Campion", starring Peter Davidson, or "Inspector Alleyn", starring Patrick Malahide as the title character.

Michael Collins
Also uncredited for his voice artist work on the Bond films, Michael Collins dubbed for German actor Gert Frobe in the third Bond picture "Goldfinger". Collins lent his gruff voice to the domineering presence of Frobe, who at the start of production could speak little English.

Aside from "Goldfinger", Collins had no dubbing experience but an on-screen career spanning 30 years. Best known for a series of guest roles in popular British television including: "The Saint" or "The Avengers" – both coincidentally starring actors who would have run-ins with 007, Diana Rigg and Roger Moore.