Opinion - And Twice Is The Only Way To Live! (2)
15th June 2007
In the second part of the special "And Twice Is The Only Way To Live" series, James Bond experts Lee Pfeiffer and Dave Worrall reflect on You Only Live Twice...
Lee Pfeiffer -- James Bond scholars have long debated the merits of You Only Live Twice. Most of the criticisms leveled at the film are certainly true: it is the first of the series to truly suspend virtually all logic and come perilously close to crossing into the realm of outright science fiction. It's also true that Sean Connery seemed a bit bored by the fact that Bond had now become primarily a technician who utilized Q's gadgets by rote. As if that were not enough, this was the first Bond film to completely dispense with any remaining vestiges of Ian Fleming's source novels, relying instead on a totally new storyline and retaining only the title of Fleming's book and the names of a few characters. Having said all of that, you might be tempted to think I'm among those who are dismissive of the film, at least in comparison to the movies that that preceded it. Yet, I confess it is one of my favorite Bond films and has always been so. Perhaps my opinion is influenced by sentiment. Like many baby boomers, seeing a Bond film was a ritual you enjoyed with your father. Regrettably, I never shared as much quality time with my father as I now wish I had (my fault, not his) but among those good times we did spend together was dashing to see the latest Bond movie. I had been hooked on the series since stumbling onto From Russia With Love at age 8 (I had gone to the theater to see the second feature that starred Vincent Price.)
By the time Twice had been released in the Summer of Love, 1967, I had been tantalized and teased by the huge billboard that had hovered over Times Square for months promising that the new Bond movie would be here soon. We lived in Jersey City, New Jersey, directly across the river from Manhattan so I had the most bizarre and dangerous playground imaginable. From the time I was ten years old, my friends and I would meander through the mean streets of Times Square. Each time I did, the sight of that now famous billboard made me anticipate the release of Twice even more.

Twice boasted perhaps the most magnificent ad campaign ever given a Bond film, with superlative artwork for three main campaigns: the bath tub, Little Nellie and of course that superb painting of Connery running preposterously across the top of the volcano whilst clad in a tuxedo.



When the movie did open, it would play in a handful of selected theaters in New York City before going into wide release. My dad and I went to the old Astor Theater in Times Square to see it and I was in Double-0 Heaven. At age 10, I was oblivious to the plot inconsistencies and was caught up in the eye-popping visual effects, John Barry's magnificent score and Ken Adam's superlative volcano set. Is there really anything today's CGI-obsessed film industry can provide that can equal what these great artists and technicians contributed to the films of this era? When the film came to neighborhood theaters, another ritual took place: all of the boys would pool their meager allowances and go to the film day after day until the funds ran out. At 50 cents a ticket (25 pence by today's standards for you Brits), you could go to about five shows before the money train slid to a full stop.
How does Twice hold up today? Very well indeed, in my humble opinion. It's merits are such that you don't have to call the film a guilty pleasure a la Moonraker or A View to a Kill.
Above: Donald Pleasence as Blofeld

I've never been able to assemble a reasonable argument to counter all those who point out the film's shortcomings, except to say that – given the fact it's one big mess – it's a magnificent mess, at that. It was a logistically difficult film to make and not a happy one for those involved. The rift between Connery and the producers over financial and creative issues had widened to a full chasm following the actor's recent insults about them in his famous Playboy interview. Connery was already counting the days until his retirement from "Bondage" when he arrived on location in Japan – only to find the usually respectful and demure Japanese press as obnoxious as their western counterparts.

Simultaneous to this, producers Broccoli and Saltzman were feuding about issues in their partnership and Connery's marriage to actress Diane Cilento was showing signs of breaking down. Shortly after production began, actor Jan Werich who was to play the screen's first Blofeld, was taken ill and had to be replaced by Donald Pleasence. It's a testament to the professionalism of all involved that the film turned out as well as it did.
Writing about You Only Live Twice for this MI6 tribute, I confess to having the urge to see the film again. It's been a few years and the old appetites from childhood are re-emerging. I hate to be a sucker for a marketing campaign but in this case, I'll willingly go along with the tag line from the film poster: "…Twice is the only way to live!"
- Lee Pfeiffer, 2007
Lee Pfeiffer is the co-author (with Dave Worrall) of the best-selling book, The Essential James Bond (Boxtree, U.K; Harper Collins, USA). He is also the Editor-in-Chief of Cinema Retro magazine, dedicated to films of the 1960s and 1970s.
---
Thrice as good...
Dave Worrall -- Although I had been fortunate enough to have seen the Aston Martin DB5 on display at Rackhams Store in Birmingham, and saw Thunderball on its initial release on the big screen, it was You Only Live Twice that was my Bond 'coming of age' moment.
I was fourteen years of age when Twice was released in the summer of 1967, and what a summer to remember! In those days major films were launched to tie-in with the holiday season and shown at seaside resorts for a minimum of three months. In most cases a 'children's' film would be shown in the afternoon and an 'adult' one in the evening – thus ensuring maximum 'bums-on-seats' revenue for both the cinema and distributor. I saw the fifth James Bond extravaganza in Newquay, Cornwall, and remember stopping at the cinema to view the quad posters – all three of them, on the way to the beach every day. Although the Bond films were by now a phenomenon in their own right, for some reason this was even more special, as summed by in the dialogue of the immortal Bernard Lee; "This is the big one double-O-seven". And it certainly was.
Back then, to gain maximum exposure, every store in town was given a hanging card advertising the film, similar in the way circus acts are still advertised today. This was my first 'mission' of the holiday – to acquire one. However, with the film still having five more weeks to run store owners were reluctant to let one go, much to my disappointment.

Still, all was not lost – Somportex, who produced the James Bond bubblegum cards, had a new set out, and this time, rather than a card, a plastic strip replicating scenes from the film was issued as though 35mm slides. Each packet contained a strip, a card mount to hold one of the slides, and, oh yes, some bubblegum! I spent nearly my entire pocket money buying packet after packet, and even managed to persuade the store manager to let me have the counter display box – well, after all, I had bought them all!



Eventually, one night my mother and father took me to see the film. There were queues around the cinema when we arrived. My heart beat like crazy: would we get in? Of course, we did, and I sat in awe as the film unfolded in spectacular fashion on the widescreen. John Barry's score, still to this day one of his finest, set the mood and tempo for this rollercoaster of a movie – Bond had never been better or bigger. Little Nellie, the Toyota car chase, the kidnapping of space rockets; simply too much to take in for a fourteen year-old Bond fan. So was this what heaven was like?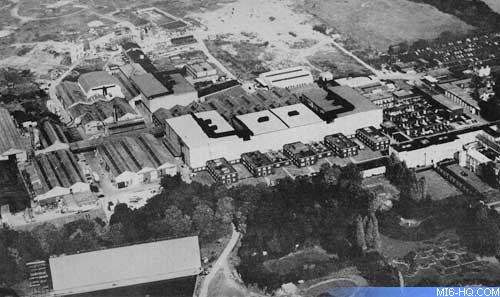 Above: Pinewood Studios circa 1968/9. The large area at the top (centre) is where the Volcano set was built. Today, where you can see the water tank to the left of this area, is where the OO7 Stage now stands. Notice where the Fort Knox set was built (top left). Photo courtesy of Dave Worrall.
Of course, the major 'star' of the film was Blofeld's secret HQ hidden in the depths of an extinct volcano. No CGI here – this was the real thing, and even though statistics have been banded around since, I guarantee this is still the largest set built for a James Bond film. I know – because I saw it! Back in 1966 I spent several weeks staying with an aunt and uncle in London as part of my summer break, a time I still remember with fondness. Here I was, a young lad from Birmingham going away from home without my parents and staying in the capital city. Back then this was a big deal. Today, I drive the same distance to London just to see a movie and come back again!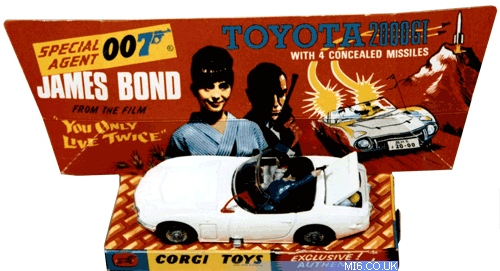 Above: Toyota Car and original box art.
Both original collectables from the collection of Dave Worrall.
My uncle Steve was a rep for Gillette, and they supplied all the major studios in and around the London area with razor blades, make-up and the like. One day he asked if I would like to go out with him for the day. Not wishing to be rude, I reluctantly agreed, thinking what a boring day this would be visiting offices. It was the best 'worst' decision of my life, as one of those 'boring offices' happened to be Pinewood Studios, twenty miles on the outskirts of the city. As we drove in, there was this huge, and I mean huge, construction site to the right of us on what I later came to learn was the backlot. After visiting the make-up department my uncle took me over to the site, or as close as we were allowed, where one of the builders told us what it was – the set for the new James Bond film. Can you believe it? A Bond fan since the age of nine, and here I was looking at a set for one of the films – instant erection time!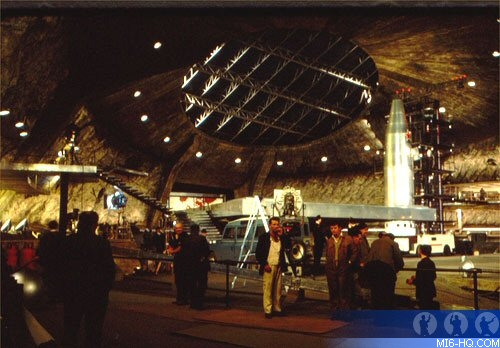 Above: Rare, never-before-published photograph taken on the Volcano set during the filming of You Only Live Twice. © 1967 John Beaumont. Courtesy of Cinema Retro magazine.
The 'building' was huge, about the height of a six-storey building, and was a mass of scaffolding and canvas. There was a roadway each side for carrying equipment to the (as I was told later) the 'floor' of the set, which was the inside of a volcano and housed a rocket base, the height dictated by the size of a rocket that would rise from within. This was all amazing stuff, and I went home that night knowing I had seen something really special – and I had.
And now, some forty years later, I would never have believed back then that I would end up being involved in the Bond business professionally, and visiting Pinewood Studios on a regular basis. However, I still get just as much of a thrill driving through the entrance and seeing the OO7 Stage on the backlot as I did when I first saw the Volcano set all those years ago as a youngster – and I still have the gum cards, paperback book and Corgi toy car from the film. Will I ever grow up? Never – 'grown ups' are boring people.
- Dave Worrall, 2007
Dave Worrall is the author of The Most Famous Car in the World, the history of 007's Aston Martin DB5. He is also the co-founder and publisher of Cinema Retro magazine, dedicated to films of the 1960s and 1970s.
The views of this columnist and those expressed in this article are not necessarily those of mi6-hq.com or its owners.