| | |
| --- | --- |
| | John Conlon reviews the best-selling Camden Fringe Festival show that is set for a limited run at the The Broadway theatre, Barking... |
Martini Bond Review
23rd August 2012
What would Ian Fleming have thought? Almost 60 years since the author created his macho spy a female version of 007 has arrived to save the world. When Fleming wrote the Bond novels his women characters knew their place - horizontally underneath the oversexed naval commander. And despite the retreat of male-dominated society since those early postwar years, that's how Bond fans have liked it for the most part. Even movie makers were reluctant to tweak the brand for a long time until Judi Dench was cast as Bond's boss, M, in 1995.
But a woman Bond? Forget it. Film moguls have had eyes only for virility (Sean Connery), a mix of the debonair and double entendres (Roger Moore), stylishly handsome (Pierce Brosnan) and ruthless killings (Daniel Craig, soon to star again as 007 in "Skyfall"). It takes a brave writer to mess with a successful formula. Step forward Lyndsey Jones who has shaken the living daylights out of the Bond brand and given us Martini Bond: blonde, leggy, mouthy, sexy, and (cover your ears Mr Fleming) very probably a lesbian.
Jones, a Financial Times journalist, is clearly a Bond enthusiast, but her homage has not shied away from firing a thunderball at the 007 formula. In "Martini Bond: her hunt for the spy who loved her mum", Jones throws in the traditional Bond themes: guns, gadgets, gorgeous women, snarling, pet-stroking baddies (Franken von Banken's name tells you how low the financial services sector has fallen in the public's popularity stakes) and exotic locations. But she adds a few novel ideas: heterosexual liaisons get the ejector seat treatment and, er, a menopausal ninja unleashes her frustration on stage! There is no shortage of topicality either with the euro, Hadron collider and the god particle featuring.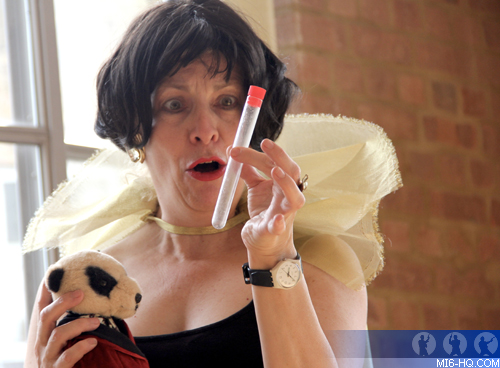 Above: Julia Collier in rehearsal as Franken von Banken. Photo credit: Valmar Kass.
The production premiered at the Camden Fringe Festival in August and was one of the most popular shows by ticket sales during its three-night run. The hilarious spoof is probably not how Fleming pictured his Secret Intelligence Service totty chaser being updated for our more politically correct times. Yet, I suspect even he would have enjoyed the production in a sweaty pub room barely big enough to swing Connery's toupee.
The pun-packed play managed to incorporate almost every Bond movie title into the script, sparking more groans than in "Fifty Shades of Grey". It was quirky, but great fun.
Julia Collier excelled as von Banken and Ms Pennypincher, personal assistant to M25 (yes, really). There were also tremendous performances from Clare Jones (Bond), Juliet Holding (M25 and ninja) and James Edenborough (gangster and tourist).
Broadway now beckons for the play, the Broadway theatre, Barking, that is. Martini Bond has been chosen to feature in a Bond Week, next month and will be streamed live on the internet. The challenge for director Helen Niland will be to transfer the comedy successfully from an intimate inn snug to a 300-seat playhouse. If I could offer a quantum of solace here, I think the chances of success are pretty high.
Martini Bond at The Broadway theatre, Barking, from September 20 to 23, 9.15pm. Tickets cost £7.50 or £12 for a two show deal, which also includes the premiere of London Ballet Company's 00 and His 7. Martini Bond will also be live streamed online: tickets cost £2.99.
To book, go online to: The Broadway Website or call 020 8507 5607.
The opinions expressed in this review are those of the author and do not necessarily reflect those of MI6-HQ.com or its owners.