| | |
| --- | --- |
| | MI6 travels back to Saturday 9th May 1964 with Stars and Stripes magazine and their visit to the "Goldfinger" set... |
Stars And Stripes: One, Two, Three, Kick! ... 007 Strikes Again
3rd March 2006
May 1964 saw Stars and Stripes, London Bureau photographer Bob Milnes visit the set of Goldfinger during a fight rehearsal, the full article by John Krueger which accompanied Milnes photos was published May 9, 1964.
ALL RIGHT — action! And remember, this is no tea party ....
So commands film director Guy Hamilton as Sean (James Bond) Connery and menacing Alf Joint swing into action for a slam-bang scene that ends up with the villain being electrocuted in the bath tub.
"Shocking," observes Agent 007 Bond as he calmly surveys the scene, straightens his tie and smoothes his hair.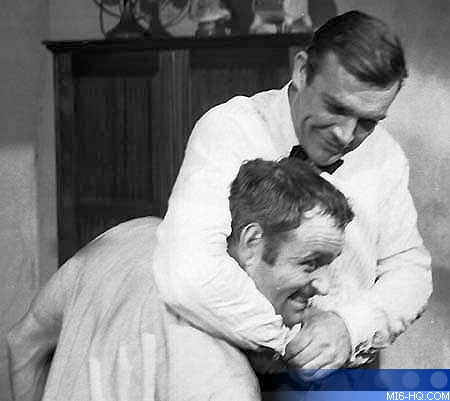 Connery grapples with Alf Joint during a rehearsal
Puns and punishment are being dished out by Agent 007 in his third Technicolor screen adventure, "Goldfinger," being made by Eon Productions for United Artists at Pinewood Studios near London.
The first two cinema smashes — "Dr. No" and "From Russia With Love", adapted from the best-selling novels by British author Ian Fleming - broke box office records and earned awards around the world.
Scottish star Connery, a former soccer player and truck driver, puts his heart and brawn into a day of shooting one fight scene.
Every punch, kick, and grimace are carefully worked out from take to take by stuntmen Bob Simmons and Jerry Crampton, under the watchful eye of director Hamilton, who even demonstrated how he wanted Joint to crash-land in the tub.
Aiming a kick at the onrushing Connery's stomach, he sounded like a conga countdown - "one, two, three - kick!" But first, Joint's prop mustache had to be more securely attached and, a greater amount of "sweat" sprayed on him by a makeup attendant.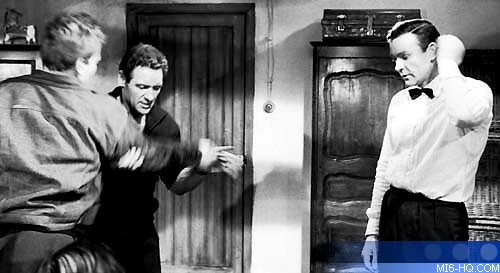 Connery watches as stunt supervisor Bob Simmons, in black, shows how it's done ...
The battle, which also included the traditional fracturing and flying about of balsa wood furniture, was waged in a Latin American setting. Joint was bouncing and crashing off the scenery like a handball.
"Well done, Alf!" cheered Hamilton after a particularly realistic roughing-up at the hands of Connery, who looked anxiously after his hurtling opponent and inquired most solicitously, "You all right?"
Technicians and other observers winced as .Connery fiercely twisted (so it seemed) Joint's foot, with great grimacing and grunting. Gorgeous George would have been proud of their performances.
When Joint gave a real howl of pain, Connery was quick to apologize with a sincere, "Sorry, my fault."
"Goldfinger" tells the story of how Bond thwarts an ingenious attempt by a would-be bullionaire to raid Fort Knox.

To see more of Bob Milnes behind the scenes photographs from the set of Goldfinger visit Stars and Stripes.

More behind the scenes photographs
About Star and Stripes
Stars and Stripes is a Department of Defense-authorized daily newspaper distributed overseas for the U.S. military community. Editorially independent of interference from outside its editorial chain of command, it provides commercially available U.S.and world news and objective staff-produced stories relevant to the military community in a balanced, fair, and accurate manner. By keeping its audience informed, Stars and Stripes enhances military readiness and better enables U.S. military personnel and their families stationed overseas to exercise their responsibilities of citizenship.
Revised DoD Directive 5122.11
Related Articles

"Goldfinger" Coverage