| | |
| --- | --- |
| | James Bond's original tailor has announced a new range of knitted neckties... |
New Anthony Sinclair Neckties
4th August 2012
The Mayfair tailoring firm Anthony Sinclair, best known for dressing Sean Connery in all his appearances as James Bond, has this week launched their first ready to wear collection of knitted neckties.
The knitted necktie is an essential piece of any gentleman's wardrobe. Traditionally worn casually with tweeds and other textured cloth, the knit was famously adopted by Sean Connery in the early Bond films and paired with formal suits by Anthony Sinclair. The trend continued long after Connery had surrendered his license to kill and remains a signature 007 look.
The new collection also features a range of Grenadine neckties, which use a rare and luxurious woven silk and are produced on ancient wooden jacquard looms. The weave is characterised by its light, open, gauze-like feel, and is often mistaken as a knitted rather than woven material.
Grenadine neckties formed a staple part of Sean Connery's wardrobe in the early Bond films, in a range of black, blue, brown and grey hues.
Like Connery's original neckties, the new collection is designed with a narrower width to achieve the elegant and understated style of all Anthony Sinclair clothing. It is this signature philosophy, which has been revived since the re-launch of the firm in January 2012, in time for the golden anniversary celebrations of the film franchise.
David Mason, Creative Director of the company comments: "Slim, simple and incredibly versatile, pure silk grenadine and knitted neckties are a staple wardrobe requirement. The solid, sophisticated colours are easy to co-ordinate with patterned suits or shirts, but their delicate texture provides interest when paired with plain materials. They were the only neckties that Connery wore as 007 … which probably suggests they are all that any man would ever need".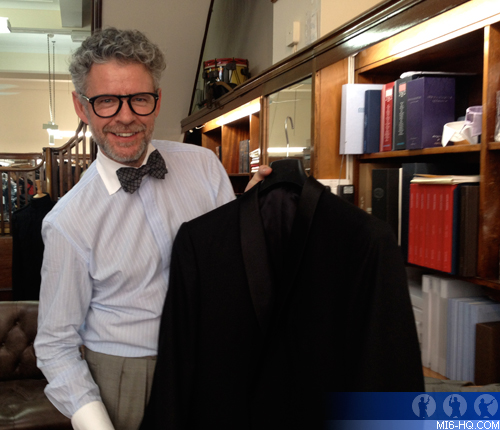 Above: David Mason, Creative Director at Anthony Sinclair, with James Bond's suit. Photo © Ben Williams.
For those looking to recreate Connery's iconic wardrobe during his tenure as 007, or just looking for an ideal gift, every detail of the necktie collection has been designed to emulate the same quality and style of Bond's original look.
The new collection is available in a range of colours and each is presented in a stylish gift box. Prices start from £75 incl. VAT.
The neckties are available to buy in store at No.6 Sackville Street, London or online at www.anthonysinclair.com from today.