| | |
| --- | --- |
| | MI6 looks back at "The Living Daylights" royal premiere, and the press reaction to the 15th 007 adventure... |
The Living Daylights - The Premiere & Press
29th June 2012
25 years ago, James Bond hit the silver screen in "The Living Daylights". On 29th June 1987, Timothy Dalton was formally introduced to the cinema-going public as 007, the fourth incarnation of the world's most famous secret agent. It was a long road to the casting of Timothy Dalton and the production of Bond's 15th screen adventure.
Producer Albert R. "Cubby" Broccoli had had his eye on Timothy Dalton as a Bond candidate since casting George Lazenby in "On Her Majesty's Secret Service", but the young Dalton was not warm to the idea - claiming he was too young for the role at the time. When Broccoli finally got his chance to cast Dalton as Bond in the mid '80s, another hot candidate was on the cards for stepping into the famous shoes. That man was Pierce Brosnan, who Brocolli had first met when shooting "For Your Eyes Only" with Brosnan's late wife Cassandra Harris. By the time "The Living Daylights" was being cast, Brosnan was committed to NBC's "Remington Steele" - the successful detective show that had made the suave Brosnan a star. Ultimately both Brosnan and Dalton got their opportunities to shoot a series of Bond pictures, just not when their producer had first anticipated.

With the arrival of a new Bond actor Michael G. Wilson, serving as screenwriter for "The Living Daylights" had a mind to rebooting Bond, and going back to his roots. This was an idea blackballed by producer and step-father Cubby, but one that the sister and brother producing duo (Michael Wilson and Cubby's daughter Barbara) would see become a reality in 2006's "Casino Royale".

Ultimately a classic and Fleming-influenced screenplay was crafted and Dalton injected a sense of realism and danger into the part - making a point of re-reading the source novels before arriving on set.


Above: (top) Albert Broccoli, Pierce Brosnan and Michael Wilson and (bottom) Timothy Dalton meet's the Princess of Wales.
t was with both, no doubt, excitement and nerves that Bond producers, their new 007 and supporting cast attended the premiere, held at the Odeon Cinema in Leicester Square, London, an event that also marked 25 years of James Bond on the silver screen.
| | | |
| --- | --- | --- |
| | | In attendance at the Royal Premiere were the Price and Princess of Wales, Charles and Diana, who met Timothy Dalton and Maryam D'Abo on the red carpet. The Royal couple had famously visited Pinewood studios to meet the cast and crew a few months prior, when John Glen and his crew were shooting sequences set inside Q-Branch involving Desmond Llewelyn and the new Miss Moneypenny, Caroline Bliss. At the premiere Bond stunt-double Simon Crane abseiled from the balcony of the Odeon to much applause. |
Bond at the Box Office
Although "The Living Daylights" hit British screens the following day, American fans had to wait until 31st July for Dalton's debut to hit screens across the Atlantic. The film earned a PG ranking from the sensors and opened on 1,728 screens throughout the USA. In it's opening weekend "Daylights" collected an impressive $11,051,284 but couldn't keep up that kind of draw. After just six weeks in theatres, Bond's 15th adventures was playing in only 80 fewer cinemas, but in that six week period it had earned only $39,820,817. This was markedly better than "A View To A Kill", which opened in 200 fewer theatres and took $1m less over the period but "Daylights" was not a patch on the box-office successes such as "Thunderball" or even "Moonraker".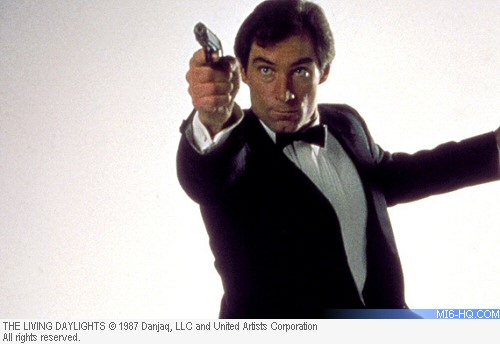 Above: Dalton dons the tuxedo for a promo photo.
From the Critics...
"Timothy Dalton looks poorly served by John Glen, once a tight editor and now a slack director, and doesn't begin to share the joke with the audience the way that the other Bonds did. He looks as if he takes it all for real and dislikes much of it... Cubby Broccoli and his associates should start the Think Tank going for the film after this, and decide what kind of Bond they want, for at the moment they haven't got one. And it's no good saying 'give him time: you can't be Bond first time off.' Connery was." - Alexander Walker, The Evening Standard

Above: Timothy Dalton speaks with writer Michael G. Wilson on location in Gibraltar.

"If the film probably won't be among the biggest-grossing Bonds, it contains some highly enjoyable set-pieces... The film is essentially an 'action circus', Douglas Fairbanks swashbuckle updated by secret-agent costume [cloak-and-gadget], and sex with everything. No doubt its good humour is beginning to seem slightly dated by contrast with the rather grimmer [and, in physical violence, more savagely detailed] tone of the comparable Indiana Jones sagas" ." - Raymond Durgnat, Monthly Film Bulletin

"The Living Daylights is just the ticket to mark James Bond's 25 years on the screen... This one will be tough to top... Pic isn't just a high-tech action replay with the usual ravishing visuals and ditto games. Everyone seems to have tried a little harder this time... Everyone seemed up for this one and it shows" - Pit, Variety
"If not the best Bond, then certainly up there with From Russia With Love, Eyes Only and On Her Majesty's Secret Service... The most impressive factor in the film, the one on which its success depends more than the story, is one Timothy Dalton, who is so damn good as James Bond you feel like asking where he's been since Connery left. Although he's only done this one [and there's still no confirmation he's signed for another] I feel safe to proclaim Dalton the best of the four, and one that Ian Fleming would have approved of... All in all, The Living Daylights has paved the way for a further twenty-five years of good James Bond films, and that is largely due to Timothy Dalton, who deserves as much credit as possible" - Gary Russell, Starburst
"All the traditional elements are in place and Dalton has restored a vital element to 007 - the very best of British, the amateur gentleman who is better than any professional. He is kinder, more human, charming and low-profile. For me he is Bond, James Bond" – Victoria Mather, The Daily Telegraph

"You no longer expect more than you get, and by now are left noting only the fine tuning of the formula... Dalton hasn't the natural authority of Connery nor the facile charm of Moore, but George Lazenby he is not. It's an able first go in the circumstances, though perhaps it could do with a bit more humour. The other main newcomer is Caroline Bliss as Miss Moneypenny, who looks as if she might prefer to be called Ms. And, of course, Maryam D'Abo as the one and only girlfriend in this episode - a Czech classical cellist who opens her legs for Dvorak rather quicker than for Bond" - Derek Malcolm, The Guardian

"Timothy Dalton, an '80s-male Bond, explores monogamy and probably also practices safe sex. In past adventures, we would have known for sure, but this 007 is right on top of things. Either because his consciousness has been raised (unlikely) or because he is afraid of AIDS (more likely), he's taken to faithfulness and the ever so more romantic fade-to-black.



And 007's latest, "The Living Daylights," a snazzy spy thriller, is all the more alluring for its new conservatism. It's right up there with the early Bonds, though not in the league with "Goldfinger." But oh, what a difference. Here, only the villains -- an arms dealer and a KGB double agent -- keep pools full of bikini-bimbos, with moues and runaway libidos. And even the notorious Bond "girls" have changed. They used to have names like characters out of "Cats." Here, love interest Maryam d'Abo is a sensible Czech cellist named Kara Milovy, who enjoys a better bond than Bond-bonders past. You might even call it a relationship.
Dalton, no waffler, develops the best Bond ever. He's as classy as the trademark tuxedo, as sleek as the Astin-Martin. Like Bond's notorious martini, women who encounter his carved-granite good looks are shaken, not stirred. Dalton does not play a pompous, mean-spirited Bond like Sean Connery or a prissy, sissy Bond like Roger Moore. Both were as aggressively heterosexual as pubescent Playboy subscribers.
Calling on a background that includes everything from the Joan Collins' potboiling mini-series "Sins" to a stint with the Royal Shakespeareans, Dalton creates a dashing and endearing secret agent. And unlike the creaky Connery and the mushy Moore in their later years, he looks fit for derring-do." - Rita Kempley Washington Post
Hasn't aged well -- but it was once a refreshing change of pace" - Jeffrey M. Anderson, San Francisco Examiner

"The raw materials of the James Bond films are so familiar by now that the series can be revived only through an injection of humor. That is, unfortunately, the one area in which the new Bond, Timothy Dalton, seems to be deficient. He's a strong actor, he holds the screen well, he's good in the serious scenes, but he never quite seems to understand that it's all a joke.
The correct tone for the Bond films was established right at the start, with Sean Connery's quizzical eyebrows and sardonic smile. He understood that the Bond character was so preposterous that only lightheartedness could save him. The moment Bond began to act like a real man in a real world, all was lost. Roger Moore understood that, too, but I'm not sure Dalton does.
Dalton is rugged, dark and saturnine, and speaks with a cool authority. We can halfway believe him in some of his scenes. And that's a problem, because the scenes are intended to be preposterous. The best Bond movies always seem to be putting us on, to be supplying the most implausible and dangerous stunts in order to assure us they can't possibly be real. But in "The Living Daylights," there is a scene where Bond and his girlfriend escape danger by sliding down a snow-covered mountain in a cello case, and damned if Dalton doesn't look as if he thinks it's just barely possible.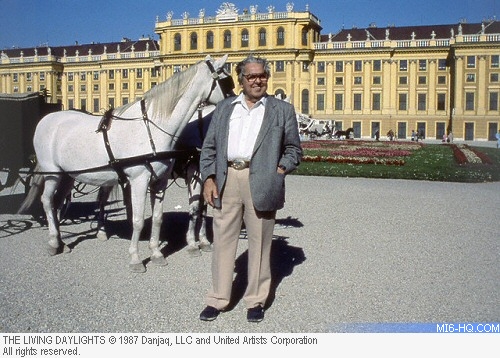 Above: Cubby Broccoli in Vienna.
The plot of the new movie is the usual grab bag of recent headlines and exotic locales. Bond, who is assigned to help a renegade Russian general defect to the West, stumbles across a plot involving a crooked American arms dealer, the war in Afghanistan and a plan to smuggle a half-billion dollars worth of opium. The story takes Bond from London to Prague, from mountains to deserts, from a chase down the slopes of Gibraltar to a fight that takes place while Bond and his enemy are hanging out of an airplane. The usual stuff. " - Roger Ebert, Chicago Sunday Times