Danger Man (1960-1962, 1964-1968)
Synopsis
Patrick McGoohan is suave and mysterious M9 Agent, John Drake. Set against the backdrop of the brewing Cold War, "Danger Man" is a serious and simple spy thriller. Posing as anything from a Butler to a Radio DJ, Drake is a respectable and efficient secret agent.

Vital Statistics
Number of Episodes: 86
First Broadcast: 11th September 1960
Last Broadcast: 12th January 1968
Broadcast Channel: ITV (UK)
Production Company: ITC
Running Time: 30 minutes (1960-61); 60 minutes (1964-68)

Production
Created By: Ralph Smart
Produced By: Ralph Smart, Sidney Cole, Barry Delmaine, Aida Young, Ian Stuart Black et al
Directed By: Philip Broadley, Michael Truman, Charles Frend, Peter Graham Scott et al
Written By: Ralph Smart, Brian Clemens, John Roddick et al
Edited By: Lee Doig, John Glen, Derek Chambers et al
Cast & Characters
John Drake
Patrick McGoohan

Hardy
Richard Wattis

Hobbs
Peter Madden
Guest Stars Included:
Donald Pleasence, Charles Gray, Zena Marshall, Desmond Llewelyn, Honor Blackman, Patrick Troughton, Anthony Dawson, Burt Kwouk, Walter Gotell, Mike Pratt, Dawn Addams, Patricia Donahue, Bernard Lee, James Maxwell, Nadim Sawalha.
Locations
UK Locations - St. Paul's, London, UK; Totteridge, London, UK; Hatfield, UK; Alexander Palace, London, UK; Admiralty Arch, The Mall, London; Fulham Football Ground, London, UK; Elstree Aerodrome, UK; Trawsfynydd Power Station, Gwynedd, Wales; Penmon Point, Anglesey, Wales; Wormwood Prison, London, UK; Maidenhead Station, Berkshire, UK; Britannia Bridge, Wales; Ettington Park, Warwickshire; Betws y Coed, Wales; St James's Park, London, UK; New Bond Street, London, UK; Whitstable, Kent, UK.

International Locations - Prague, Czechoslovakia; Athens, Greece; Beirut, Lebanon; Sankt Gilgen Rathaus, Austria; Capri, Italy; San Juan, Puerto Rico; Venezuela; Galway, Ireland.

Trivia
The first series was comprised of 39 half hour episodes. McGoohan was in the starring role but it is implied that the Secret Agent, John Drake, is American (Episode 9 suggests that Drake is Irish-American). Three years later McGoohan returned to the screen in 32 hour long episodes, speaking with a natural British accent. Drake says the phrase "I'm obliged" in virtually every episode; the catch phrase did not return in the later 1964 series.

Title
"Danger Man" refers to the title character, John Drake's dangerous job as a Secret Agent for M9 Intelligence. It was decided that outside the UK, the title should be changed to "Secret Agent" for a more universal market.
The memorable title song was written by P.F. Sloan and Steve Barri, two American composers and the lyrics (sung by Johnny Rivers) reflect the international title, "Secret Agent", rather than the original UK one.
The Bond Connection
With a cast lead by the brooding Patrick McGoohan - who reportedly screen-tested for the role of 007 prior to the making of "Dr No" - "Danger Man" is a small-screen secret agent spectacular. Ian Fleming's first novel had recently met with some success on a special adaptation by US Television station CBS and with spy-fiction mania growing British filmmakers wanted to capitalise on the success of spies like James Bond. McGoohan is arguably a perfect small-screen counterpart to James Bond's phenomenal success and "Danger Man" flung the actor into international acclaim. According to some sources, Fleming consulted on the pilot of "Danger Man", assisting the capable Ralph Smart with his creation. Several would-be Bond stars appeared in guest-star roles throughout the series including, Bernard Lee [M] and Donald Pleasence [Blofeld].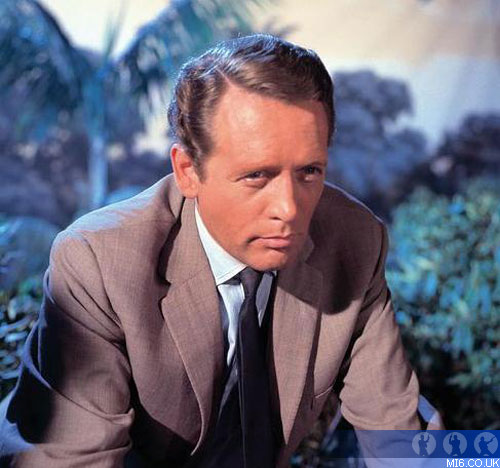 Production Notes
John Drake originally began his secret agent life working as a liaison to NATO from an unknown Washington-based agency. In later series, when the format is reworked, John Drake becomes more British, operating out of a London office, speaking with a British accent and working for the M9 (a play on MI5/6). Ralph Smart, the producer and creator of the series was recruited by media-mogul Lew Grade, owner of ITC (Incorporated Television Production Company). Grade was looking for a series of television successes to rival the monopoly of the BBC at the time. The productions of ITC were geared not only to be successes in the British Isles but to make money and fame abroad as well.
Smart had previously worked on a slew of scripts for various period-piece and classic hero stories such as "The Adventures of Robin Hood" (1955-60), "William Tell" (1958) and "Invisible Man" (1958). He was a qualified and competent screenwriter, nevertheless, "Danger Man" would be a departure from regular half-hour flicks - arguably, something not seen on television before or since.
The new responsibilities of being a series creator and heading up a team were not taken lightly by Smart. One of his most interesting acts was to get the lead actor involved from an early stage. He found Patrick McGoohan after seeing the 30 year-old steal the spotlight in a nondescript ITV Play of the Week.
A team was assembled to produce a pilot, "View from the Villa", which included Brian Clemens, working alongside Smart to pen the screenplay. Clemens' past writing-history was similar to that of Smart's with credits including "The Invisible Man", "The Vise" and "Dial 999". His career after "Danger Man" took off, scripting the 1961 TV hit, "The Avengers", "Quiller" and smart '70s spy-fi "The Professionals".
The series had a phenomenally small recurring cast. Aside from McGoohan, Richard Wattis would play Drake's superior in the first season and that was all. The rest of the cast come and go as various characters. The second season saw Peter Madden cast as Hobbs - he appears in a few episodes as M9 chief.
McGoohan had ideas about the character and scripting of the pilot. One of his more drastic requests for the filmmakers was that Drake never found himself romantically involved on-screen. He also requested throughout the course of the filming that they remove any lasting traces of sadism from his character. McGoohan wanted the character to be rough, capable but likable and when he returned to the screen in '64, the producers had just about made it.

The on-screen gadgetry featured in the series was indeed ahead of its time. James Bond would not meet this level of wizardry until 1963 and the memorable "From Russia With Love" attaché case. From the early days, Drake's surveillance equipment was state-of-the-art: cameras in tie-clips or lighters and shavers that recorded audio were early examples of the imagination of the screenwriters. It was not all fantasy either, McGoohan's on-screen antics reportedly spurred the sales of folding binoculars and underwater cameras - simple tools that many could get their hands on.
The first season ran to 39 episodes - a long season for British drama - and scooped $2 million from the American market in the process. However, this was not enough to keep the production viable for the moment. After less than a year of screening, "Danger Man" took a hiatus.
Whilst they were off the air the popularity of the spy-fi genre began to gain pace. James Bond shocked the world with big-budget successful outings, and in parallel "The Avengers" was making its debut on British TV. "Danger Man" was relicensed by several territories. All of this amounted to the re-commissioning of "Danger Man" and the series' return to the screen in 1964.
A few production team-members returned to the crew to work on the new series, including, Aida Young [associate producer], Brendan J. Stafford [cinematographer] and of course Ralph Smart. Smart and McGoohan made a further 47 episodes of the ultimately successful series, as well as what was intended to be a two-part colour episode. Before this had time to be fine tuned, McGoohan stepped down from the project (in order to work on "The Prisoner") and the colour episodes were strung together to make a made-for-TV movie, known as "Koroshi" (1966).
Related Articles

Beyond Bond Index