Spooks AKA MI-5 (2002-2011)

Above: Cover artwork for the DVD release of Spooks Season 6...

Buy DVD (Amazon USA)
Buy DVD (Amazon UK)

Synopsis
In the 21st century, you can never be too safe. "Spooks" documents the largely unseen work of MI5's Section D - counter terrorism - as they risk their lives daily to protect ordinary British men and women. With often shallow and thankless relations beyond those in the service, the Spooks' lives are highly volatile and often unduly short.

Vital Statistics
Number of Series: 10
Number of Episodes: 86
First Broadcast: 13th May 2002
Final Broadcast: 23rd October 2011
Broadcast Channel: BBC One
Production Company: Kudos
Running Time: 60 minutes / episode

Production
Created By: David Wolstencroft
Produced By: Simon Crawford Collins, Jane Featherstone, Andrew Woodhead, Sarah Brandist, Stephen Garrett et al
Directed By: Alrick Riley, Omar Madha, Sam Miller, Rob Bailey, Bharat Nalluri, et al
Written By: David Wolstencroft, Ben Richards, Howard Brenton et al
Edited By: Paul Knight, Jamie Pearson, Jonathan Amos et al
Home Secretary: "You know, back in my days as a student radical, our dreams were all about the glorious proletariat."
Harry Pearce: "We've still got those dreams on file somewhere."
Cast & Characters
Harry Pearce KBE
Peter Firth

Tom Quinn
Matthew Macfadyen

Zoe Reynolds
Keeley Hawes

Danny Hunter
David Oyelowo

Adam Carter
Rupert Penry-Jones

Ros Myers
Hermione Norris

Zafar Younis
Raza Jaffrey

Ruth Evershed
Nicola Walker

Lucas North
Richard Armitage

Jo Portman
Miranda Raison

Malcolm Wynn-Jones
Hugh Simon

Colin Wells
Rory MacGregor

Fiona Carter
Olda Sosnovska

Sam Buxton
Shauna Macdonald

Tariq Masood
Shazad Latif

Dimitri Levendis
Max Brown


Erin Watts
Lara Pulver

Calum Reed
Geoffrey Streatfeild
Guest Stars Include: Anna Chancellor, Robert Glenister, Olga Sosnovska, Jenny Agutter, Simon Abkarian, Tim McInnerny, Hugh Laurie, Martine McCutcheon, Matt Day, Ian McDiarmid, Andy Serkis, Anthony Head.
Locations
London, UK. Inner city locations include: Thames House, Victoria Embankment, Lambeth Bridge, Westminster Bridge, SIS Building.
Trivia
Spooks has been nominated for a BAFTA award every year possible so far (2003-2010) save only 2007, but the series has only won the award once, in 2003. It has also be honoured at the Royal Television Society awards and Television and Radio Industries awards.
Title
The title is taken from the British jargon term for spies. The term spook is often used in a derogatory way, especially in America where it is a dated racial slur, hence "Spooks" is aired under the title "MI-5" in the USA.
The Bond Connection
The production follows the lives of British Security Service operatives working for MI5 - the internal security force - not the external. The show does its best to to glamorise the lives of these people and, unlike James Bond, the characters all have "legends" (aliases) for their everyday lives. In fact, within the early plots, the officers of D Section - Counter Terrorism - have a semi-hostile relationship with the suits across the Thames at MI6.
Production Notes
Created by Scots television screenwriter and author, David Wolstencroft, "Spooks" was a long time in the making. The concept was mulled over by Wolsentcroft but with two spy-fiction novels behind him, he was highly suited to penning a new television script. The idea was eventually picked up by alternative/independent production company Kudos and developed further.
Funding was sought and a team was assembled by Kudos that included director Bharat Nalluri to helm the pilot,"Thou Shalt Not Kill". Nalluri had experience directing made-for-TV horror flicks but this new and detailed production that combined brooding characters with complex special effects and action sequences
When the series hit British screens in May 2002, it made a big impact. The reviewers commented that the show had had engaged itself as a serious competition to soaps such as Footballers' Wives and Cold Feet - providing a more engaging, character driven story than had been seen in many years. The next week however, they were in for a shock. Episode #2, written and directed by Wolsentcroft and Nalluri respectively, saw the grueling death of one young Spook. Not only did this tragic and horrifying scene set the tone for the production but it brought the Broadcast Standards Authority 154 complaints following the screening. Nevertheless, the first season - short at just 6 one-hour episodes - made an impact. And even one of the most disturbing sequences to hit British screens did not put off 7.5 million (on average) watching the first season. Season three was commissioned for the following year.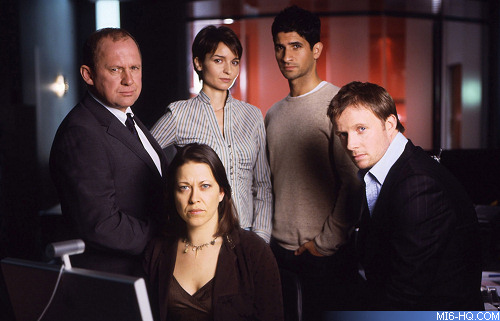 The second season ushered in talent that included director Justin Chadwick. A veteran of BBC drama including, EastEnders, Byker Grove, The Bill and Red Cap, Chadwick would go on to helm 4 episodes of the series before taking the opportunity to direct BBC miniseries "Bleak House" and the 2008 feature film "The Other Boleyn Girl".
By the seventh successful season, as aired in Britain in 2008, the Spooks "regulars" had all but vanished in one form or other. The short contracts and the desire of their regular cast to try their hands at different things would become the trademark of this gripping show. Nobody quite knew when and who would survive to the end of a 60 minute episode. Joining the cast for the seventh season was a mere three of the "original" cast: Peter Firth, Hugh Simon, Rory MacGregor. By the beginning of the eighth season, airing in November 2009, only Firth - who plays MI5 boss Harry Pearce - was still on the scene.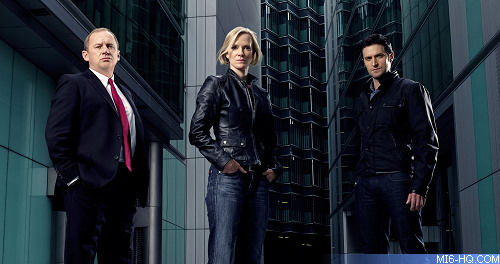 The 2008 season again pushed the boundaries of its audiences' tolerance with a gruesome water boarding scene in which newcomer Richard Armitage agreed to subject himself to a small amount of this torture to capture the sequence. Armitage had been told by CIA and FSB authorities that the procedure was "a humane way of extracting information without hurting people". The actor would testify differently: "I was strapped to a pallet and laid at an angle with a cloth placed over my mouth. My arms and legs were tied, and we had agreed a signal that when it became too much I would bang my arms on my legs. You start to breathe in and out, but when the water just fills everywhere up it just hits you. It changed my opinion completely. I realised that it really is a form of torture that shouldn't be used. I only lasted five to ten seconds, and the sound of my voice crying out to stop isn't me acting. The psychological damage of doing that to someone for even a minute would be indescribable."
Armitage plays a Spook left out in the "cold", in a Russian prison for four years before being traded by his old boss, Harry. The actor did have many positive comments about the contemporary nature of the "Spooks" plots. "I was reading episodes of Spooks and at the same time ripping out press cuttings to create parallels between fiction and reality. You could have filleted the headlines and woven them straight into the drama. Are the Spooks team writing the newspapers as well? The writers very cleverly use what's happening in the real world as a springboard for their imagination."
Peter Firth confesses to being spooked by the accuracy of the series' plots: "In June 2005, we filmed a train station being bombed by terrorists - a month before the same terrible event happened in real life. At one point, the episode wasn't going to be shown because it was too near the mark. In the end, the episode went out in a very heavily edited version."
Season 9 in 2010 saw a largely new team on the grid, including Sophia Myles and Max Brown as MI5 officers and Simon Russell Beale as the Home Secretary. Iain Glen and Laila Rouass also joined the series, playing Vaughn Edwards and Maya Lahan – figures from Lucas's mysterious past. When the series long story arc comes to a climax, Harry's position at MI5 is under threat.
Production company Kudos decided ten years was a good point to draw the world of Spooks to a close, so Season 10 in 2011 was the final set of adventures for Secton D over a shortened run of 6 episodes. The series also saw an almost clean-sweep of the grid, with Lara Pulver joining the cast as Erin Watts, an "ambitious, hungry" new spook "determined to make her mark" - which she does from the opening by decomissioning Beth Bailey due to her old connections with the South American drug trade. Grid geek Tariq also departs the series early on. With the show wrapping up ten years, the final 6 episodes focus on Harry's past, his relationship with Ruth, and a returning threat from the old enemy - Russia.
To date, in rating and polling around the show's popularity and appeal, "Spooks" is second only to long-running sci-fi flick "Dr. Who".
Capsule Reviews
"For all its square-jawed silliness and bonkers conspiracies, Spooks still delivers high-class escapism at its slickest, most glamorous and entertaining." - Telegraph
"Spooks' formula is set: a contrived plot, a convoluted first half, yet somehow by the end you're carried away by the tension. It's partly due to the generally good performances.. We can't condone terrorism, but if the Secret Army could possibly arrange for Tom and Zoe to return as well, that would be great." - The Scotsman
Related Articles

Beyond Bond Index