The Ipcress File (1965)

Buy DVD (Amazon USA)
Buy DVD (Amazon UK)


Synopsis
A high profile British boffin is missing and Harry Palmer is transferred to the team investigating the disappearance. It turns out that the scientist is just one of many that have been abducted from under security services' watchful eye. Palmer unwittingly becomes a pawn in a game played by his superiors, and without his wits and guts will be left for dead by Her Majesty's Secret Service.

Vital Statistics
Studio: J. Arthur Rank / Universal Pictures
Running Time: 109 minutes

Production
Directed by: Sidney J. Furie
Produced by: Harry Saltzman, Ronald Kinnoch, Charles D. Kasher
Written by: James Doran, W.H. Canaway
Music by: John Barry

"I was counting on you being an insubordinate bastard, Palmer." - Colonel Ross
Cast & Characters
Harry Palmer
Michael Caine

Dalby
Nigel Green

Ross
Guy Doleman
Locations
St. James's Park, London, UK; Marble Arch, London, UK; Royal Albert Hall, London, UK; Westminster, London, UK
Trivia
Michael Caine, who is myopic in real life, elected to wear glasses in the role for fear he would be typecast as Palmer without something to distinguish the spy from his other roles.

Title
IPCRESS is an acronym for Induction of Psycho-neuroses by Conditioned Reflex under Stress - technology that is being used to brainwash Britain's finest minds.

The Bond Connection
Michael Caine plays a world-weary British Intelligence officer [above right], able but never keen to get himself into a fight. Whilst 007 and Palmer share employers, their detective style is somewhat different. Both spies frequently run into top secret technology that has been harnessed for evil. The film was produced by Harry Saltzman [below right], one of Bond's founding fathers, and stars Guy Doleman, who, that same year played Count Lippe in "Thunderball".





Production Notes
Whilst "Thunderball" was preparing to become a massive box-office sensation, flinging the world into 'Bondmania', its regular producer Harry Saltzman embarked on a more sedate, plainspoken and less controversial spy movie.
The producer had long expressed an interest in committing Len Deighton's manuscripts to screen, but he faced two challenges: crafting the character of Harry Palmer - who, in the books is an enigma, and narrates the story giving away little personal details - and competition at the box office with his other pet project: 007.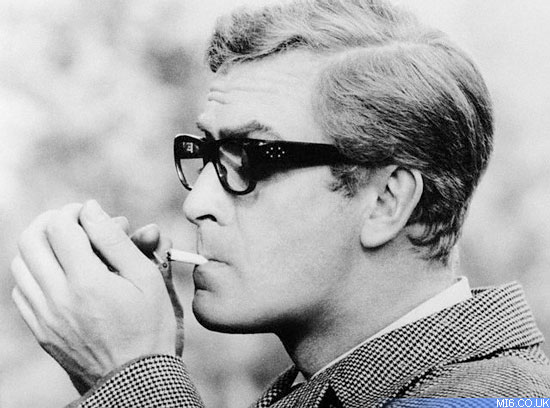 Above: Harry Palmer (Michael Caine) makes his big screen debut.
Ultimately neither would prove a worry. Saltzman began by assembling a team that included James Bond alumni Ken Adam, John Barry and Peter Hunt.
Harry H. Corbett of "Steptoe and Son" fame was initially considered for the role of Palmer, along with stars of their day Richard Harris and Christopher Plummer. Casting Michael Caine as Harry Palmer would solve both dilemma of how to work around the successful 007 franchise and how to create an appealing character based on the source material. Caine brought to the part everything that Bond was not: halted by red tape, a 'lowly' Sergeant (as against 007's rank of Commander), cockney, donned in thick rimmed spectacles and a trench coat. All in all, a surprising action hero was created.
When Bill Canaway and James Doran turned in their drafts and Saltzman had finally approved the shooting script, production was turned over to the director Sidney J. Furie who was already in disagreement with the quality of the penmanship and had clashed with Saltzman over the style of the film. In his pep talk to the cast and crew on the first day of shooting, Furie was rumoured to have burned a copy of the shooting script in protest and promptly set about making the film that he wished to make.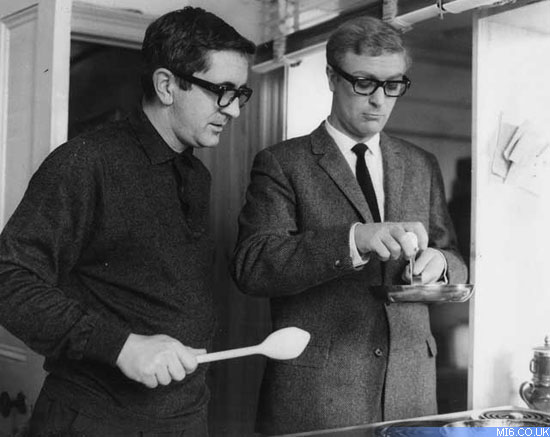 Above: Len Deighton (author) teaches Michael Caine (Palmer) to skillfully break an egg.
Production occupied Pinewood studios but also shot on a number of famed London locations and oddly enough, in a 40 room house on Grosvenor Gardens that was converted into many small rooms suitable for shooting office locales and so on. The location also housed the production teams, including wardrobe and makeup. Author Len Deighton took a keen interest in the filmmaking process, occupying a corner of the soundstage or location for many days during the shoot. The writer came in useful to the production when they attempted to base some traits of Palmer's character on Deighton himself; namely, Len was called on to teach Michael Caine to be confident in the kitchen as the author himself (and consequently Palmer) was something of a gourmet.
The locking of horns between producer and director continued into postproduction with Saltzman angry about the state and style of the film. This led the producer to banning his director from the cutting room, whilst Saltzman oversaw Peter Hunt assembling the film. Saltzman even grudgingly banned Furie from the Cannes party.
Despite the conflict the unlikely combination of eccentricities must have done something right - the film received many positive reviews and won a slew of BAFTAs, including best Art Direction for Adam and best British Film for Furie. Two direct sequels followed on the success of "IPCRESS", "Funeral In Berlin" and "Billion Dollar Brain".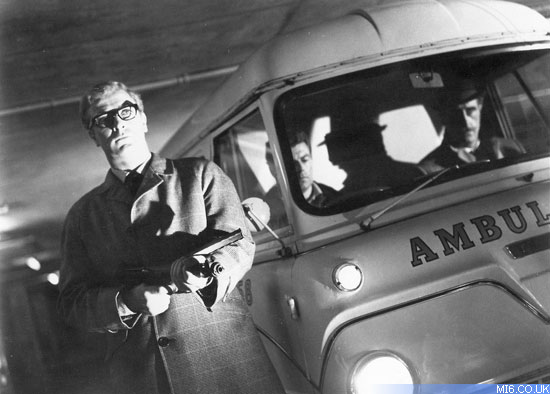 Above: Palmer raids the IPCRESS brainwashing chamber.
Capsule Reviews
"Between crises, Director Sidney Furie makes even the drudgery of espionage engrossing, though his overzealous camera style occasionally impedes the action. He films through keyholes, transoms, and parking meters, mounts wild-angled shots from floor or ceiling until, finally, a fly's-eye view of a corpse, framed in a dangling lampshade, begins to make whodunit seem less important than how it was done. But when Furie abates, Ipcress proves again that one of the primal pleasures of moviegoing is a tingling, no-nonsense suspense yarn enlivened by honest good humor." - Time
"An air of mystery and menace to the very balance of scientific power seems to surround the pressing problem Civil Intelligence has to solve regarding the curious kidnapping and brainwashing - or braindraining, as they call it - of a slew of distinguished scientists. And the chaps who have to solve it seem eminently qualified." - New York Times
Related Articles

Beyond Bond Index